Advantech Launches the EKI-6333AC-M12 Wi-Fi Access Point for Rolling Stock Applications
24/12/2019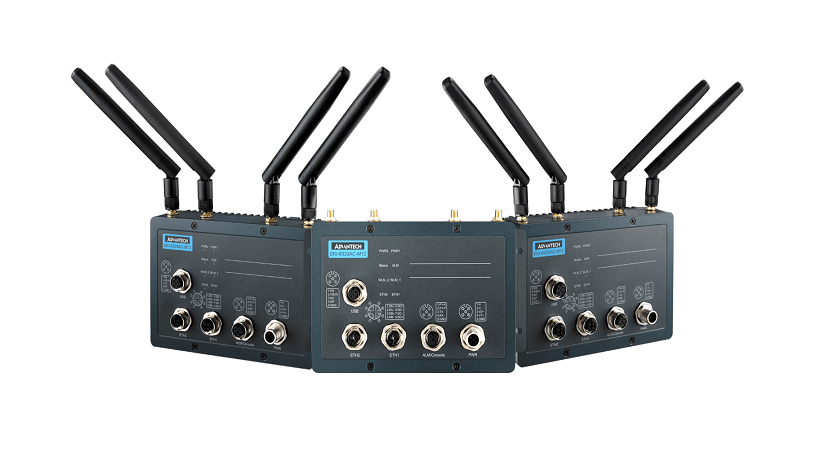 Taipei, Taiwan, Dec 1, 2019—Advantech, a leading supplier of industrial communications equipment, is pleased to launch its latest wireless AP: the EKI-6333AC-M12 for rolling stock network communication. EKI-6333AC-M12 is a ruggedized industrial Wi-Fi access point of dual radio modules—capable of acting in both AP and Client mode with redundancy functionality. Being compliant with EN50111 and EN50121, the EKI-6333AC-M12 provides stable network communications service in high-vibration environments and performs without issue across an extreme temperature range of -40 ~ 75oC.
Compliant with EN50155 and EN50121-4
Severe interference increases the risk of accidents and potentially imperils travelers' lives. To enhance overall safety, EKI-6333AC-M12's M12 connectors for Ethernet communication and power input connectivity provide tight and robust wire connection. With a ruggedized hardware design, it guarantees reliable operation performance against environmental disturbances such as vibration and shock on trains.
Designed with Embedded Dual Radio Modules
EKI-6333AC-M12 Wi-Fi AP is designed with embedded dual radio modules for up to four antennas that support IEEE802.11 a/b/g/n/ac standards with selective dual bands: 2.4Ghz and 5Ghz. With two Wi-Fi devices installed, the EKI-6333AC-M12 itself can divide data into 2.4Ghz and 5Ghz transmission groups for simultaneous operation based on data importance, operation level, or other user scenarios for intelligent transportation systems. Relying on critical data such as surveillance video, an emergency IP phone can be sent at the 5Ghz frequency for better communication quality while the remaining data goes through the 2.4Ghz frequency to avoid transmission priority conflicts. For other scenarios, all device data is assigned to the 5Ghz frequency with personnel communication at the 2.4Ghz frequency to ensure signals do not disturb one another.
The EKI-6333AC-M12 performs two roles: AP mode and client mode. EKI-6333AC-M12 acts as both AP and client, eliminating pairing compatibility concerns. Typically the EKI-6333AC-M12 acts as a client by connecting to two IP devices—such as IP cameras via M12 connectors—and forwarding the collected data via Wi-Fi to the other EKI-6333AC-M12 acting in AP mode. The AP then sends data to storage servers via hard connected wires. This method reduces cable length and weight while flexibly allowing for easier network deployment; making EKI-6333AC-M12 ideal for device expansion or relocation without traditional cable limitations.
Supports Dual Client Mode Sharing Same SSID
Having two EKI-6333AC-M12 acting as clients helps them back up each other up when one device shuts down or faces link failure—enabling an intelligent redundant mechanism for nonstop data transmission. As the rolling stock environment is highly vibratal and routes are nationwide and/or transnational, network connectivity services can perform unpredictably under certain circumstances. To prevent critical data loss and avoid potentially fatal accidents, the secondary EKI-6333AC-M12 Wi-Fi connection offers blocking mode and only gets activated when the primary EKI-6333AC-M12 Wi-Fi connection is down.
For more product inquiry, please contact iiot.tech@advantech.com
Advantech experts will be providing you with dedicated support soon!