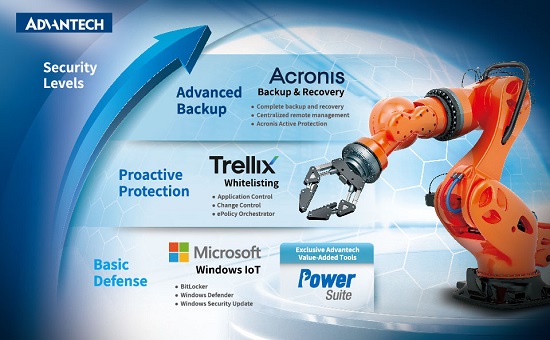 Advantech provides complete IoT solutions to customers who integrate Advantech hardware products or software for distribution. We support the most popular open source projects and leading technologies to provide the best software solutions. For example, cloud Services consist of three elements: Infrastructure as a Service (IaaS), Platform as a Service (PaaS), and Solution as a Service (SaaS). We focus more on the PaaS, providing necessary and useful building blocks to support customer solutions and leveraging IaaS to provide computing, storage, and networking services. Advantech is partnering with Microsoft® Azure as the IaaS and also PaaS solution provider through the Microsoft CSP (Cloud Solution Provider) Program, in order to offer more diverse functions for IoT applications.
As for operating systems, Advantech provide Microsoft Windows Embedded OS that are designed to be run and used on embedded systems such as POS, kiosk, digital signage, automotive computers, automation devices, and devices of small-footprint, real-time, and handheld. Except for Windows Embedded OS, we also provide a series of real-time OS services for Advantech platforms, including Wind River VxWorks, Linux and Android Solutions to help developers easily implement their IoT solutions in the field.
And for security solutions, our tailored security solutions – Trellix Security Solution and Acronis Backup and Recovery can meet the specific design requirements for data and devices protection in embedded applications. These help decrease design effort and project complexity, and accelerate application development.