Advantech 10G Network Communication Solution Helping the Semiconductor Industry to Repel Air Pollution, Realizing a Green Miracle Together
10/22/2021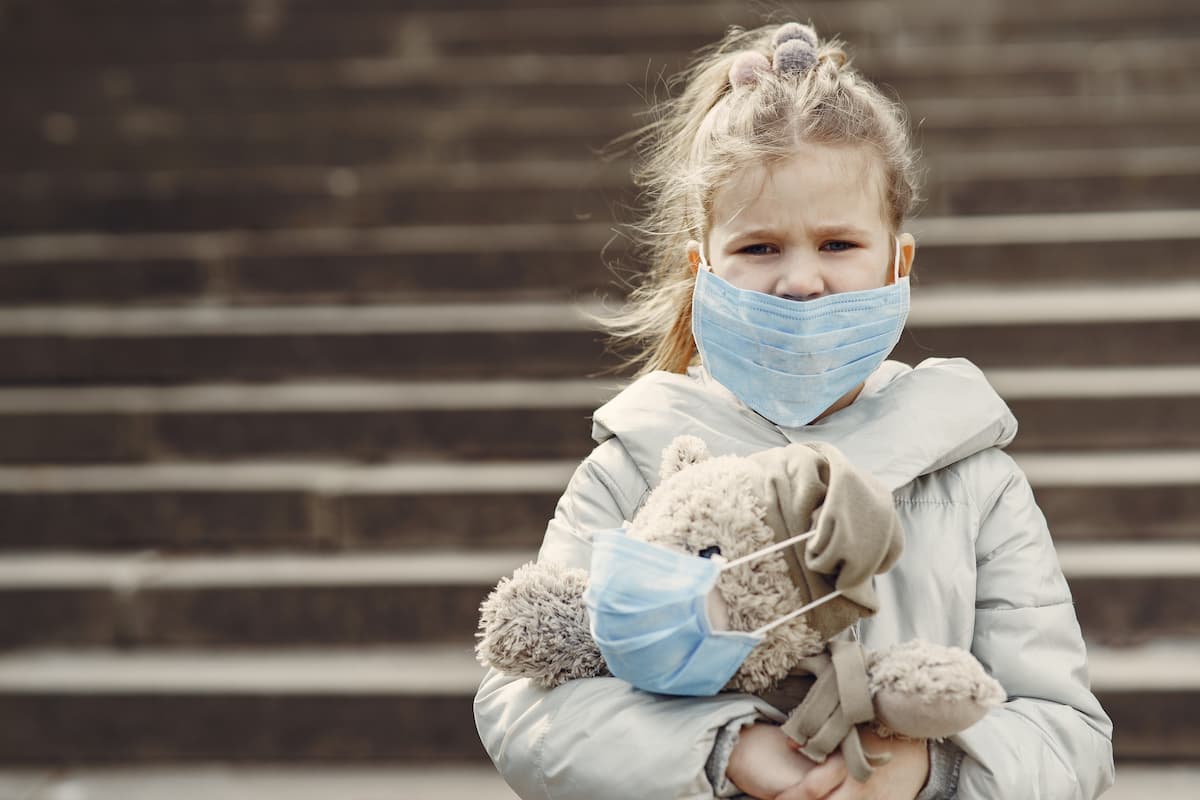 Technology developments bring up wafer demand; 2025 output value is expected to reach 150 billion USD.
Technologies such as Artificial Intelligence, Machine Learning and Machine Vision gave impetus to industrial developments like Intelligent Factories, Smart Phones, AI Robots, Auto Pilot Vehicles, etc. and created even higher wafer demands. In its "2021-2025 Global Wafer Productivity Report", IC Insights noted that global OEM wafer output approximated 100 billion USD in 2021 and is expected to break through 150 billion USD by 2025; Taiwan has the highest share of 21.4% in the global wafer productivity and expects to remain so for the coming 5 years.
Industrial waste gases cause heavy air pollution and immense threats to environments and human health.
A World Health Organization (WHO) Investigation shows that air pollution causes 7 million deaths around the world every year; 99% population is living in environments with excessive air pollutants, and industrial waste gas is one of the major pollution sources. Taking the semiconductor industry as an example, the wafer manufacturing process generates chemical waste gases, resulting in significant damages to the environment and lives if released arbitrarily without proper treatment.
The No.1 semiconductor manufacturer in Taiwan stands out for demonstrating green manufacturing and setting an example
Taiwan Semiconductor Manufacturing Corporation (TSMC) has been targeting "Zero Emission" for several years; starting in 2018, dual-rotor zeolite concentration technology using fiberglass as a substrate has been gradually used by TSMC plants. Cooperating with the corporate ESH Division, Advantech, and other suppliers, AI Parameter System has been initiated for optimizing system parameters and the waste gas reduction rate has been improved to 98%. By estimation, each plant may save 480,000 degrees of electricity and reduce 266 metric tons of carbon emissions every year; which fortifies its reputation as a green manufacturer.
Manifold devices within scattered plant areas: System collaboration effect hard to break through
In order to improve waste gas reduction rate, accurate and effective settings of system parameters must be adopted. However, plant areas are widely scattered, site conditions differ, the number of collaborating devices is huge, and most of them come from multiple suppliers; so, how to resolve compatibilities of different products and optimize collaboration efficiency? Whether data of the plant area can be controlled in real-time? And yet, how to reduce unnecessary manpower dispatch and reaction time?
Optimal solution to Parameter Setting: End-to-Cloud collection, transmission and monitoring, none is dispensable
In planning Green Manufacturing Objectives, Advantech played the role of an intermediate network communication products supplier for providing highly effective network transmission proposals. Addressing different application nodes in the Waste Gas Reduction System, corresponding Ethernet solutions had been worked out.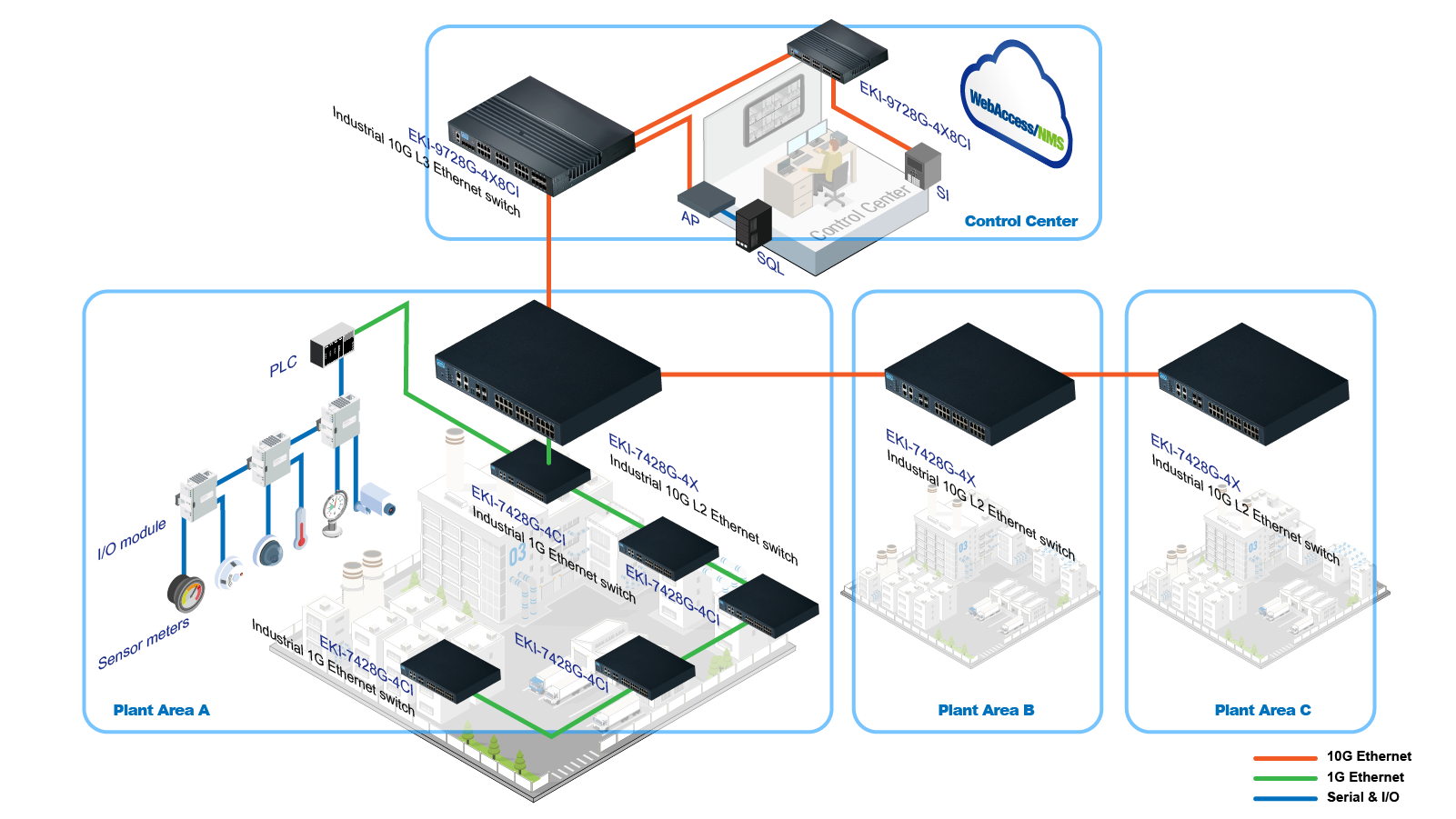 There are generally 3 layers in commonly seen communication systems:
Data collection and medium volume networking (System Ring Network & System Edge Network)
After collecting massive signals of inlet concentration, temperature, airflow, etc., from multiple sensors and measuring devices distributed all over the plant area, the massive data are transmitted to nearby Ethernet switches via I/O modules and PLC. Since environments vary in the widespread plant area, switches need to gather the scattered data and upload them together after obtaining versatile data from the hinterland. Using Ethernet saves network cabling costs on the one hand and facilitates centralized data processing on the other. By selecting switches with a high number of ports, more terminal IP devices can be connected for data collection; when combined with comprehensive network redundancy and information security mechanisms, the site can be further ensured to have steady and safe operation 24 hours a day without interruption. (Recommended Model: EKI-7428G-4CI managed switch)
Massive network transmission (FMCS backbone Ring Network)
Since plant data come from all places, facing massive data flow, the bandwidth of transmission must be relatively high. Addressing this specific requirement, Advantech uses the EKI-7400 Series 10G Ethernet Switch in this project. Featuring 10 billion bit per second transmission speed, it can effectively process massive data rushing in from versatile devices and relaying them to Central Control Room for further operation. Strengthened configuration of software monitoring and data backup functions ensures all the switches fulfill their missions without being affected by any network anomaly events, thereby less prone to cause any losses. (Model used in the project: EKI-7428G-4X)
Remote Monitoring by Central Management (SI Backbone Network)
To reduce unnecessary manpower dispatch while being capable of dealing with incidental equipment faults in real-time, a remote visualized monitoring system is indispensable. Selecting an L3 managed switch and installing it in the CCR enables it to transfer data of the entire plant to the computer and server for computing and processing, an optimal solution for obtaining parameter data in real-time. If further combined with NMS Network Management System, the user will be able to obtain the linking status of all the IP devices and get anomaly alarm at the first instance, substantially improving IT Personnel's info management efficiency and expediting on-site anomaly response. (Recommended model: EKI-9728G-4X8CI Layer 3 Managed Switch; WebAccess/NMS Network Management System)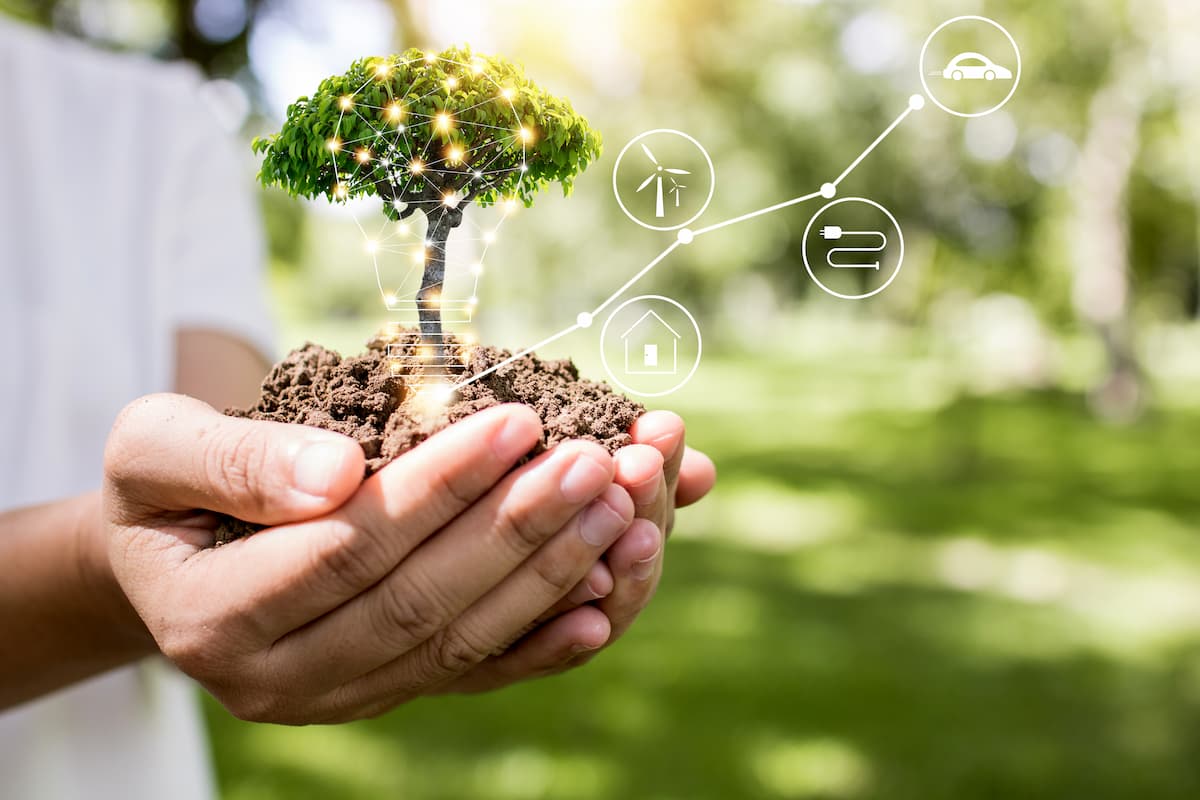 Advantech Ethernet Switch: Industrial Standard, Wide Working Temperature Range, 5-year Warranty
Industrial applications seek to get high efficiency and stability. Under prolonged machine operation, the matching network communication products also need to work continuously, which is exactly why products of an industrial standard must be used. Advantech provides 5-year warranty for products with the scope of services reaching all over the world. Industrial Ethernet Switch products intrinsically support wide-spreading working temperatures ranging from -40 to 75oC; their transmitting performance stays exceptional even at high temperatures resulting from prolonged operation.
Advantech and all the collaborating suppliers strive to support TSMC in achieving the prospect of green manufacturing
Aside from incubating correct concepts, we need as well to act in person for environmental protection. The ESG (Environmental, Social, Governance) mission of Advantech aims to advocate an "intelligent and sustainable earth". Developments of environment benefiting smart solutions, such as green energy storage, windfarm operation and maintenance, etc., took place actively in recent years; Building Energy Management, as well as Energy Saving and Carbon Reduction, were implemented internally within the enterprise. The Board Meeting has decided to achieve 50% green energy usage by 2026, and 100% by 2032, for fulfilling the ESG commitment to green energy.
Advantech provides generous resources of network communication products and silently collaborates with major manufacturers combining years of experience in the digital transformation of the industry. In addition to working with TSMC, we are greatly honored to join the advocators of Green Manufacturing and Intelligent Earth.
Advantech experts will be providing you with dedicated support soon!