Implementing an Advanced Traffic Management System with Advantech's Industrial Networking Solution
11/16/2017
Industry Application: City Traffic Management Systems

Industry Sector: Road Transportation

Customer: A metropolitan city in Nebraska
Extant network infrastructure in a metropolitan city in Nebraska, USA had insufficient bandwidth and no flexibility for implementing field network redundancy with a fiber connection. Furthermore, the city's devices had no PoE+ capability so there was no convenient way to supply power to wireless radio and traffic detection cameras in the field. The city was seeking to implement an advanced traffic management system and required high-performance, high-bandwidth managed switches to realize this.
High-bandwidth connection: Every port required a full Gigabit connection for traffic cameras and wireless radios
At least a 3-GbE fiber uplink was needed to support multiple data redundancy systems for city intersections, and some intersections needed to support southbound, eastbound, and westbound connections
L2 network management capability was needed to run VLAN, network redundancy, and Web management for field network management and applications
Ethernet ports had to support PoE+ capability, which offers up to 30 W for outdoor PTZ camera systems
NEMA TS2 was required in order to support environmental requirements in the traffic control cabinet
EKI-7712G-4FPI: 8-port GbE(PoE/PoE+) + 4 GbE SFP Full L2 Managed Ethernet Switch, -40~75C

SDR-120-48: DIN-Rail Power Supplies 120W 48V 2.5A Active PFC Function

SFP-GSX/LCI-AE: 1000Base-SX multi-mode SFP module; 550-m range; -40~85°C operating temperature

SFP-GLX/LCI-10E: 1000Base-LX single-mode SFP module; 10-km range; -40~85°C operating temperature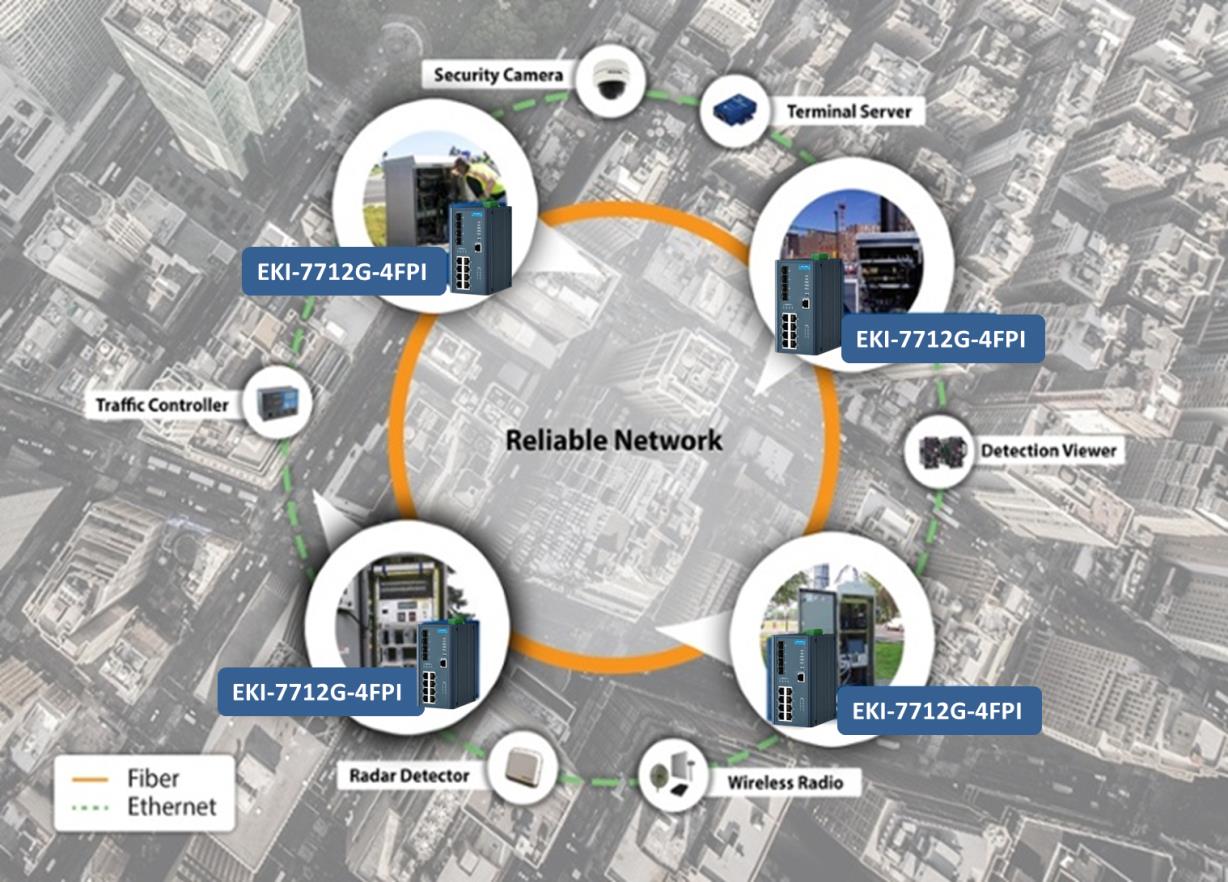 EKI-7712G-4FPI supports full Gigabit Ethernet connectivity and is designed with a unique Ethernet and fiber combination (8 GbE + 4 SFP ports). The features make this product the ideal solution for multiple data redundancy support for city intersections.

EKI-7712G-4FPI supports full PoE+ with 240 W PSE capability, which is ideal for powering and connecting with traffic cameras and wireless radios.

EKI-7712G-4FPI offers full L2 managed features, providing the most advanced network management capabilities, including redundancy, security, diagnostics, management, and intelligent provisioning.
Overall, Advantech's product functions were a perfect match for the system requirements. Thus, Advantech's solution now plays a critical role in supporting the entire city's traffic network backbone. In the proof-of-concept (POC) evaluation, Advantech's solution passed environmental and traffic performance tests, and the configuration interface made it easy for the city's IT engineers to adapt quickly to the new system.
The product specifications of the EKI-7712G L2 switch and peripherals met the city's field network requirements

Advantech's team offered professional network topology consultancy and timely on-site POC support

Advantech's team provided a high level of support and timely service to the city's IT engineers
In summary, thanks to the advanced network redundancy design and intuitive web management features, the City adopted Advantech's advanced traffic network management solution. Combined with the professional technical support and abundant traffic networking experience, Advantech's best-in-class products and industry consultancy have helped a metropolitan city in Nebraska to successfully improve the performance of the entire network traffic, which ultimately facilitated a smooth upgrade of the city's traffic system.