Deploying AI Inspection for Heat Sink Factory
3/16/2020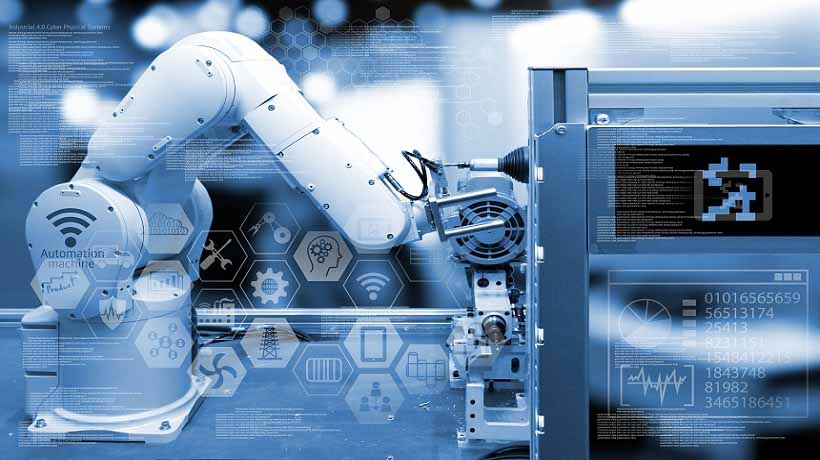 In the past, most factory components were visually inspected by employees. Although prior education training was provided for inspectors, inspection based on individual perception made it difficult to integrate inspection standards. Moreover, visual fatigue, weariness and staff turnover result in high missed inspection rates for production lines. After the defective products are released into the market, the complaint rate has skyrocketed.
In addition, if factories lack staff with programming abilities, their understanding of machine vision inspection will be very limited. Thus, even if a factory wishes to implement technological products to lower the missed inspection rate and increase inspection efficiency, it lacks the ability to do so.
The cooperative program between Advantech and Smasoft aims to help the manufacturing industry shift from human visual inspection to AI inspection. A solution which combines rule-based machine vision and AI visual identification is not only the perfect answer to a factory's problems but also contributes to the introduction of automatic inspection systems.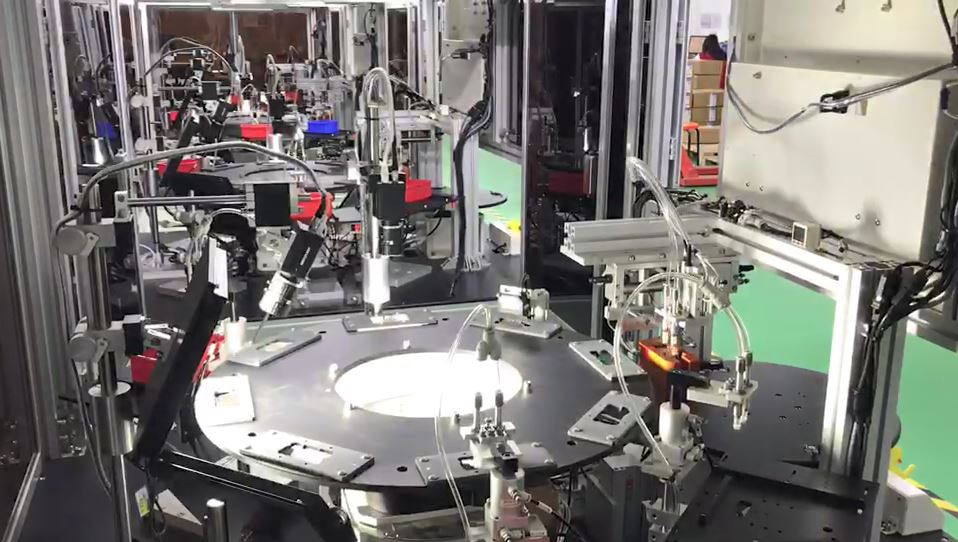 The heat sink factory originally had three major inspection stations, in which multiple inspectors conducted size, thickness and appearance inspections. Smasoft's current automatic software development platform (SmaSEQ) integrates modularized visual inspection, motion control, I/O control, AI defect inspection tools (SmaAI), AI training and other functions, creating a heat sink inspection machine that can conduct three types of inspections while continuously training AI deep learning models to further lower the missed inspection rate and enhance inspection quality.
SmaSEQ has user-friendly interactive interface and is easy to learn. After taking the software training courses, client operators are able to operate SmaSEQ with ease, despite not having an engineering background or proper understanding of AI deep learning. SmaSEQ is simple, straight-forward and does not require complex program settings, allowing system integrators and end users to train machines by themselves.
Both Smasoft's software and Advantech hardware play an intricate role in optimizing the AI system of the heat sink inspection machine. Smasoft adopts the Advantech i-Modules Expansion Slot Compact Fanless System MIC-770 and features a built-in NVIDIA Jetson® Xavier MIC-730AI AI Inference System.
In the past, Smasoft adopted IPC from other companies, some of which clients requested replacements due to IPC sizes being too large; others met client requirements in terms of size but often crashed. Advantech's MIC series remain stable even after long time burn-in process. If additional I/O is required, MIC series can be expanded at any given time. This saves the need of re-evaluating hardware for every project.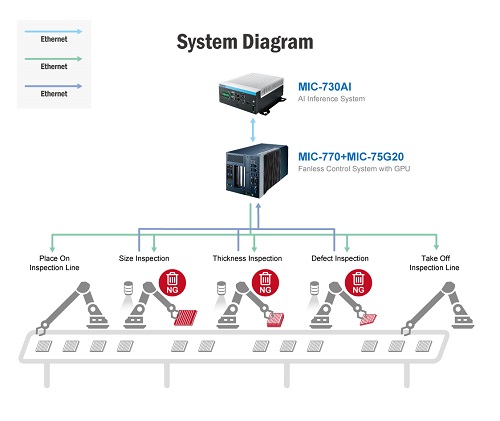 The two Advantech hardware products embedded in the system's AI inspection machine each conduct different tasks respectively. The MIC-770 installed with SmaSEQ controls the inspection station process and conducts rule-based vision inspection to determine whether the size and thickness of the heat sinks meet the specifications.
Moreover, MIC-730AI installed with SmaAI conducts AI image analysis to compare and identify heat sinks with appearance defects. This is made possible by feeding SmaAI with images of defective products that Smasoft collects from clients, prior to the import of software and hardware. After SmaAI completes relevant training, the trained models are placed into the MIC-730AI. AI visual inspection can then be conducted to evaluate the flatness and identify crushes, stains, scratches and other defects that are difficult to categorize through general physical rules.
Smasoft's automatic AI software coupled with Advantech's hardware, allows the heat sink factory to complete assembly and testing of the AI inspection machine within three months.
Smasoft stated that, "Initially, the client factory expected the new system to have 90% accuracy rate, but the Smasoft and Advantech's solution achieved an accuracy rate of up to 97%, far exceeding the client's requirements." In the past, there were ten inspectors to a production line. It took 30 seconds to conduct three types of inspections on each heat sink. Today, only one inspector is required to conduct final re-inspection and it only takes 4 seconds to complete the task. Therefore, the introduction of the solution not only reduces labor costs but also improves inspection efficiency.
Additionally, this AI inspection solution adopts distributed architecture configuration, allowing one MIC-770 to cooperate with multiple MIC-730AI in conducting AI inference. Therefore, when the factory wants to implement additional AI inspections or enhance inspection speed, it can simply install additional MIC-730AI through a network cable, making future factory expansions convenient for our clients.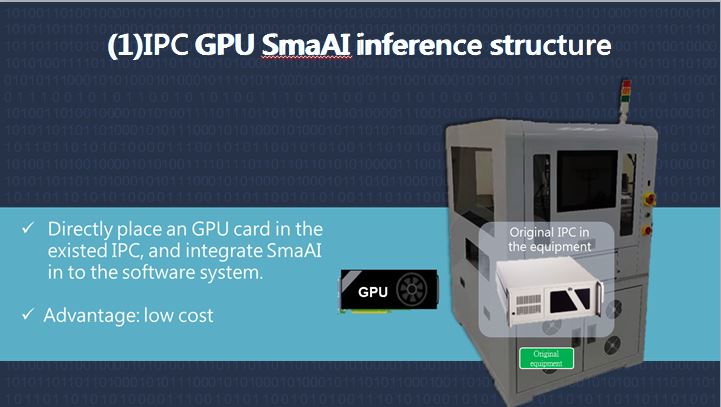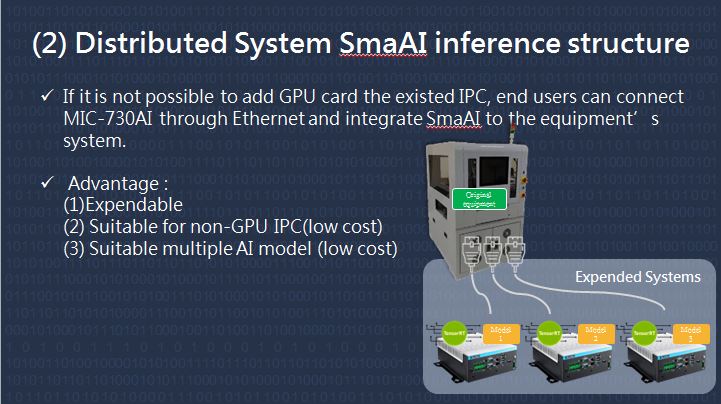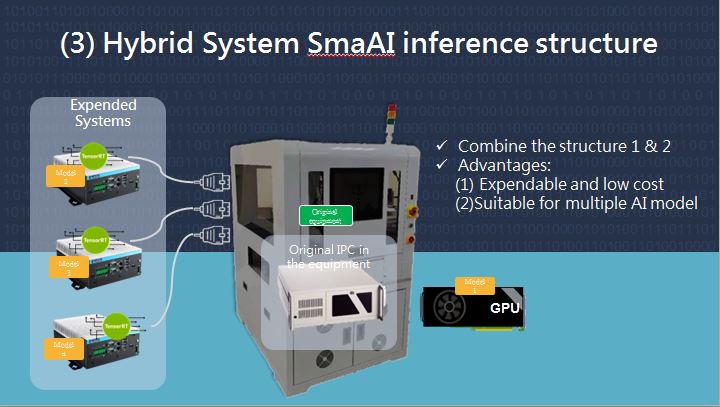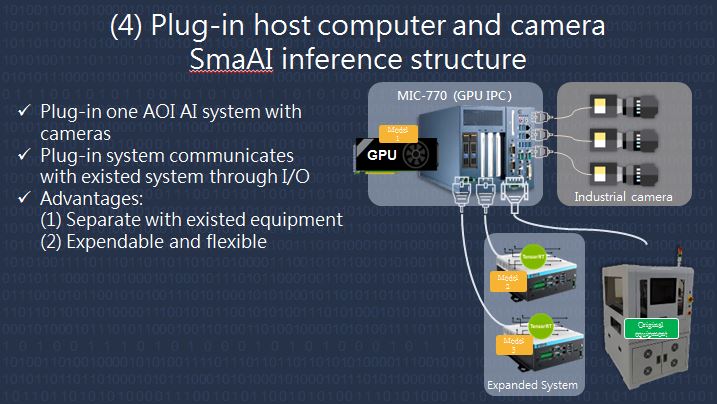 Cost-efficient solution and flexible structures allow combination of rule-base machine vision method and AI method at the same time.

Flexible and distributed architecture configuration, making future factory expansions convenient.

Simple, straight-forward and does not require complex program settings, this AI inspection solution allows system integrators and end users to train machines by themselves.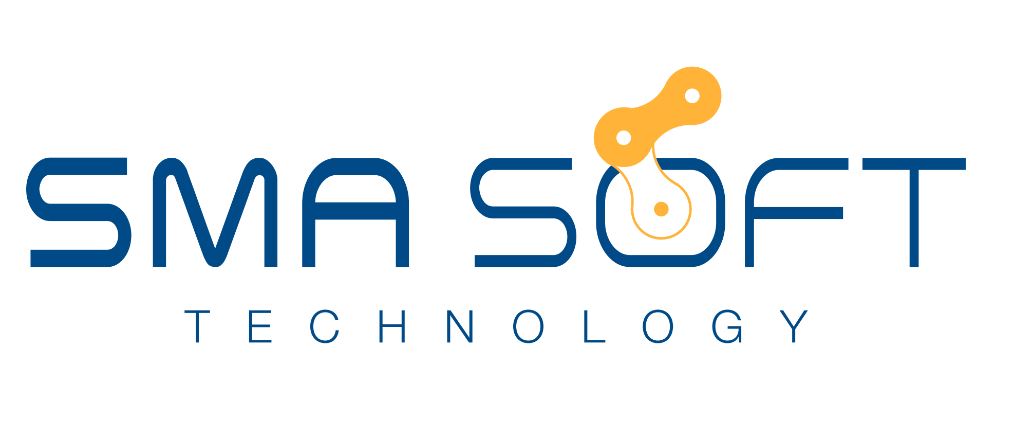 Smasoft is a software development company focused on industrial automation. Smasoft has revolutionized automation software models by emphasizing a more diverse application approach that delivers a refreshing new perspective to its users and drives growth across numerous platforms for their partners.