Meeting NEMA TS2 Requirements for Traffic Control Applications
10/14/2019
The National Electrical Manufacturers Association (NEMA) TS2 is a standard for traffic control assemblies, such as traffic lights, emergency road condition signs and walk/don't walk signs. The standard is designed for manufacturers to meet or exceed a set of minimum requirements to ensure high network reliability in Intelligent Transportation Systems (ITS). Many ITS applications share the following characteristics: remote, outdoor enclosures; equipment that needs to support a wide temperature range; equipment that needs to survive a wide humidity range; and solutions that often have a combination of several different communication technologies. Advantech has tested products to meet or exceed the environmental aspects of the NEMA TS2 standard.
The Advantech product range covers traffic control cabinet applications that require Ethernet Switches, Fiber Media Converters, Serial Isolators, Ethernet Extenders, Ethernet Routers and Wireless communications equipment.
Traffic Control Solutions
Several data communication products can help with traffic light control, such as copper extenders or fiber media converters.These devices are used to connect one traffic control cabinet to another traffic control cabinet. Ethernet extenders can be used for installations where wires already exist. For new installs or where fiber can be pulled to use, fiber is the best option. Many controllers still have a serial interface and can utilize IP or Ethernet to enable the traffic controller for remote monitoring. Serial servers can be used for field service, setup, and diagnostics.
Roadside Radar Applications
Roadside radar signs are usually mounted to a pole on the side of the roadway, or on a small mobile trailer. Radar data is sent when it's needed to update information sent to digital signs or needed to dispatch law enforcement. When data is sent, managed Ethernet switches with fiber ring technology are used at the network backbone. For remote or temporary locations, cellular routers may be used. Serial servers are used to enable the radar detection devices with Ethernet connectivity, and serial isolators are used to protect remotely-mounted radar equipment in extreme weather conditions. Devices used in these applications must meet a wide temperature range of -34°C to +74°C, and be shock and vibration tested.
For digital signage, the larger network will consist of managed Ethernet switches connected to a serial server, or to a fiber media converter that connects to the serial server. Serial servers are used to convert the Ethernet signals to serial signals. If needed, serial isolators or serial to fiber modules are ideal for isolating and protecting devices.

In parking lot control applications, connected devices can help with ticketing systems, control arms, teller houses, security cameras, digital signs and more. Ethernet extenders are ideal for creating a data connection to parking booth, as they work great in situations where there are already existing wires.
When connecting multiple devices, use serial servers and Ethernet switches. Isolation offers additional protection for installed equipment. Fiber is a good choice for reliability when dealing with varying weather conditions.
What to Use for PoE Cameras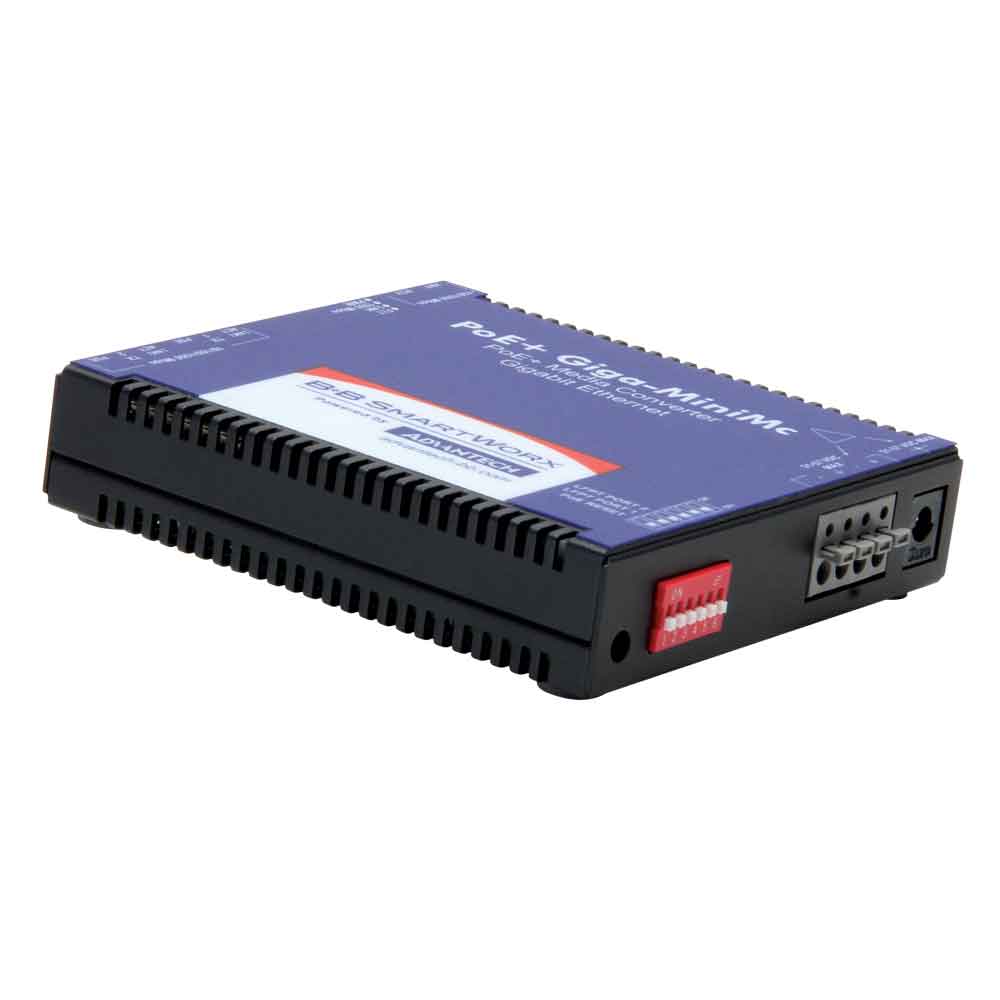 IMC-390-SE-US Miniature PoE+ Media Converter, 1000Mbps, Single-mode 1310nm, 40km, SC type, w/ AC adapter (also known as MiniMc 857-11915)
Supports IEEE802.3at PoE+ (25.5W) and IEEE802.3af PoE (15.4W) standards
Serves as a power sourcing equipment (PSE) device
Supports jumbo frame functionality (up to 10240 bytes)
Supports multiple mounting options (desktop, DIN rail or wall-mount)
Features in configurable PoE reset on fiber LOS
Supports Link Fault Pass Through (LFPT)
>> LEARN MORE
Miniature Media Converter, Wide Temp, 100Base-TX/FX, Single-mode 1310nm, LFPT, 40km, SC type

Centralized powered IMC-318I chassis
Supports Link Fault Pass Through (LFPT)
IEEE802.3af compliant (IMC-350I series as PoE-PD)
Industrial grade design that supports an extended operating temperature(IMC-350I series)
Metal enclosure with compact size
NEMA TS2 Product Benefits
Why Ethernet Routers?
Supports VPN tunnels for secure private communications to remote sites
Provides firewalls — address, port and protocol filtering limits network access in either direction
NAT for public to private IP — there's no need to payfor a public IP address for each device
Supports HTTPS and SSH for secure encrypted communications
Why Ethernet Extenders?
Eliminates the need to install new fiber
Extends Ethernet over copper wire up to 1,200 meters
Why Ethernet Switches?
Manages and connects multiple Ethernet devices
PoE options available for cameras and access points
Gigabit options for high bandwidth applications
Fiber options for extended distance connections
Why Ethernet Serial Servers?
Ethernet enables traffic controllers with an Ethernet to Serial communications converter
Connects digital signs
Monitors roadside radar
Why Ethernet Media Converters?
Converts and extends Ethernet over fiber
100 base fiber or gigabit fiber options
Multi-mode or Single-mode fiber
Why Serial Products?
Uses isolators to protect the serial interfaces
Converts RS-232 to RS-485
Why Wireless and Cellular Products?
Supports remote connectivity
Eliminates the need for long cable runs