Relay of network transmission technologies brings wind-farms nearer to management
2/4/2021
Wind power: zero pollution power generation that makes use of air lift and resistance.
Wind energy is by far one of the cleanest energy sources; seen in the past for pumping water and milling flour, people nowadays use it for power generation. Wind farms often situate in flat and wide open areas where huge wind turbines are scattered all over the place. Whenever the wind blows towards the impeller, its blades of specific shape design make the air generate a lifting force and resistance, which both cause the giant impeller to rotate like a wheel by air dynamics, transforming wind energy into mechanical energy. A wind turbine makes use of this mechanical energy of the impeller and converts it into electrical power, which becomes one of power sources used by our daily livelihood and the industry. Statistically, wind power has become the second largest power source of the Northwest Grid of China; this implies that wind power as a low efficiency power generation has long become a stereotype of old-times. Not only has China dramatically developed wind power in recent years, advanced countries also utilize wind farms, from in-land ones in the past to offshore ones nowadays, making wind power a zero pollution energy industry that catches the eyes of the entire world.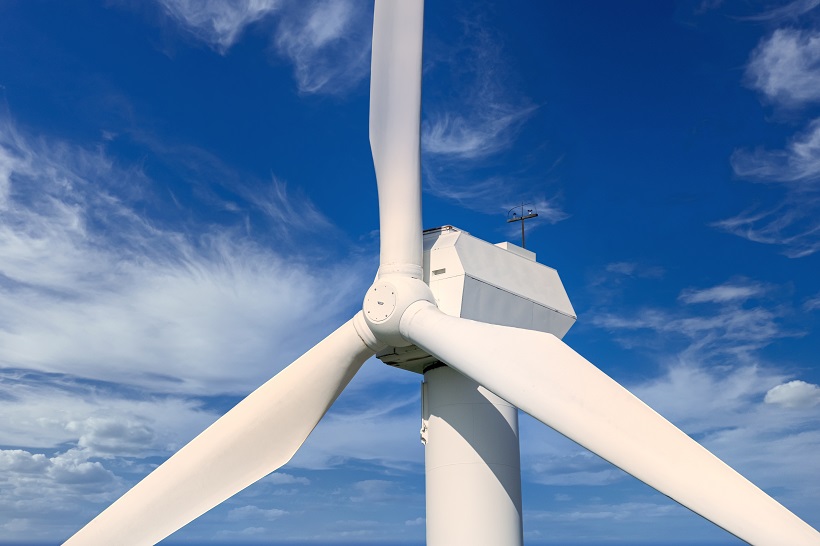 Managerial difficulties: wind turbines hundreds of meters high scattered all over remote areas, in-land and offshore
Wind Farms are getting more popular and sophisticated as years go by; the number of existing wind forms will soon far exceed new ones. When existing wind turbines become the majority, they will significantly affect the throughput if their operation efficiency is poor; therefore long-term O&M planning of wind farms becomes a popular topic in recent years. Yet these colossuses, averaging 100m in height, all situate remotely or even on the sea, what should the manager do to implement an effective as well as timely O&M program?
Employ DAQ and network transmission technologies to establish intelligent supervisory solutions
One of our clients in Anhui launched the "Wind Turbine Units – Integral Smart Monitory Solution" to assist wind farm owners easily resolve their operation and maintenance issues; sensors installed on wind turbines collect operating conditions in real time of key components including transmission chain, gear box lubricants, blades, tower barrels, bolts, etc. Likewise, DAQ components inside the turbines obtain respective data via versatile data collection technologies and transmit them back from high-above to the ground, or even to a remote control center.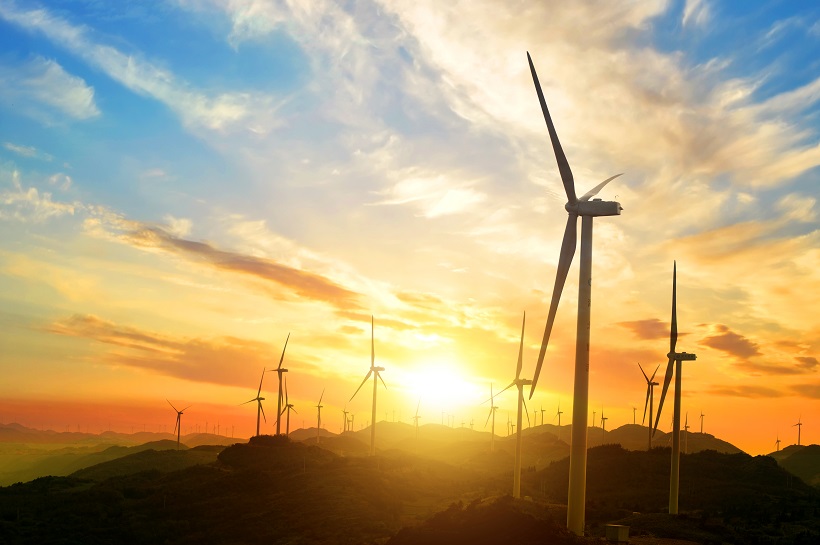 Environment challenges: extremely narrow space, intense EMI, extreme temperatures
Wind turbines designed in the early years are not necessarily provided with additional space for equipping sensing and communication devices. At the same time, power generator in the wind turbine tends to build up electromagnetic field and cause interference to nearby transmission equipment. Wind turbines in tropical countries are susceptible to sunshine in the daytime which dramatically brings up its internal temperature; on the other hand, those in high-latitude areas suffer from extreme cold in the nighttime. Ordinary networking products of commercial spec are unable to maintain steady data communication under such extreme temperatures and strongly interfered communication environments. For this, addressing specific communication requirements of wind farms, clients come to Advantech with the expectation to obtain steady and reliable industrial grade networking products.
Device allocation knacks: wireless device in the front, wired device in the rear and on the ground.
After discussing with the client, the Advantech team realized that wind turbines are divided in two parts, namely "the frontal rotation zone" and "the medium and rear generator zone". DAQ devices of the client are mostly installed within the rotation zone of the wind turbine for collecting dynamic data of the power train and gears, so they require wireless transmission to retrieve the acquired data of these devices. As for the generator zone in the medium and rear section, where no rotating parts exist but there are much harsh EMI from the generator, wired transmission is more suitable. After combining customer needs with site survey results, Advantech recommended to install an industrial wireless AP in the medium and rear section, using wireless communication to receive monitoring data from the rotation zone. Subsequently, Ethernet port on the AP is used to transmit data to the Ethernet switch that also situates in the medium and rear section. This Ethernet switch further relays data of the high-standing wind turbine to the ground, handing over data to another Ethernet switch on the ground for further long-distance transmission.
Industrial wireless AP recommendation: Advantech EKI-6333AC series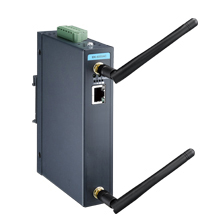 Advantech industrial wireless AP EKI-6333AC series, works in 2.4/5GHz two frequency bands; data of different attributes can be divided into 2 transfer groups, effectively steering and accelerating data streams; it supports IEEE802.11ac for ensured bandwidth. An additional Ethernet port allows copper cable connection with an Ethernet switch. Its power supply designed with terminal block supports 2 sets of 12-18VDC input for backup mechanism. DIN-rail design ensures easy installation inside the wind turbine. Industrial housing enhances EMI resistance; its heat dissipation design allows working temperatures to range from -45°C up to 75°C. Abovementioned characteristics allow real-time wireless reception by EKI-6333AC of data acquired by the DAQ devices in the front end of the wind turbine.
Industrial Ethernet switch recommendation: Advantech EKI-5629CI-MB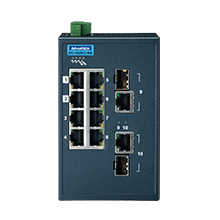 EKI-5629 Entry-level managed Ethernet switch with 10 RJ-45 Ethernet ports allows wired connection with EKI-6333AC; 2 of the ports may be altered into SFP optical ports, enabling a maximum transfer distance of 110km. Its management software satisfies all the basic network management services of the client, such as monitoring switch transmission status via cloud platform, or configuring an X-Ring redundancy to double-ensure transmission quality. It also provides Advantech exclusive IXM technology that easily configures 100 or more switches. In addition, the networking protocol supports not only the Ethernet but also Modbus/TCP, enabling more agile network deployment.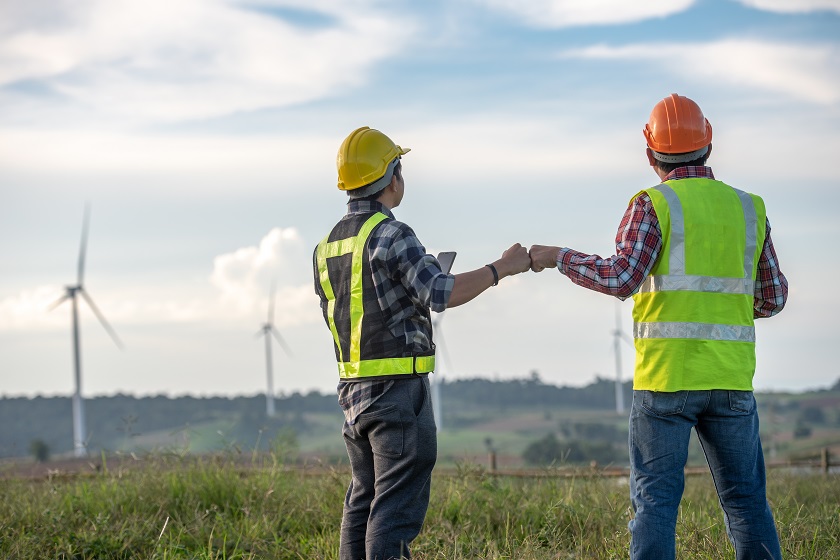 Advantech offers steady and reliable network deployment, enabling intelligent supervisory solutions
Both Advantech industrial wireless AP EKI-6333AC series and basic managed switch EKI-5629CI-MB play critical roles in data transmission, enabling integrated intelligent solutions for clients to monitor their wind turbines. Up to now, hundreds of intelligent supervisory solutions equipped with Advantech industrial networking products have been installed in wind farms all over China. They opened a window of real-time supervision for the management to control first-hand operation status of wind farms and shorten the distance between the management and the equipment; not only significantly reducing manpower and expenses for periodical patrol inspections but also elevating supervisory quality over the equipment, being able to identify faults in real-time, for immediate or even advanced deployment of service personnel to troubleshoot and/or replace malfunctioning components, thereby keeping a highly efficient wind farm operation, actually realizing expectations of "IoT and cloud management".
For more product inquiry, please contact iiot.tech@advantech.com
Advantech experts will be providing you with dedicated support soon!