Industrial Networking Solutions Enable Remote Toothbrush Process Monitoring and Manufacturing Automation
4/21/2023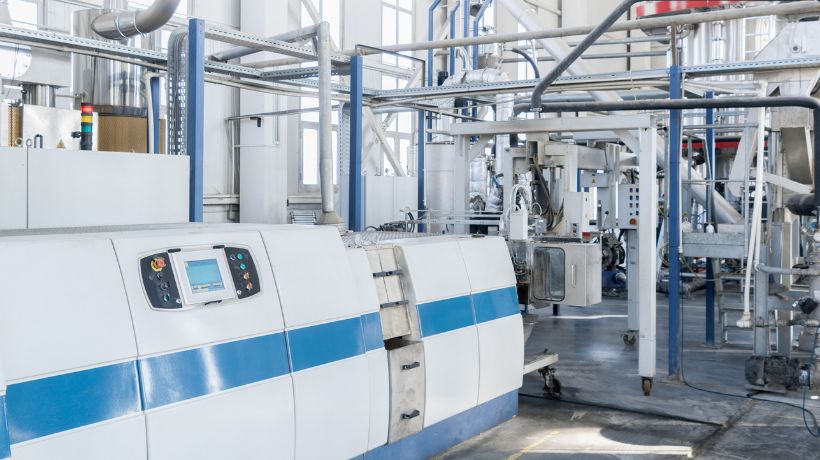 Industry 4.0 is transforming the way process manufacturers build, operate, and maintain assets. To remain competitive and sustainable, manufacturers must take advantage of the latest technologies and implement smart factory capabilities. Virtually every aspect of production and energy management, supply chain assets, and production lifecycles can be improved with digital transformation.

Digitalization and industrial IoT enable process manufacturers to optimize resources and target strategic priorities such as improving product quality, reducing energy consumption, minimizing downtime, lowering maintenance costs, and improving operational safety through automated monitoring. Factory managers can use real-time data and intelligent analytics to optimize production management and productivity.

For a toothbrush manufacturer in Vietnam looking to transform its existing facilities into a smart factory, the starting point was digitalization and equipment interconnectivity. They needed a solution for remote machine monitoring and control to improve management efficiency and automate critical operations. With industrial IoT, equipment information can be exchanged from end to end, enabling manufacturers to identify inefficiencies and problems sooner, providing business intelligence that saves time and money.

To improve productivity, reduce manpower costs, and effectively visualize equipment and sensor data, the toothbrush manufacturer needed to automate data collection and process control. The first step involves implementing remote monitoring of critical process data, such as cycle time, I/O on-off, error alerts, pressure valve status, power parameters, and plastic injection sensor count, as well as digitalized temperature and humidity measurements.
However, because the production line comprised mainly offline devices, machine operators relied on paper-based data collection and in-person equipment monitoring process. While the lack of digitalization prevented integrated data collection and data analysis, the large-scale facilities and distances between equipment areas hindered the installation of communication network cables.

To enable network connectivity for integrated monitoring of machine status and production data, they needed a solution for remote point-to-point data visualization that could be rapidly deployed without major cost or changes to the existing production line. Although advanced technologies can improve flow control and reduce process waste, there was insufficient space for installing additional equipment. Instead, the solution needed to be easily integrated with their existing infrastructure, support wireless connectivity and plug-and-play functionality, and feature a user-friendly interface for convenient configuration.

WISE-4220+WISE-S251: 2.4G Wi-Fi IoT Wireless Modular I/O + 6DI Wireless Modular I/O with 1RS-485 I/O
ECU-1051TL: 2LAN 2COM Modbus/BACnet/101/104/DNP3/PLC/Azure/AWS IoT Gateway
The manufacturer implemented a solution that comprised a data acquisition layer, data/protocol transfer layer, data treatment layer, and MES/SCADA management system. Advantech's ECU-1051TL industrial communication gateway and WISE-4220-A+WISE-S251-A wireless I/O modules were employed as the data acquisition layer for collecting equipment data. All collected data is converted into Modbus TCP format by the MES/SCADA system and then transferred to a private server/cloud using the MQTT protocol.
The WISE-4220 +WISE-S251 I/O module is an industrial-grade design that offers a wide operating temperature range (-25 ~ 70 °C/-13 ~ 158 °F) and diverse I/O (AI, DI, DO, Relay, RS-485) for reliable operation and convenient data acquisition, while support for DIN-rail, wall, stack, and pole mounting enables easy deployment without cables. In the event of network disconnections, the included data logger can save up to 10,000 data readings with time stamp to ensure data is not lost, and the data saved offline can be re-transmitted once the connection is restored.

Powered by an ARM Cortex™-A8 processor, the ECU-1051TL gateway provides an open platform with two 10/100 Ethernet ports. To ensure compatibility with diverse PLCs, it supports a variety of communication protocols (DNP3.0, OPC-UA, BACnet/IP, Modbus RTU/TCP, and MQTT) and multiple data transmission methods, including RJ45 Ethernet and mini-PCIe for Wi-Fi/4G/SIM card expansion.

Also included in the solution is Advantech's ADAM-6022 Ethernet-enabled dual-loop PID controller with utility software that allows factory managers to easily set PID parameters and monitor the control set points via a web browser. Similarly, the provision of Linux OS and open WISE-PaaS/EdgeLink SDK enables system integrators to develop applications for specific monitoring needs, such as distributed or cloud-based applications that require entirely wireless Ethernet communication solutions.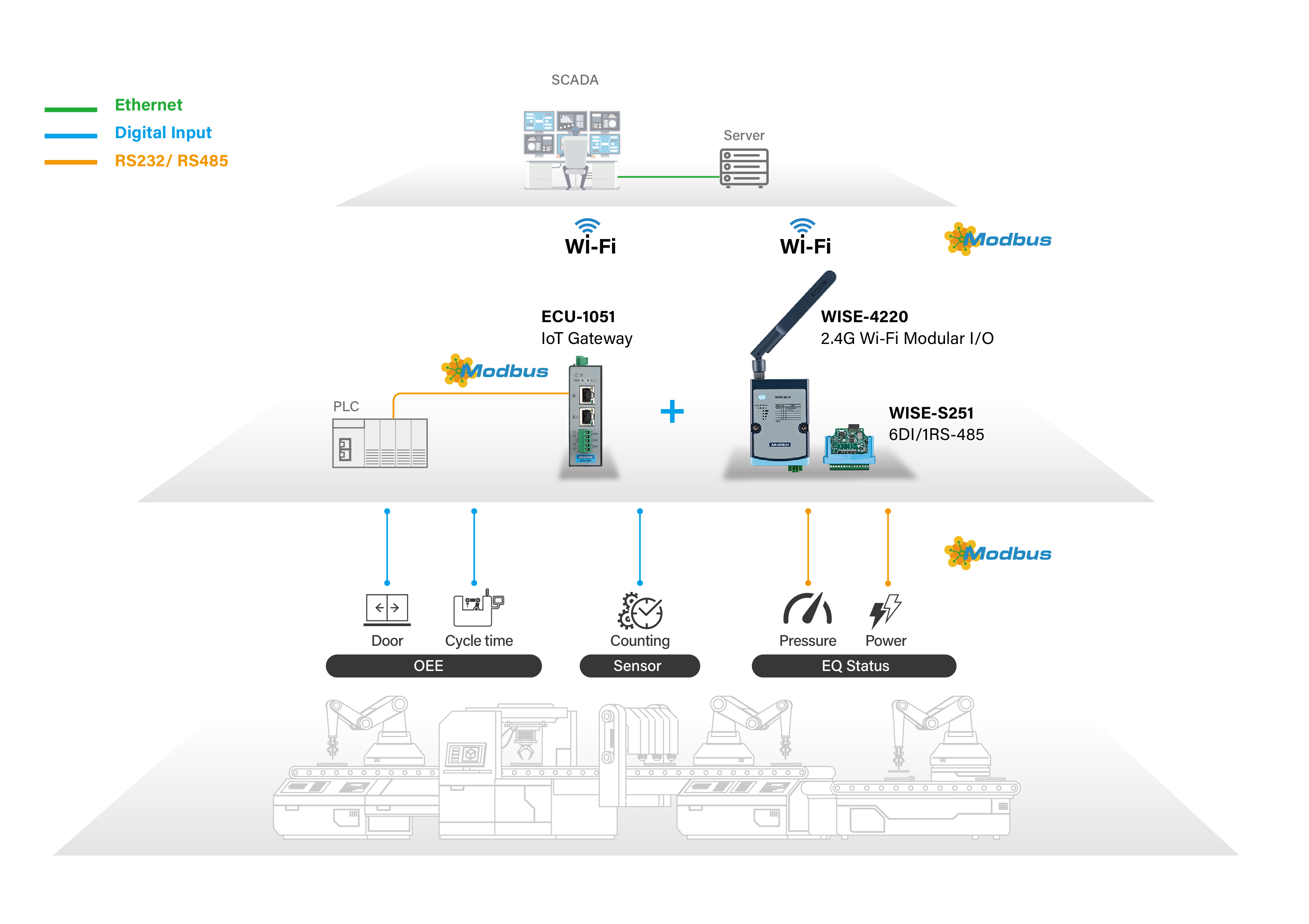 Advantech's wireless I/O modules provided plug-and-play functionality for flexible deployment both indoors and outdoors without additional wiring. This assisted the factory managers with rapid rollout, saving installation time and costs. Production line data was collected and transferred to the manufacturing execution system for real-time remote monitoring from a centralized location, streamlining workflows and reducing production downtime. Through monitoring overall equipment effectiveness (OEE), the solution helped reduce production line downtime by at least 2%, providing annual cost savings of approximately US$20,000.
Advantech's wireless devices also support AES-128 encryption for secure end-to-end data transmissions as well as disconnection continuity for retrieving locally stored data after network recovery. This safeguards data while in transit and minimizes data losses, allowing manufacturers to use off-the-shelf communication technologies to build high-coverage, high-compatibility Wi-Fi networks with only a few I/O modules. With Advantech's wireless I/O solutions, manufacturers can reimagine their internal communication networks and production processes to move towards a more sustainable future.
Advantech offers a wide range of entry-level wireless communication solutions with plug-and-play functionality for cost-effective deployment and rapid configuration. The ergonomic design and intuitive interface allow customers to directly manage data with minimal programming/development effort. Moreover, Advantech's industrial networks provide a one-stop solution for frontline data collection through to backend processing to maximize operating convenience.
Realizing smart manufacturing and automated processing requires cross-functional collaboration and integrated systems and technologies. It calls for a partner who understands the industry trends and technology roadmap. Leveraging decades of experience, Advantech integrates domain expertise with advanced technologies to help manufacturers unlock the benefits of digital transformation by delivering purpose-built automation systems.