Advantech Launches USC-365 Ultra-Slim POS System for Retail and Hospitality Applications
7/20/2022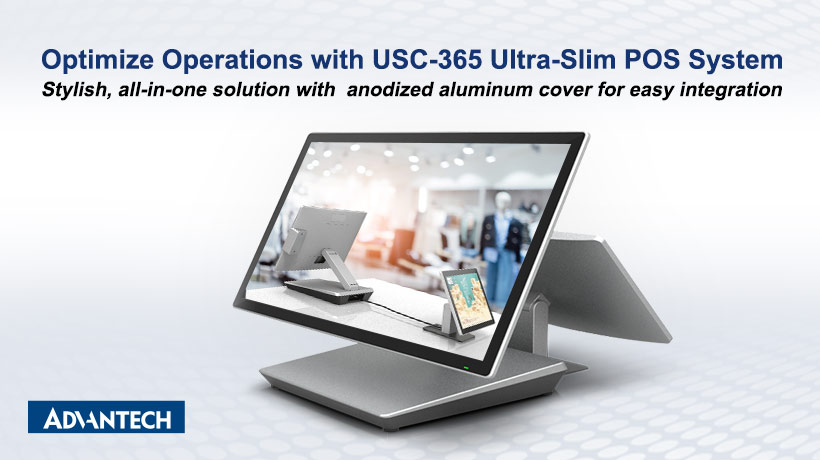 Taipei, Taiwan, July 2021

– Advantech, a leading provider of intelligent computing solutions, is pleased to announce its USC-365 ultra-slim, all-in-one (AiO) point-of-sale (POS) system aimed at retail and hospitality applications. Powered by an 11th generation Intel® Celeron® 6305E/Core™ i3-1115G4E/ i5-1145G7E processor, USC-365 is the first POS system to feature an anodized aluminum cover that can be easily customized to fit the installation environment. The 15.6" full HD LCD with LED backlight and P-CAP touch control is a slim display equipped with an ultra-thin bezel to provide a truly immersive viewing experience. Moreover, to support a wide range of applications, the USC-365 POS system is also equipped with a USB Type-C connector for integrating additional devices and I/O extension modules according to specific usage requirements.
Anodized Aluminum Cover
Anodized Aluminum Cover Extends Product Lifespan
USC-365 is the world's first POS system with a cover made from anodized aluminum. Because the process of anodization significantly increases the corrosion resistance, surface hardness, and wear resistance of aluminum, this cover actually extends the product lifespan. Compared to other metals, anodized aluminum is lightweight and offers superior heat dissipation, making it ideal for fanless systems like USC-365.
USB-C Connector
USB-C Connector Streamlines Data Transfers
To provide a forwards compatible solution for future applications, USC-365 is built with a USB Type-C connector that can be used to connect a secondary display or I/O extension module. USB-C technology offers many advantages for POS systems because a single cable can transmit video, audio, and data simultaneously, while also supplying the power needed to recharge devices. Combined with the fact that USB-C connectors are reversible, this allows numerous devices to be integrated without additional wiring, simplifying installation.
FHD Display with Ultra-Thin Bezel for Immersive Viewing
USC-365 has a 15.6" full HD LCD with LED backlight and P-CAP touch control. This panel display is slim in design and features an ultra-thin bezel (11 mm) to maximize the viewing area. The directly bonded panel is also equipped with an anti-glare coating to reduce the surface reflection and ensure a comfortable, fully impressive viewing experience. Overall, USC-365 provides a versatile POS solution that streamlines installation while maximizing productivity.
Key Features
11th gen Intel® Celeron® 6305E/Core™ i3-1115G4E/i5-1145G7E processor
15.6" full HD LCD with LED backlight and P-CAP touch
Directly bonded panel with anti-glare coating

1 x LAN, 3 x USB Type-C, 2 x USB 3.0, and 1 x RJ-11

Integrated wiring with USB-C connector that supports video, audio, and power signals

I/O extension module offers 2 x COM, 3 x 12V power USB, 1 x 24V power USB, 1 x USB 2.0, and 1 x USB Type-C

Highly customizable anodized aluminum cover

Advantech's USC-365 ultra-slim AiO POS system is available to order now. For more information regarding this or other Advantech products and services, contact your local sales support team or visit our website at www.advantech.com.
About Advantech
Founded in 1983, Advantech is a leading provider of trusted, innovative products, services, and solutions. Advantech offers comprehensive system integration, hardware, software, customer-centric design services, embedded systems, automation products, and global logistics support. We cooperate closely with our partners to provide complete solutions for a wide range of applications in diverse industries. Our mission is to enable an intelligent planet by developing automated and embedded computing products and solutions that facilitate smarter working and living. With Advantech products, the application and innovation potential becomes unlimited. (Corporate website: www.advantech.com)
Primary Media Contact
Advantech Corporation
Mercy Weng
Tel: 886-2-77323399 ext. 9685

Email: Mercy.weng@advantech.com.tw

Secondary Media Contact
Advantech Corporation
Yui Yu
Tel: 886-2-77323399 ext. 9656

Email: Yui.Yu@advantech.com.tw