Advantech Launches VEGA-1200 4K SDVoE Encoder/Decoder for Medical Video Imaging Applications
4/1/2022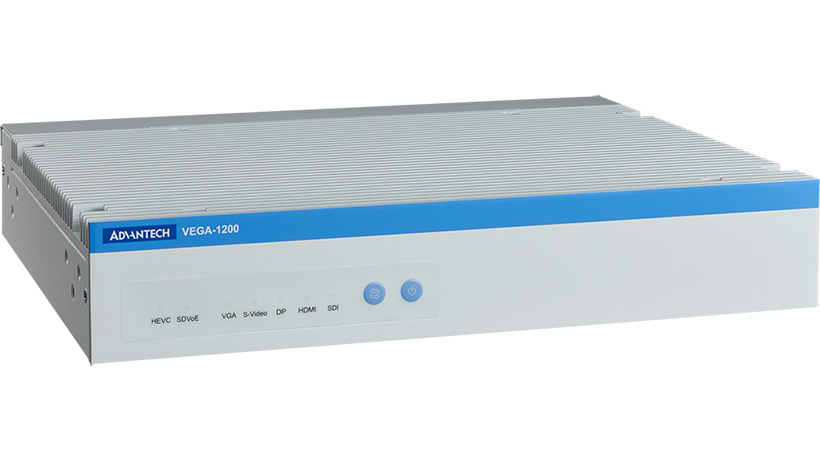 April 1, 2022, Taipei, Taiwan - Advantech, a leading provider of industrial intelligent systems, is pleased to announce VEGA-1200 – a zero-latency 4K SDVoE hybrid encoder/decoder. Aimed at medical video imaging applications, VEGA-1200 supports high-quality live HEVC and AVC encoding (up to 4Kp60), as well as SDVoE functionality, to enable real-time video recording and broadcasting. The system's fanless design and low power consumption ensure easy integration and efficient operation, and can be conveniently configured via a web GUI for superior control and data security.
Supports Analog, Digital, and IP Video Cameras
With medical imaging playing an increasingly significant role in healthcare, devices capable of capturing precise and detailed images and videos have become essential. Advantech's VEGA-1200 hybrid encoder/decoder not only facilitates medical image and video recording, but takes it one step further by also supporting all analog, digital, and IP video input sources. The encoder function converts analog signals into digital streams that can be transmitted over LAN, WAN, and other types of IP networks with zero latency. This allows healthcare providers to record surgical procedures and treatments in real time and live stream/broadcast them to medical schools and teaching hospitals using existing camera infrastructure.
First SDVoE Device with NDI and SRT Linking Protocols
Advantech's VEGA-1200 hybrid encoder/decoder is the first SDVoE device equipped with NDI and SRT linking protocols for low-latency video and audio transmissions. SDVoE and is the only off-the-shelf technology that offers a comprehensive open system interconnection (OSI) stack solution and serves as a flexible interface between endpoints and software. Meanwhile, NDI and SRT protocols ensure seamless data communication to facilitate mission-critical video operations. Thus, VEGA-1200 eliminates the need to integrate multiple technologies, which reduces initial investment costs, streamlines deployment, and provides a solution that can be easily upscaled to support a wide range of video recording and broadcasting applications in diverse industries and sectors besides healthcare, such as public services, enterprise security, and government administration.
Zero-latency 4K HDR SDVoE video encoder/decoder
Loop out HDMI output for real-time viewing on additional HDMI display
Supports real-time HEVC encoding (up to 4Kp60) and SDVoE functionality
Chemically resistant front panel ensures easily cleaning and hygiene control
Advantech's VEGA-1200 hybrid encoder/decoder is now available. For more information about this or other Advantech products, contact your local sales support team or visit our website at Medical Video Solutions.