Improving the Efficiency and Accuracy of Gross Processing with a Pathology Digital Imaging System
7/24/2023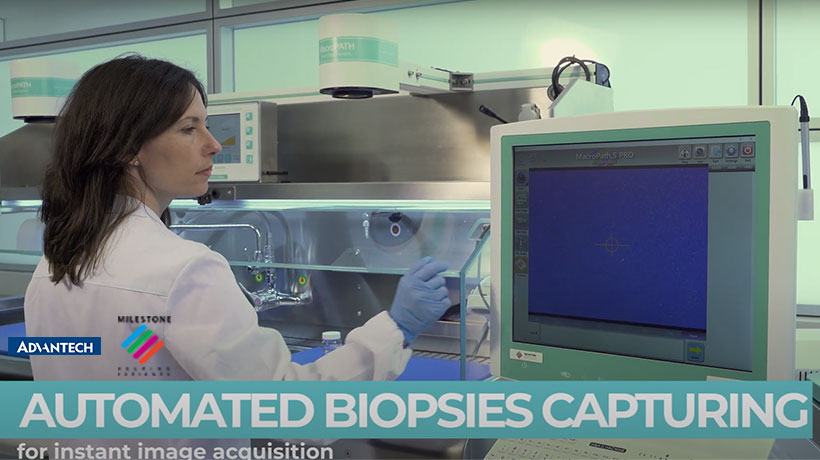 Photos provided by Milestone Interview with Danilo Treno, iHealthcare Key Account Manager of Advantech Europe
chnologies aimed at enhancing the documentation of crucial steps in the journey of a specimen, leading to more accurate diagnoses.
Streamlining the gross pathology process
In 1994, Milestone, a corporation that specializes in advanced instrumentation for analytical and organic chemistry labs, expanded its expertise into histopathology. Just a few years later, they pioneered the first grossing pathology camera system. Diagnosis in histopathology heavily relies on the visual examination of biopsy materials and excised gross pecimens. However, to ensure accuracy and efficiency, a variety of data factors excised can come into play.
Milestone developed the MacroPATH digital imaging system to improve grossing efficiency and accuracy, and to eliminate inaccuracies in descriptive reports. The system integrates user-friendly pathology software, an enclosed industrial video camera, and Advantech's POC-6 series of medical-grade point-of-care (POC) terminals. Recognizing the importance of staying up to date with chnological advancements, Milestone is currently in the process of upgrading to the POC-6 series.
This transition includes a shift from a 4:3 to 16:9 aspect ratio display, setting up the adoption of Advantech's POC-6 series for the next generation of MacroPATH system.
Milestone emphasizes that the MacroPATH grossing pathology imaging system is an advanced solution that simplifies the documentation process of gross specimens, enabling the immediate capture and storage of highresolution digital images and videos. This system includes useful features such as a location indicator for sample excisions, a microphone for voice notes, and editing tools, empowering pathologists to visualize even the most subtle details of specimens effectively. Additionally, the MacroPATH system stores all gross pathology macroscopic images, making it an indispensable diagnostic database for teaching, research, and quality assurance purposes.
MacroPATH facilitates collaboration among healthcare professionals by facilitating image sharing and enabling collaborative diagnosis and treatment planning. The system offers the convenience of a foot pedal and the innovative LOOX eye-tracking system to offer hands-free control of the main functions. These combines features make MacroPATH an efficient and user-friendly tool that simplifies and expedites the documentation procedure.
Medical-grade computing solution for pathology laboratories
The POC-6 series is specifically engineered for deployment in grossing areas, where exposure to pollutants, chemicals, and liquids poses a risk to electronic equipment. To address these hallenges and ensure equipment safety and longevity in this type of environment, the POC-6 series is equipped with an IP65-rated front panel, which is environmentally sealed in a specially designed plastic case. Additionally, the POC-6 series is compliant with IEC 60601-1 medical safety standards, ensuring that electrical devices used in medical settings meet the necessary safety requirements for the well-being of patients and staff.
The POC-6 series terminals have a compact, ultrathin, all-in-one design, making them ideal computing solutions for pathology laboratories, where space on the grossing station is often limited. These terminals are equipped with an 11th Gen Intel® Core™ i7-1185G7E processor, which provides high-performance computing for seamless operation of Milestone's pathology software and add-ons. These add-ons include cameras, barcode scanners, and foot pedals, as well as the ability to communicate with laboratory information systems.
Danilo Treno, iHealthcare Key Account Manager from Advantech Europe stated, "Milestone and Advantech have been working together for almost two decades, and Advantech's local support, long-term product commitment, and adherence to relevant healthcare regulations are the primary factors in their continued collaboration to develop new products."
Enhanced visualization with highquality digital images and videos of gross specimens
Hands-free control of the gross pathology digital imaging system
Improved accuracy and reliability of reports
Streamlined grossing workflow and automated routine tasks
Seamless transfer of data and reports to laboratory information systems
Advantech Product Features
The POC-6 series comprises compact, ultra-thin terminals with high customization flexibility. For this project, the terminal case was modified to fit Milestone's grossing pathology station design.

For more information regarding POC-6 series or other Advantech Digital Healthcare solutions, contact your local sales representative or visit our website.