Advantech Accelerates Edge AI, Networking and Storage with new High Performance Platforms based on 4th Gen Intel Xeon Scalable Processor
1/10/2023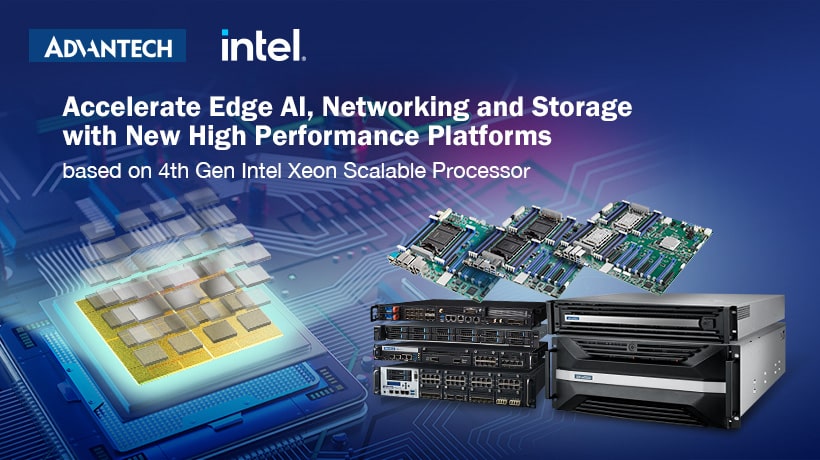 Ten new motherboards, servers and network appliances address increasing industrial, telecom and enterprise edge computing needs featuring built-in accelerators to meet performance and sustainability objectives
Taipei, Taiwan, Jan 10, 2023 – Advantech (TWSE: 2395.TW), a global leader in industrial IoT, today announced ten new high-performance platforms based on 4th Gen Intel Xeon Scalable processors to help equipment vendors, service providers and enterprises accelerate edge industrial, communications and IoT applications. 4th Gen Intel Xeon Scalable processors delivers increased performance over the previous generation featuring up to 52 cores, eight channels of DDR5 memory and 80 lanes of PCIe 5.0. Built-in accelerators improve throughput for fast-growing edge AI, networking, security, storage and HPC workloads delivering highly optimized platforms to achieve sustainability goals. Selected configurations are immediately available for lead customer evaluation.
The new 4th Gen Intel Xeon Scalable processor deliver unprecedented performance and scalability with higher core count, memory bandwidth and I/O capacity. Leveraging Advantech's hardware design expertise, the new motherboards, servers and network appliances accelerate industrial, telecom and enterprise workloads while meeting challenging density, efficiency and environmental deployments needs at the edge. In addition, Advantech solutions provide high reliability including advanced platform management based on in-house BMC development, long life cycles for embedded industrial and telecom customers, global logistics with local support and strong co-creation partnerships for shorter time to market and reduced risks.
"We are very excited by the impressive innovations Intel brought to its latest generation high-end prestigious processor with a focus on performance and energy efficiency," said Magic Pao, AVP Industrial Cloud & Video Group, Advantech. "Our customers are demanding greener solutions but still need to cope with increasing computing and connectivity needs. The new platforms based on 4th Gen Intel Xeon processor definitively help us take one step further in fulfilling our mission of enabling a more intelligent and sustainable planet."
For Industrial AI & Equipment, Advantech has introduced four new motherboards and a server to enable next-generation machine vision, deep learning or video analytics applications for the industrial, medical or IoT markets. They leverage greater 4th Gen Intel Xeon processor bandwidth with support for PCIe 5.0 to maximize GPU density. Combined with built-in acceleration from Intel Deep Learning Boost (Intel DL Boost) with new Intel Advanced Matrix Extensions (Intel AMX), the new range provides impressive AI inference performance compared to previews generation solutions. The four new motherboards include ATX, EATX and proprietary form factors and can integrate up to four double-deck GPU cards. The motherboards can be delivered as fully integrated systems in Advantech HPC server chassis. The new SKY-620V3 edge AI server based on dual 4th Gen Intel Xeon processor supports up to 6 double-deck and 2 single-deck GPU cards for maximum AI performance in a 2U, 760 mm depth system. All Advantech industrial and edge AI solutions feature at least 10-year life-cycle support and revision control for embedded customers.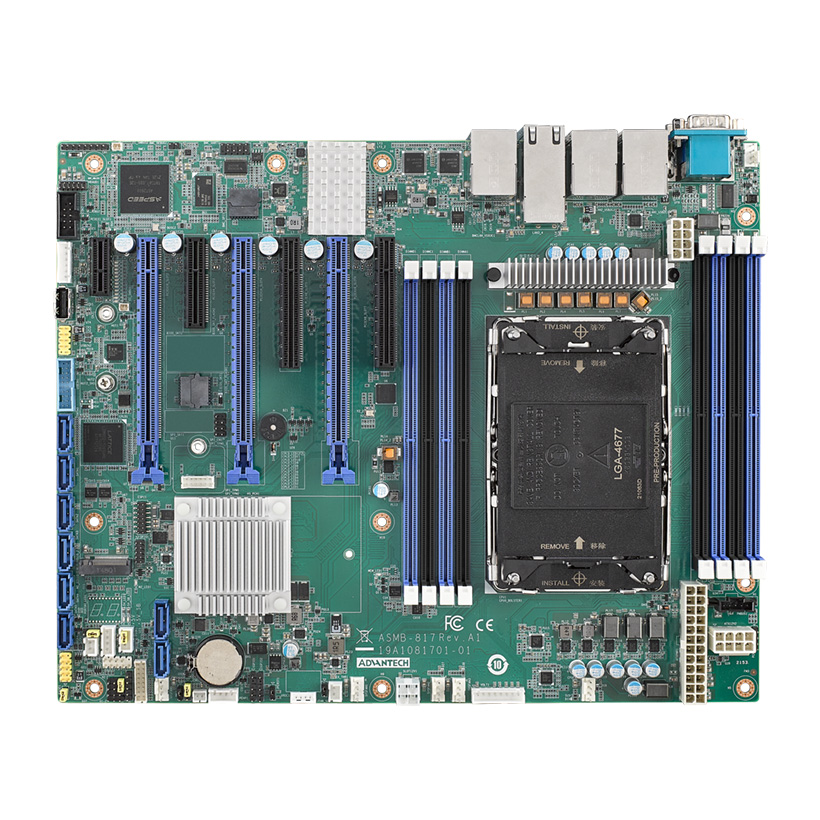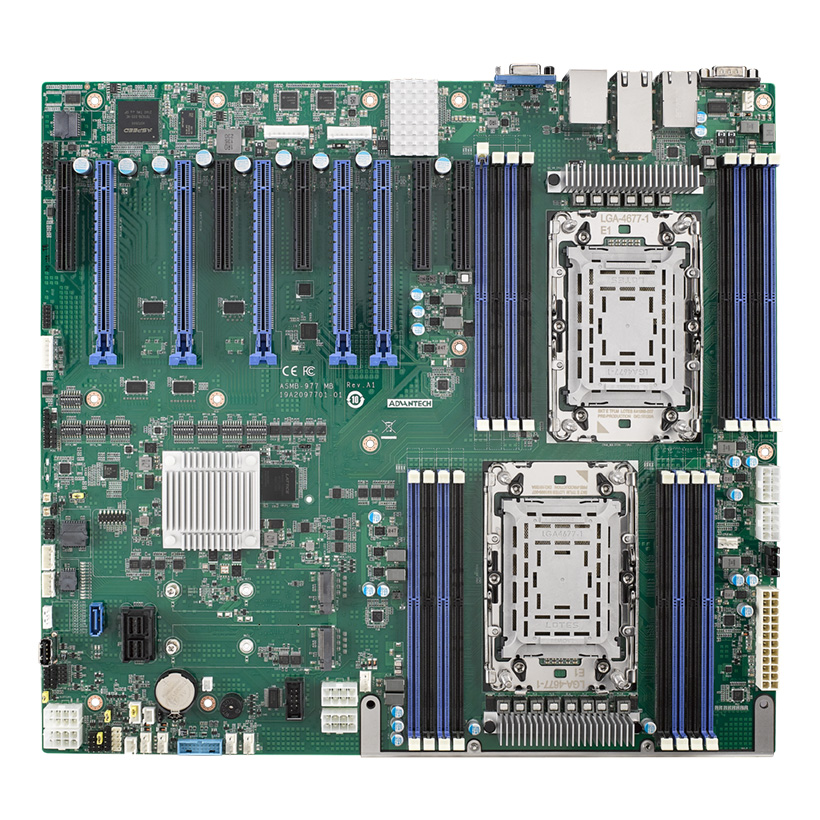 Picture 1. Server board ASMB-817
Picture 2. Server board ASMB-977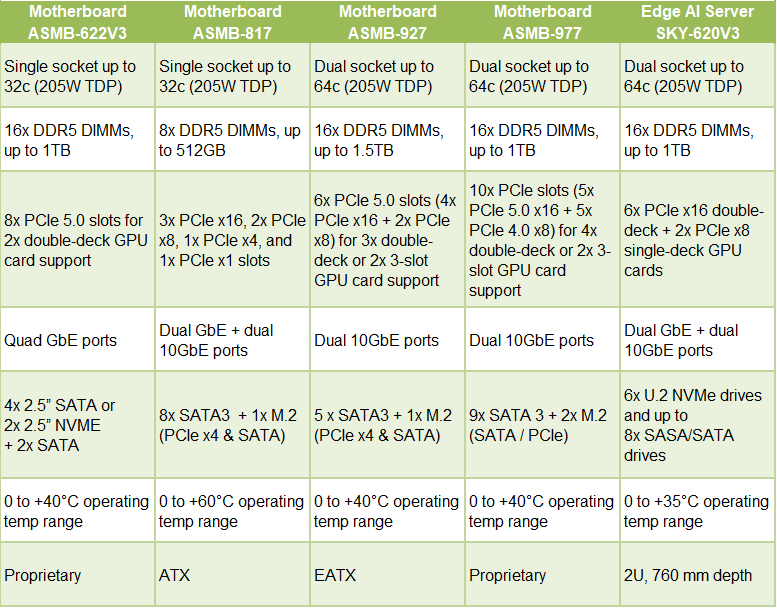 For the network edge and Open RAN, the new SKY-8134S-11 and SKY-820V3 servers provide solution vendors, system integrators and service providers with a powerful tool to optimize the access network while meeting 5G and beyond traffic, signal processing and AI computing needs. The SKY-8134S-11 is an innovative and unique in the market chip-down server that improves Open RAN DU performance, density, energy efficiency and cost. It integrates up to twelve 25GbE and two 100GbE ports for front-haul and mid-haul connectivity with PTP, SyncE and GNSS for high precision time synch in an ultra-short depth 1U, 290mm depth form factor that preserves all the carrier-grade features of preview generations to meet NEBS-3 requirements. The SKY-820V3 is a dual socket, 2U short-depth server that maximizes PCIe density to integrate high-performance accelerators. Its compact design makes it ideal to consolidate network edge workloads with the objective of improving infrastructure efficiency.

Picture 3. Edge Server for Open RAN & MEC SKY-8134S-11
For next-generation hyper-converged infrastructure and storage, Advantech has upgraded its server range to leverage increased 4th Gen Intel Xeon Scalable processor capacity including fastest data mobility between compute, storage and networking layers thanks to hardware-enabled Intel Data Streaming Accelerator (Intel DSA). These single and multi-node designs are trusted by leading hyper-converged infrastructure, backup and recovery solution providers to meet increasing data center latency and computing needs. They maximize storage performance and help build solid data center solutions for next-generation digital enterprise needs.

Picture 4. High-Performance Server SKY-8134DU
For enterprise networking and security, the new FWA-5072, FWA-6072 and FWA-6172 high-end appliances based on 4th Gen Intel Xeon Scalable processors improve network security application throughput featuring built-in Intel QuickAssist Technology for compression and encryption acceleration. The platforms deliver unprecedented performance, memory and I/O capabilities with up to 104 latest generation Intel Xeon cores, 4TB of DDR5 DIMMs and 8 PCIe 5.0 based Network Mezzanine Cards (NMC). Density is also improved with shorter 600mm depth chassis. In addition, the systems provide internal PCIe slots to integrate additional acceleration including the option of a dual-deck GPU card in the FWA-6172. Advantech Network Appliances have been designed from the ground up for maximum reliability and stability. Advanced platform management features such as dual redundant BIOS and FW images or support for fail-safe updates combined with advanced thermal and mechanical design including support for single fan failure makes the Advantech network appliances the platform of choice to run business-critical network security applications.
Picture 5. Network Appliance FWA-5072
The new platforms listed above will be generally available during 2H 2023.
For more information or if you are interested in evaluation units,
please contact us at cloud.iot@advantech.com

*Intel, the Intel logo and Xeon are trademarks of Intel Corporation or its subsidiaries.
About Industrial Cloud & Video Group
Advantech Industrial Cloud & Video Group (ICVG) helps equipment manufacturers, service providers, and enterprises extend the cloud to the IoT edge by providing scalable platforms that reliably execute business and mission-critical applications anywhere in the network. Our innovative industrial, networking and video solutions enable a seamless transformation toward cloud-native operations. They are supported by a vibrant software ecosystem and supply chain, offering key foundational building blocks that accelerate digital transformation. From the Industrial and Enterprise Edge to the Network Infrastructure and Hybrid Cloud, the Advantech Industrial Cloud & Video Group is enabling the co-creation of products and services that will form the backbone of the new 5G & AIoT economy.
www.advantech.com/cloud-iot