Cost-effective Data Acquisition (DAQ) Total Solution Greatly Improves Wafer Inspection Performance of Probe Stations
3/15/2023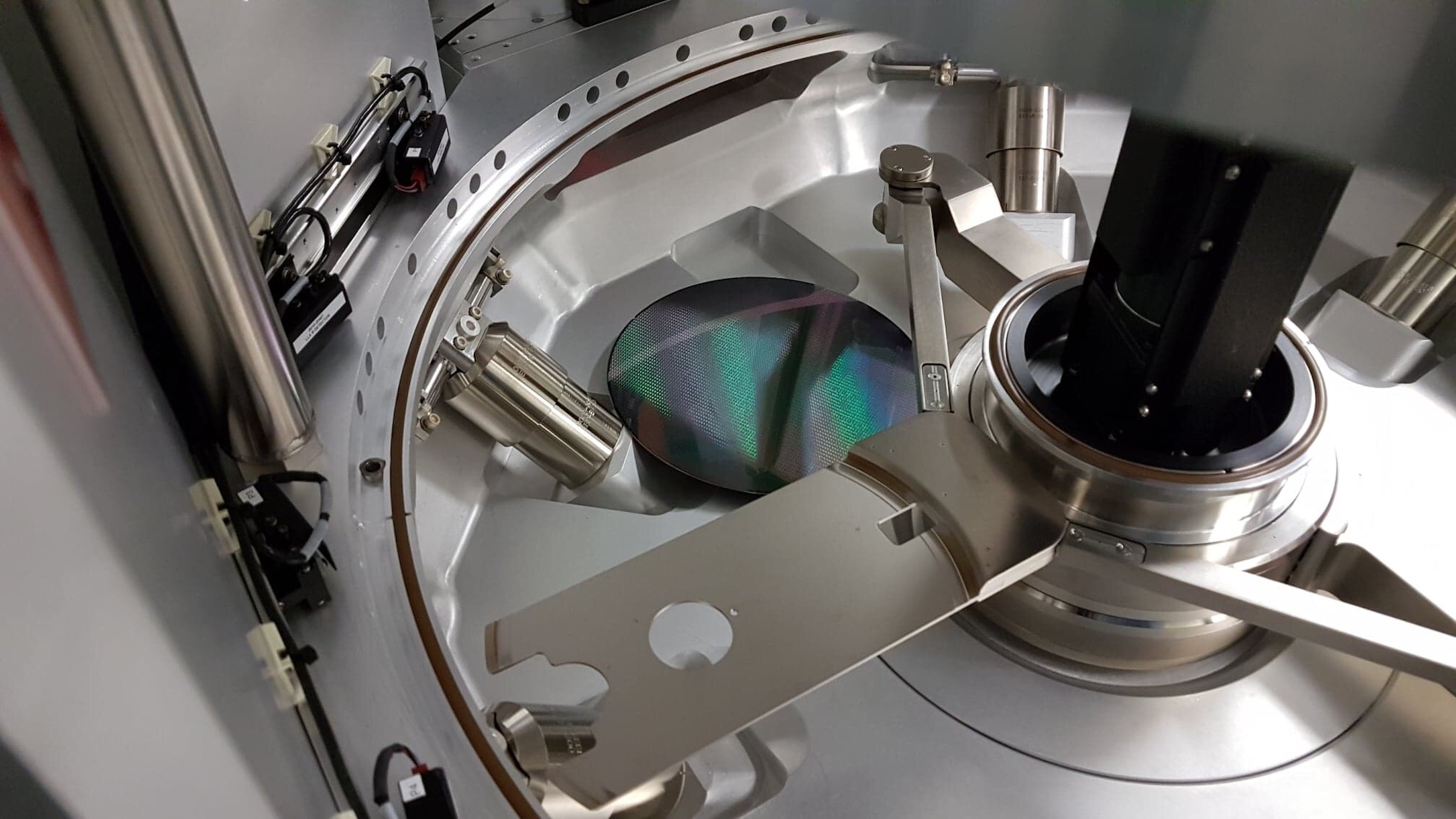 After a wafer is produced, it is the task of the probe station to inspect and test the dies on a wafer before passing and packaging it. With the increasing miniaturization of die sizes, this equipment and process is essential for efficiently detecting fabrication defects. Probe station developers who want to handle higher density dies on wafers must carefully choose the right data acquisition (DAQ) products for their equipment.

DAQNavi is a time-saving easy-to-use software development kit, which helps equipment builders to complete the development of new probe stations faster. Advantech DAQ total solution consists of three PCIE cards for die inspection with multi-channel, high-resolution, and high-speed synchronous sampling that provides a complex inspection range with low-latency sampling intervals. The new technology used in the solution also enables equipment developers to build new machines much more cost-effectively.

In order to meet the market demand for increasing wafer die density and improving inspection speeds, a developer in Asia-Pacific specializing in semiconductor probe inspection technology planned to create a new type of machine that improves on original inspection methods from the simultaneous testing of four dies to the simultaneous testing of eight dies.
The DAQ card used by a customer of the current four-die probe station had only four channels. To achieve the goal of simultaneously testing eight die, it was necessary to use two four-channel DAQ cards. However, this approach would take up an extra PCI/PCIE slot and increase the cost of the probe station. The resolution of the existing DAQ card is only 12-bit, which could not meet the needs of the developer for more accurate electrical signal measurement, so the company decided to evaluate a new DAQ solution with specifications as listed below:
1. DAQ card

PCIE card provides at least 8 channels of simultaneous analog input to test eight dies.

16-bit resolution for more accurate sampling results.
Sampling rates of each channel no less than 500kS/s.

Reduced collected noise for more accurate collection results.

Retrigger function to drive the DAQ card for next round of dies inspection.

2. Other related products

Analog output PCIE card with 8+1 channels, 8 for the dies and 1 for machinery control.

56-channel TTL digital output PCIE card.
Software development tools for data acquisition saves programming time.
Advantech's cost-effective DAQ total solutions include simultaneous analog input DAQ card PCIE-1841, PCIE-1824 analog output PCIE card, PCIE-1753 digital I/O PCIE card, plus DAQNavi software development kit, which allows probe station developers to meet their current and future upgrade needs with a convenient one-stop shopping experience.
PCIE-1753 is responsible for detecting when a wafer is fed into the probe station. After the wafer position and position are precisely positioned, an analog signal is output from PCIE-1824 to activate the dies. PCIE-1841 then collects the process data and transmits it to the main computer for data analysis. After that, signals are output from PCIE-1753 to control the movement of the wafer in order to inspect the next eight dies, inspecting eight dies at a time, until all dies on the wafer have been inspected. All three PCIE cards were controlled and integrated via the easy-to-use DAQNavi software development kit, which saved development time and cost.

PCIE-1841: 16/8-ch, 16-bit, 1MS/s simultaneous analog input PCI Express DAQ card
PCIE-1824:16-bit ,32/16-ch analog output PCI Express card
PCIE-1753: 96-ch digital I/O PCI express card

DAQNavi: DAQ software development kit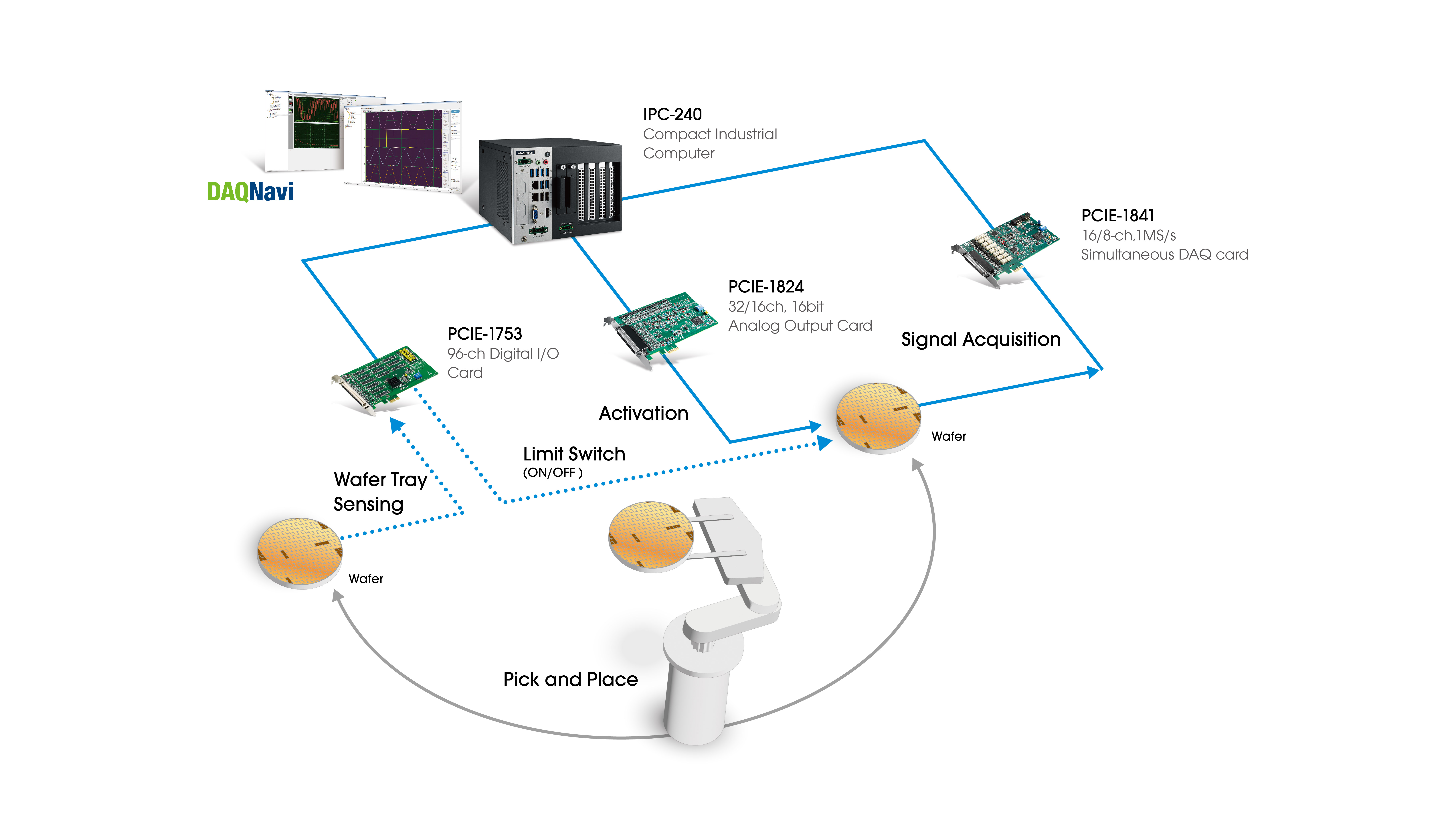 Whether it is developing new products or upgrading, performance is very important for equipment developers. However, time and cost of development are also key factors that developers need in order to plan carefully. Advantech's cost-effective DAQ total solution enabled this probe station developer to improve inspection speeds, better sampling accuracy, shorten development time, and reduce development cost.
Advantech offers the widest range of products and optional components required for developing equipment (such as motion control related products). One-stop shopping saves time searching for additional components and helps equipment builders focus on their product development and delivery to the customer.