Intelligent Electric Bus Management System that Reduces Carbon Emissions in Vietnamese Cities
8/5/2021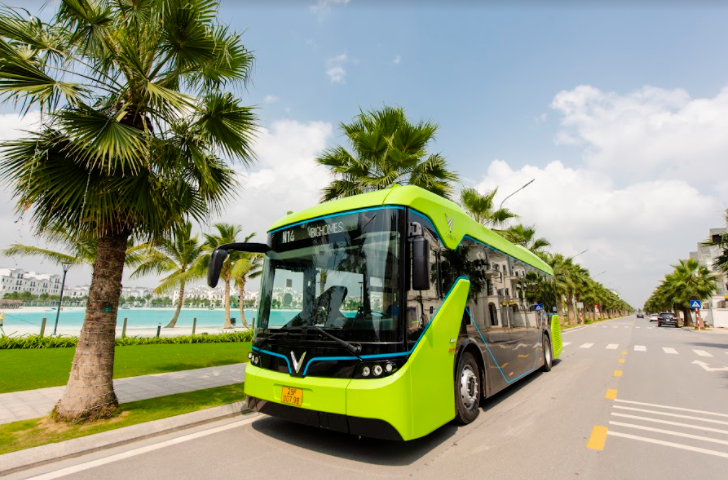 Photos provided by VinBus
Interview with David Yang, Intelligent Mobile Solutions & Fleet Management Solution Product Manager of Advantech; Van Lin, Intelligent Mobile Solutions & Fleet Management Sector Senior Director of Advantech
Vietnamese government and system integrators (SI) are actively promoting electric buses to address severe air pollution issues in urban areas.
Indeed, VinBus, a Vietnamese public transportation service provider, is equipping its electric buses with Advantech's intelligent bus solution. These buses are the first of their type to traverse the streets of Ho Chi Minh City, Hanoi, and Phu Quoc. They deliver comfortable and safe service to the public while significantly reducing both noise and air pollution.
Advantech intelligent electric bus systems in Vietnam
VinBus, a subsidiary of Vietnam's largest conglomerate VinGroup, specializes in intelligent electric buses. They have launched a large-scale electric bus project aimed at improving environmental stability.
VinBus conducted a public opinion survey where respondents attributed their bad experiences to the use of diesel engine buses found in all major Vietnamese cities. Indeed, the strong smell of diesel and noisy engines make passengers extremely uncomfortable and greatly reduce their willingness to take the bus.
VinGroup decided to improve rider experiences by building safe, comfortable electric buses that provide various smart services. Accordingly, VinFast, a subsidiary of VinGroup that builds vehicles, wanted a partner capable of supplying the smart solutions needed to manufacture electric buses. Advantech's superior hardware and software integrated solutions for electric buses and extensive experience implementing similar projects in Taiwan made them a logical partner. VinBus opted to collaborate with Advantech and use their TREK Intelligent Electric Bus Management System.
David Yang, Intelligent Mobile Solutions & Fleet Management Solution Product Manager at Advantech said, "The TREK Intelligent Bus Management System provides advanced driver assistance systems (ADAS) and driver behavior management, passenger Wi-Fi service, and advertisement systems. The TREK system improves bus safety, comfort, and convenience — eliminating the discomfort passengers previously endured on diesel buses and transforming public transportation in Vietnamese cities.
Electric buses deliver exceptional carbon reduction results
VinBus's intelligent electric buses have been undergoing trials since May 2021, providing passenger services on ten routes in Hanoi and four routes in Ho Chi Minh City, and Phu Quoc. Between 150~200 buses are beginning service during this first phase. These buses deliver a comparatively safer, more convenient, and comfortable public transportation experience Vietnamese commuters.
Electric buses also help address air pollution problems. Let's compare an example from Taiwan, where 44 electric buses were introduced in Taichung City in 2016. The Taichung City Environmental Protection Bureau stated that these reduced carbon emissions by 2,737 metric tons that year alone. Therefore, the 200 VinBus electric buses used in the first phase should have a correspondingly significant effect on carbon emissions.
Van Lin, Intelligent Mobile Solutions & Fleet Management Sector Senior Director at Advantech, pointed out that VinBus has finished the first phase of the electric bus project and is expected to launch the second and third phases within the next two to three years — deploying 2~3 thousand electric buses in major Vietnamese cities. These electric buses use comfortable combined with intelligent features to attract previously reluctant people. The project will also reduce the amount of time people spend on motorcycles, further reducing air pollution.
Van Lin added that pursuing environmental sustainability benefits everyone. Advantech will replicate and export their experience of successfully implementing intelligent electric bus management systems in Taiwan and Vietnam to other countries. It is hoped that this endeavor helps cities adopt electric bus systems that improve environmental sustainability.