The Next Leap of Digital Transformation in Manufacturing
8/12/2022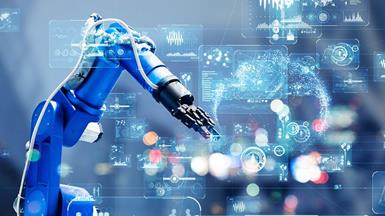 As technology continues to advance, we as consumers, also feel the convenience brought about by living in a rapidly changing digital age. We are constantly looking forward to more user-friendly services created by digital innovation. It is not difficult to imagine that organizations in most industries also need to continuously invest to meet the growth expectations of employees and potential customers. Large and medium-sized companies in the industry have also applied digital technology during this epidemic to reduce the possibility of low production and work inefficiency. Digitalization is rapidly affecting the industry and these changes stem from the current industrial environment.
The Fourth Industrial Revolution, also known as Industry 4.0, is the continuous automation and digitization of traditional manufacturing practices for more efficient and profitable growth. Although the term Industry 4.0 was coined in Germany, various countries are also developing digital transformation strategies and they subsidize companies who adopt digital transformation solutions. Manufacturing industry has long faced the pressure of labor shortages and rising labor costs, especially traditional industries, which cannot compete in terms of wages like the high tech industry can. The US/China trade war in 2018 and the pandemic from 2020, caused supply chain problems and protectionism has risen so the pace of digital transformation has to be accelerated.

What does industrial digital transformation mean?
Industrial digital transformation aims to revolutionize revenue and profit models, and innovate through transformation and upgrades. The boost in production and manufacturing is nothing more than an improvement in production automation, and the optimization of smart manufacturing processes. Through digital transformation, production optimization and efficiency can be increased. This type of transformation not only requires the introduction of new tools and technologies, but also represents a cultural change in all fields of work, as well as the transformation of management methods and the breaking of barriers between teams. Through more transparent data visualization and information, management can make more timely and beneficial judgments on production, sales and supplies, and create more valuable innovative business models.
The epidemic has accelerated the appetite for digital transformation. Because of the uncertainty of market demand and the risk of supply chains, many senior managers require real-time information, and because of the reorganization of the supply chain, competition has become more intense. Companies are also uncertain about how to go about digital transformation. Through a good understanding of trends in technology, business models, consumer behavior etc., enterprises can discover new opportunities and future development directions. Through digital transformation they can successfully convert challenges into new business opportunities and create sustainable value for their enterprise.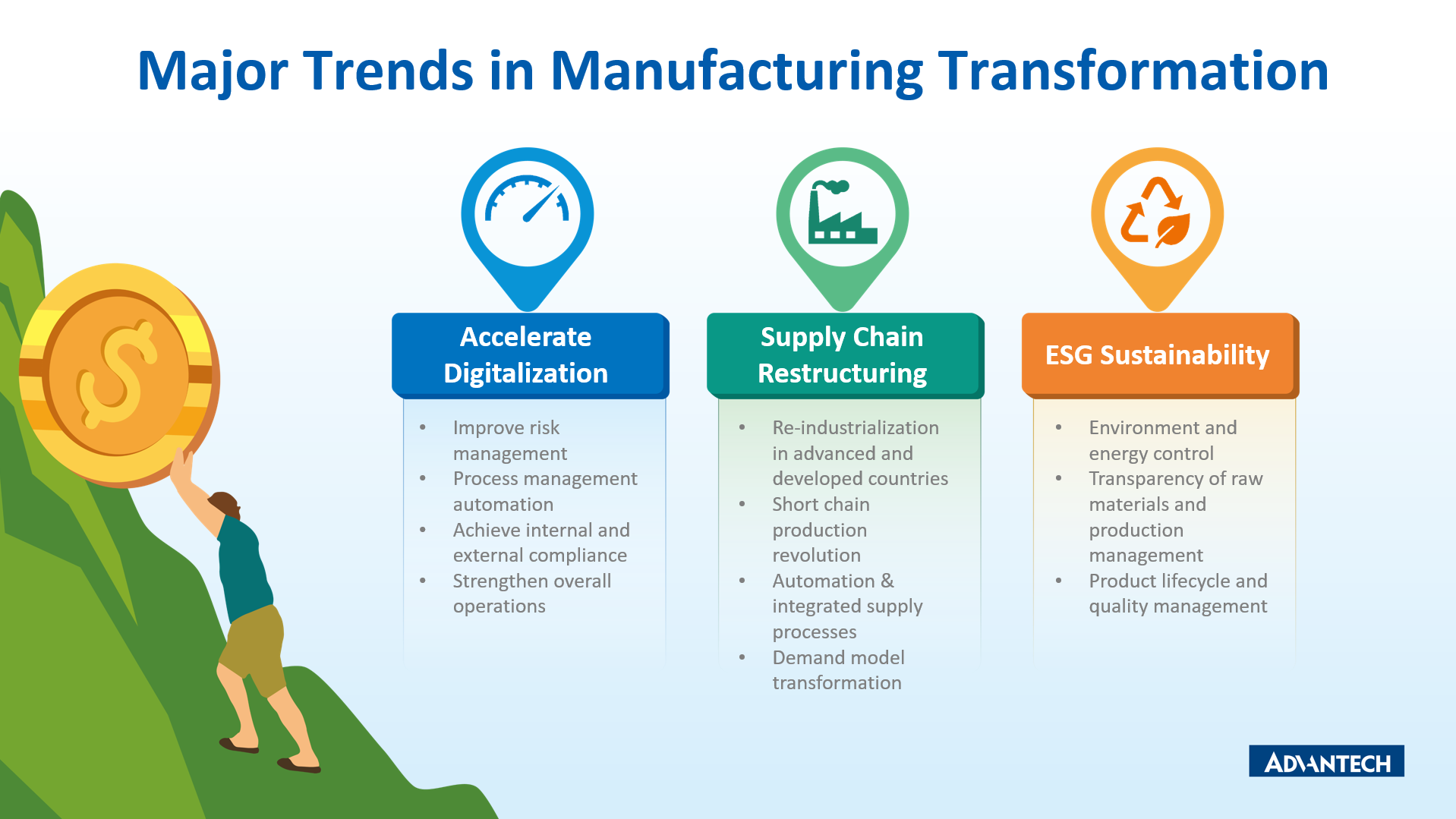 Accelerating digital transformation improves the automation of process management and the transparency of information and data, as well as strengthening overall operations. In the past, manufacturing took labor costs as their sole consideration, but because of the epidemic, the trends of the market supply chains has changed significantly. The issue of manufacturing cost has now been elevated to end-to-end benefits. Procurement strategies of enterprises is also changing and accelerating this digitalization process. This will bring great advantages to the visibility of the supply chain and help reduce supply risk to ensure a short-chain production revolution.
Why should the transformation of industrial digitization begin as soon as possible?
Today's manufacturing industry is gradually moving from single-point automation to comprehensive adoption of intelligent applications. Through transparent real-time data collection and information flow, all production status can be easily understood and the problem of information silos between departments can easily be overcome to improve transparent communications. In addition to better productivity, it can also assist sales people to better know the status of production and immediately view orders and shipping timetables. Management can better track the progress of business KPIs, which is one the main reasons for the rapid adoption rates of digital transformation in today's manufacturing industry.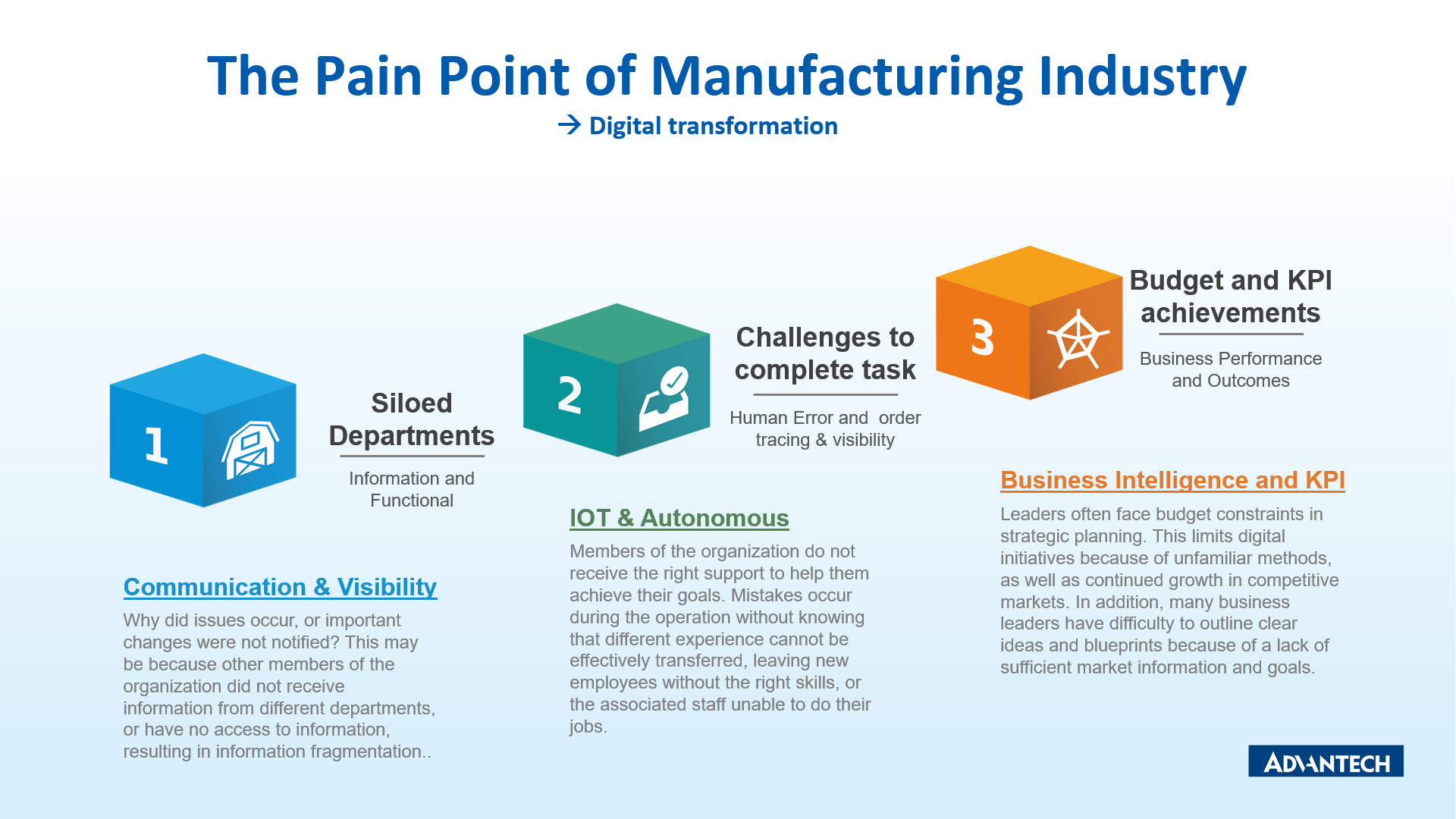 Regardless of manufacturing or shipment distribution, just-in-time (JIT) production strongly depends on the stability of the supply chain including transportation and logistics. The JIT model of zero inventory is considered as a bible in the minds of many production managers. If a catastrophic problem occurs, the supply chain system will be destroyed, demand and supply will be unbalanced, and the global trading economy will be greatly affected. In the past, the manufacturing industry attached great importance to JIT, emphasizing the priority of cost and expense, and reducing the time and money of ineffective output. COVID-19 has shattered many of the past thinking in terms of supply chain process management, and it has also created unprecedented operational and financial challenges for planners related to and around manufacturing.
Combining lean manufacturing and digitization, with an emphasis on cost reduction, a focus on eliminating waste, and optimizing processes through customer demand, has played an important role in increasing the efficiency of the entire organization. Although lean manufacturing originated in factory production, its core principles can be found in a variety of organizations and applied in many different ways. Lean manufacturing and digitization can play a role in any field because it provides a data-driven approach to decision-making that emphasizes in root cause analysis and tracking. Lean manufacturing and digitization is the best approach for quickly identifying hidden problems and creating continuous improvements.
How should digital transformation be carried out?
First and foremost, it is recommended to evaluate the digital maturity of any organization. Through digital maturity questionnaires, the maturity of digital manufacturing can be understood, including semi-automatic and robotic automation, fully automatic processes and the intelligent capacity of each cycle node. The evaluation results aim to highlight the possibility of automation and intelligent IoT. Evaluation can be divided into several aspects: energy management and environmental sustainability, production and manufacturing management, workforce and work culture, business forecasting, supply chain management, and equipment maintenance. Operational reliability and system integration management are also used to confirm future entry points through these six key digital level indicators.
Digital maturity assessment enables managers to determine where their organization is on the digital transformation journey, and based on the results of the assessment, set goals and a path to achieve digital transformation. The use of digital maturity assessment determines where you are, where you need to go, and how quickly you need to get there.
The Digital transformation process is divided into three directions, intelligent automation, intelligent optimization, and intelligent factory transformation:
Intelligent Automation

is the process of developing and transforming from analog to digital, from human operation to automated operation to enhance the value of productivity.

Intelligent Optimization

focuses on production issues, equipment issues, or energy sustainability issues to achieve business objectives. This includes improving internal or external business processes, production efficiency in all areas, and giving employees the data they need to better understand the direction of target improvements to deliver a better customer experience.

Intelligent Factory Transformation

unleashes the untapped potential with the tools and applications necessary for business intelligence (BI). It takes advantage of the most appropriate digital developments to benefit from the huge quantities of digital data in enterprises and how they evolve.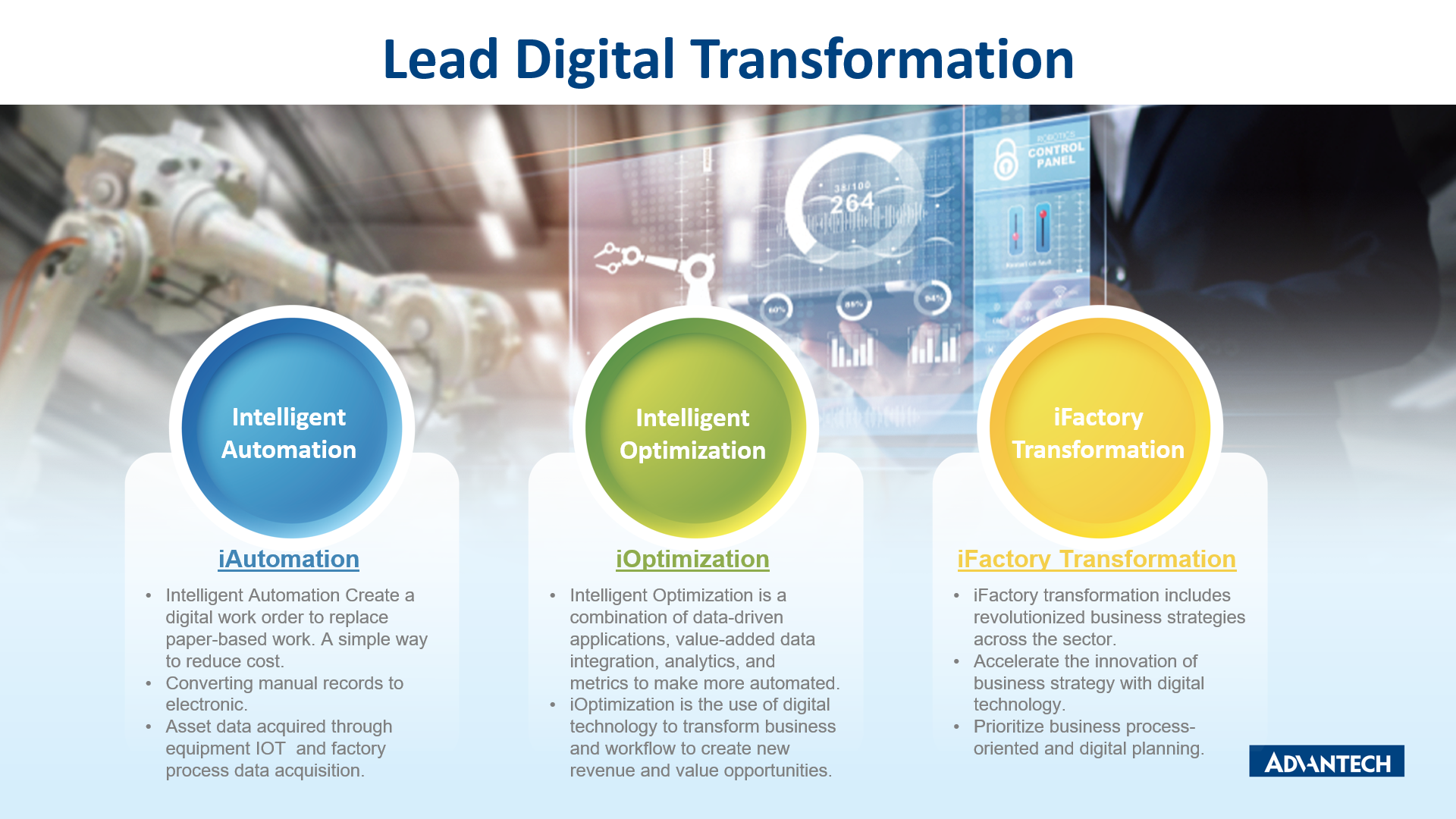 • Intelligent Automation: reduces downtimes, fault detection, and diagnosis problems
Automation is usually the first step in the factory transformation process, leading to a reduction in labor costs, and an improvement in safety. Combined with intelligence and automation, the transformation process from goes from analog to digital via data acquired from all equipment through external sensors. The information and status of each piece of equipment can be easily viewed and understood, so predictive maintenance can be scheduled leading to less production line downtimes. Effective automation can significantly increase production capacity and digital and paperless operations combined with image identification and recognition can optimize processes with progress tracking and reports.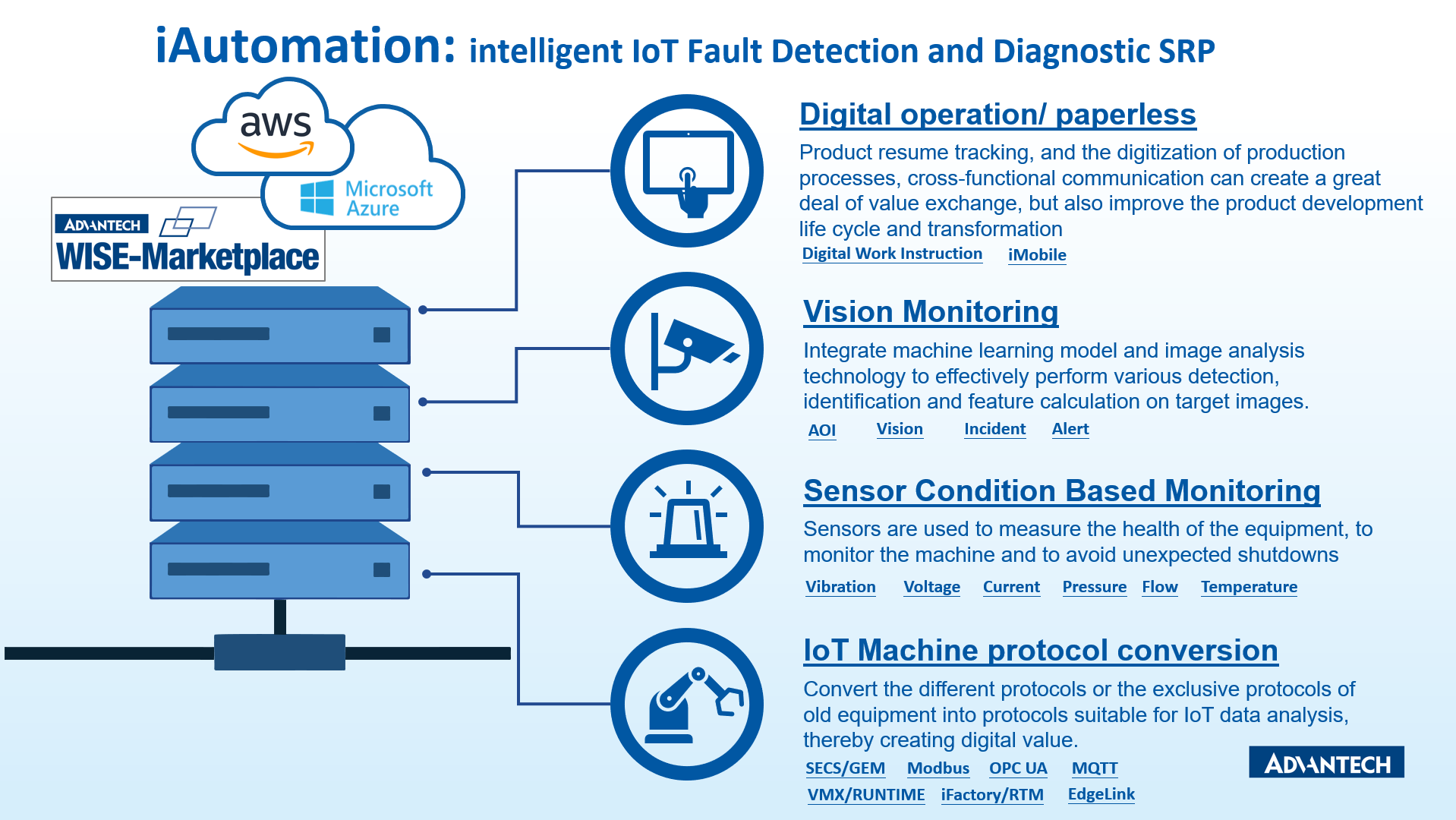 • Intelligent Optimization: saves labor costs and manufacturing overheads
Production management software provides real-time information of work orders and route planning, labor and equipment control, and material costs. HMI enables operators to manage industrial process machinery using a computer-based interface. They are integrated with manufacturing operations for equipment monitoring and performance analysis, production management, quality and compliance. Equipment monitoring management and performance analysis covers OEE control, machine status, production lines, smart factory and enterprise level indicators for efficient process control and historical analysis.
Process manufacturing consists of batch production and continuous production modes. Typically, process-manufacturing equipment are dedicated machines that are difficult to switch to other use. Combined with an enterprise's information management system, the continuity and accuracy of production will be assured from customer services to supply chain logistics and production output.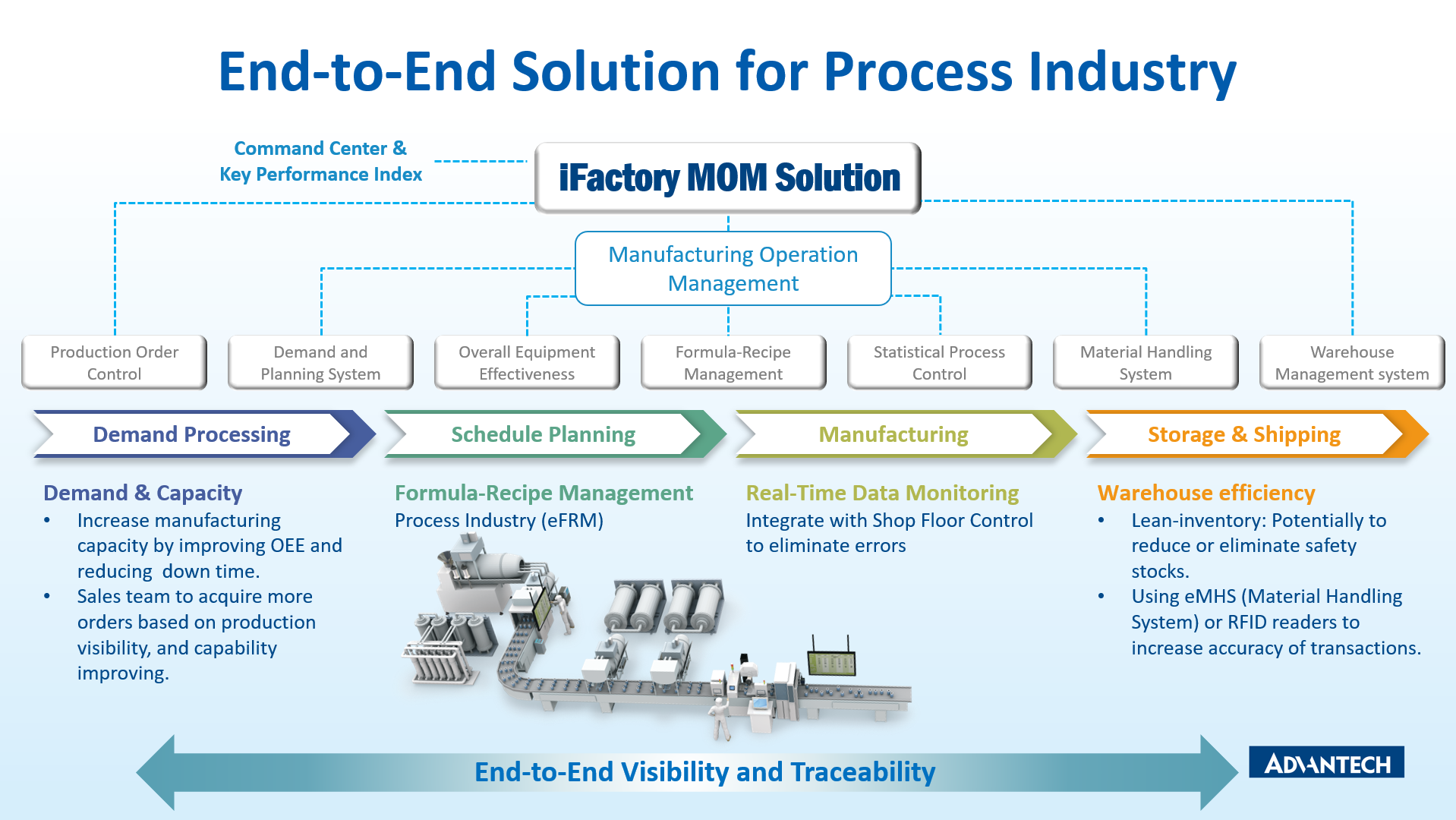 Saving labor costs and manufacturing overheads is always the key to success for discrete manufacturing. Digital production in workflow automation improves visual management tracking and timely resolution of product malfunctions or equipment anomalies. The combination of Andon and shop floor management with Manufacturing Operations Management (MOM) manufacturing operations management system, connected to MES through DataConnect, means this virtual data lake simplifies data usage for IT teams. Industrial engineers and plant managers can easily use automated data processing to check production line balance and allow them to follow lean processes, plus six Sigma standards, to increase output and efficiency.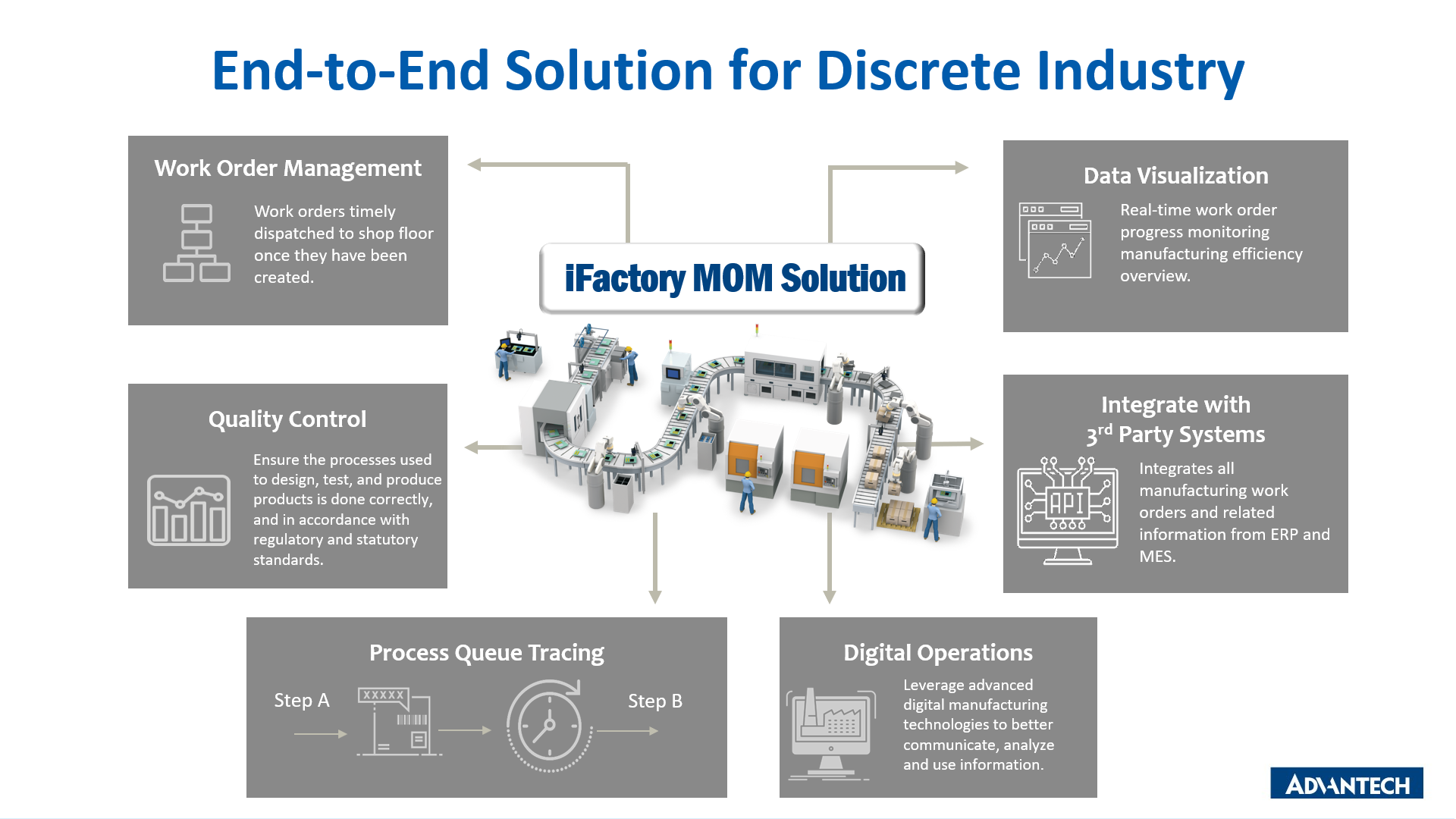 • iFactory Transformation: enjoy the power of big data to accelerate business digital innovation
Unleash the potential of manufacturing transformation through KPI/ and business intelligence, software analytics, and
iFactory MOM
/
iFactory EHS
vertical software applications. Gartner recently pointed out that digital transformation can refer to everything from system modernization (e.g. cloud computing) to digital optimization and the invention of a new digital business model. In other words, take advantage of the best digital developments to benefit from the huge amounts of digital data in a business. Whether it's process manufacturing or discrete manufacturing, you can transform and upgrade to new technologies and tiered management. New technologies can be hard to adopt and often are an obstacle to digital transformation, so learning how to increase the value of data through using right the data applications is an important process. Production management software provides real-time information of work orders and route planning, labor and equipment control, and materials, while HMI enables operators to manage industrial processes and automation control machinery using computer-based interface.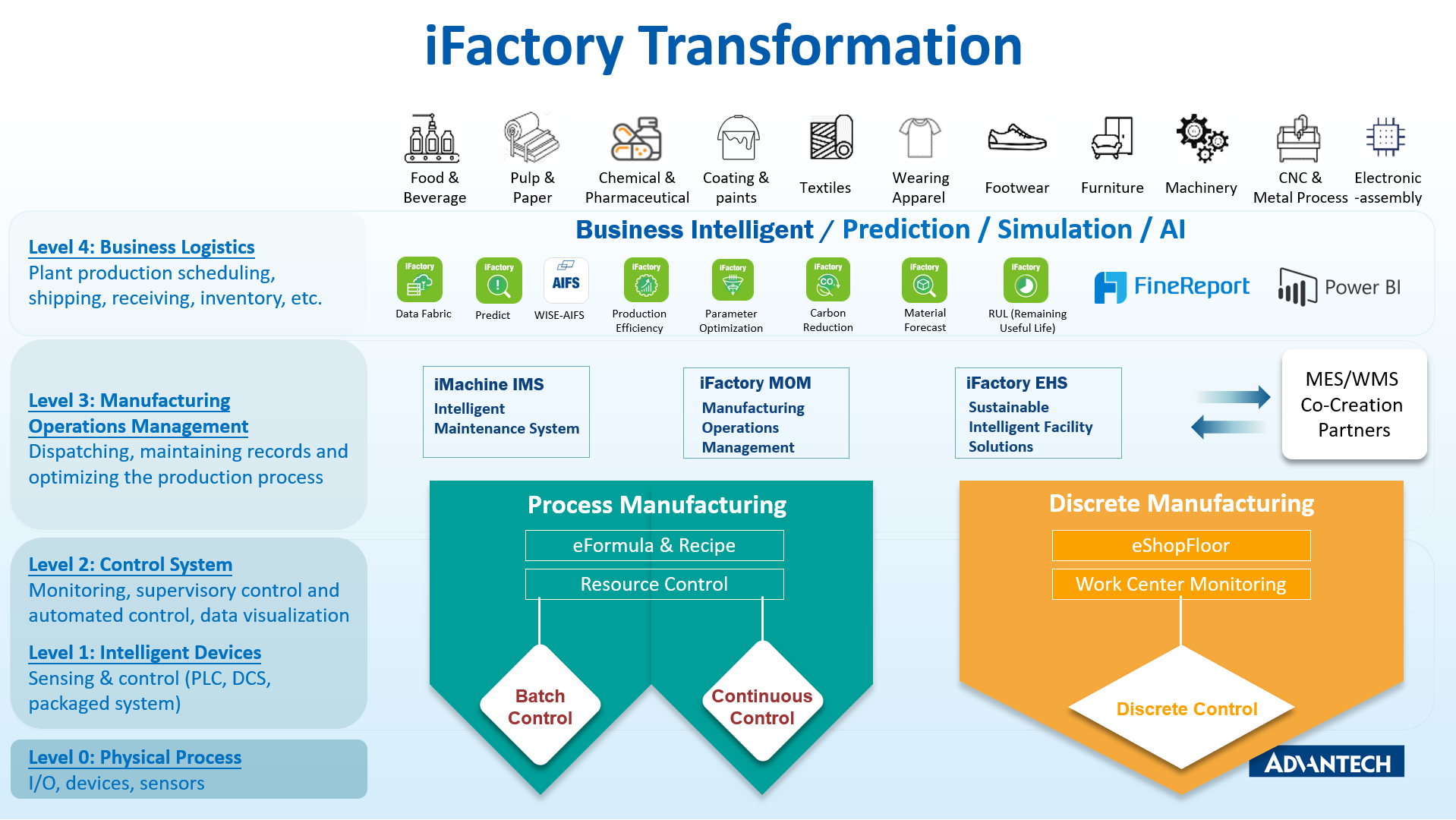 Industrial Digital transformation, how to reduce the probability of failure?
With the rapid progress of information and communication technology, the trends of global industrial digital transformation have blurred the lines between field and project. The capabilities required for digital transformation include production processes, energy sustainability, equipment management, and skills training. In order to achieve this, a considerable number of professionals and IT staff are needed. Learning how to work with consultants and system integrators to accelerate integration and to create value will be the focus of digital transformation. Digital transformation is not a short-term goal, but a long-term plan.
Many systems are used in manufacturing, including ERP/ MES/ warehouse management systems/ or supply chain systems. However, most of them are legacy systems that cannot be easily deployed or scaled, so knowing how to quickly generate value, upgrade applications, and change according to the business situation is an important consideration.
The adoption of containerized architecture can be said to be an important breakthrough in the cloud platform. Applications can be deployed in public or private clouds and system integrators can use the infrastructure to create their own innovative digital solution with their intellectual property protected. This is the best architecture to lead the digital transformation from A to A+.
Advantech iFactory offers digital transformation applications that dramatically reduce customer development times. They accelerate OT/IT capabilities and provide a variety of customized templates to accelerate the deployment of industrial applications to ensure the maintainability and expansion flexibility of all software and systems. This in turn allows companies without IT teams to quick-adopt, or companies with IT/AI prediction teams to enhance data analytics and subsequent growth planning expansion through data analytics in the data lake.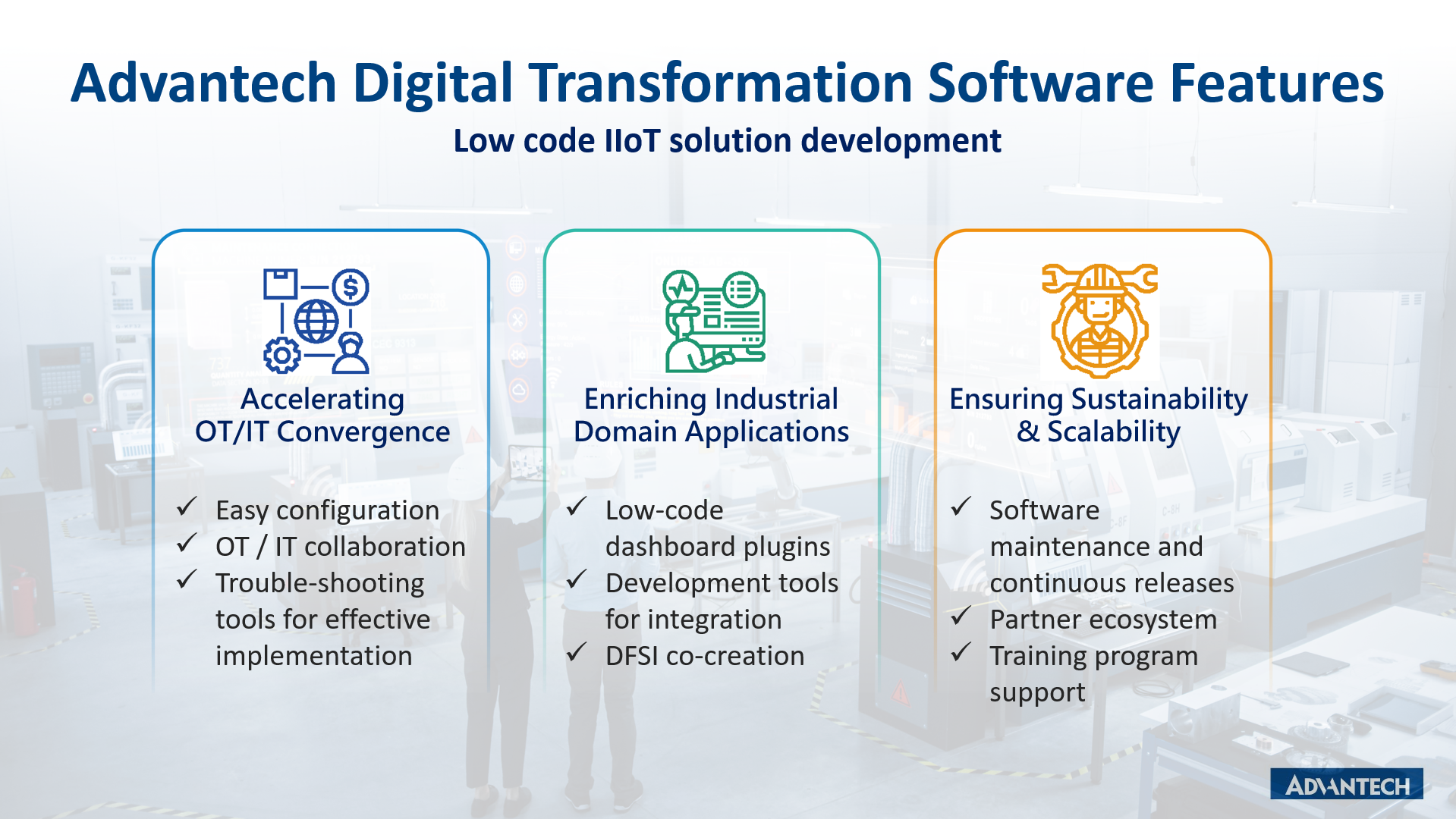 Perhaps your company has not yet started their digital transformation, and may lag behind the competition, but it is also possible that now is the best time and this is an advantage. By understanding the clear purpose of your business, insights can be gained, so that in the future, research times can be reduced and the benefits of industrial digital transformation can be used to transform your business.
For more information about Advantech iFactory solutions, please contact us at
iFactory@advantech.com
or
online request
.
WISE-Marketplace
Advantech WISE-Marketplace provides pre-tested domain-focused I.Apps ready to integrate directly into your IoT scenarios. Browse the collections to see...