Advantech Releases EKI-1526NL & EKI-1528NL: Console Server Series for Out-of-Band Device Management
12/9/2021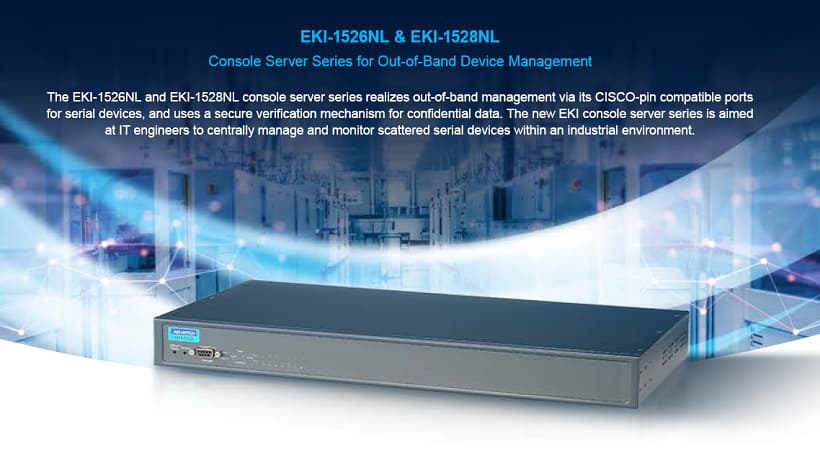 December 09, 2021, Taipei, Taiwan - Advantech, a leading supplier of industrial communication solutions, is proud to launch a new product line, the EKI-1526NL and EKI-1528NL console server series. The console server realizes out-of-band management via its CISCO-pin compatible ports for serial devices, and uses a secure verification mechanism for confidential data. The new EKI console server series is aimed at IT engineers to centrally manage and monitor scattered serial devices within an industrial environment.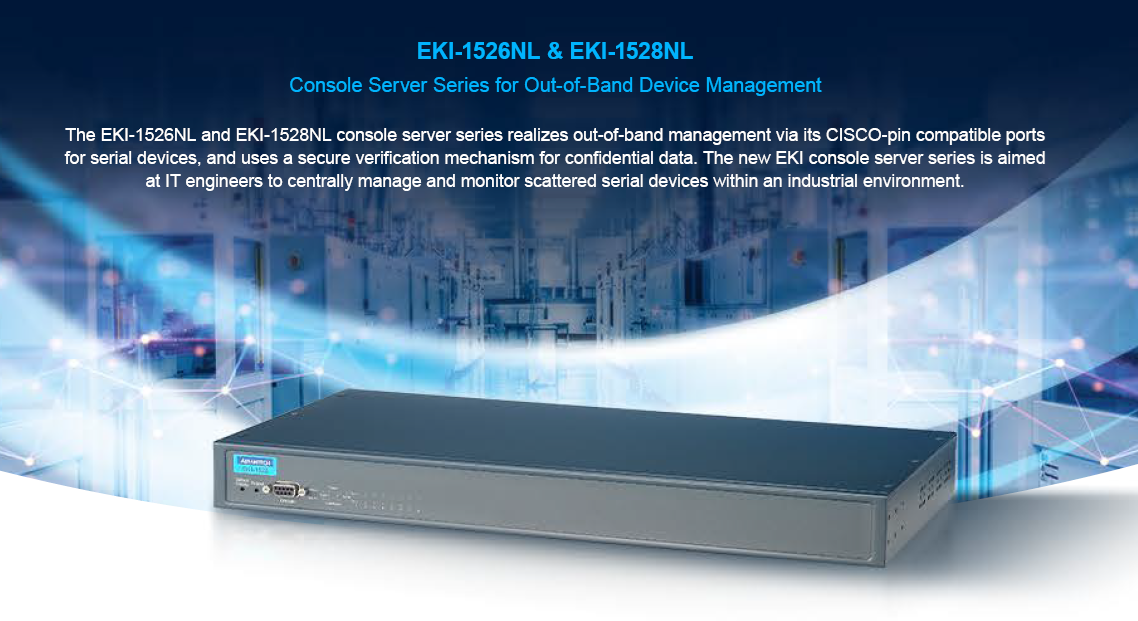 Serial-to-Ethernet communication via CISCO-pin compatible ports
The EKI-1526NL and 1528NL console servers allow users to remotely access multiple serial devices via console ports. This function makes all serial devices viewable on the network. With up to 16 ports, IT engineers can easily manage multiple decentralized serial devices at once with just one log-on, saving both travel time and maintenance effort.
Multiple verification methods for secured out-of-band management
The console server series supports Remote Authentication Dial In User Service (RADIUS), Lightweight Directory Access Protocol (LDAP), built-in user name/password authentication, and other encryption mechanisms. This protects data from unauthorized accesses to ensure a secured out-of-band management environment.
Industrial grade hardware design with long MTBF
The EKI-1526NL and 1528NL console server series is designed with industrial grade housing that can withstand wide operating temperatures from -40 to 75oC (-40 ~ 167 °F). Its long Mean Time Between Failure (MTBF) assures users of a high quality network service, minimizes downtime, and increases reliability of on-site operations for mission-critical applications.
8/16-port RS-232 serial communication.
Cisco pin definition.
Provides 2 x 10/100/1000 Mbps Ethernet ports for LAN redundancy.
Supports up to 921.6 kbps and any baud rate setting.

Provides COM port redirection (Virtual COM), TCP and UDP operation modes.

Provides rich configuration methods: Windows utility, Telnet console, web browser, and serial console.

Built-in 15 KV ESD protection for all serial signals.

SNMP MIB-II for network management.

Built-in buzzer for easy location.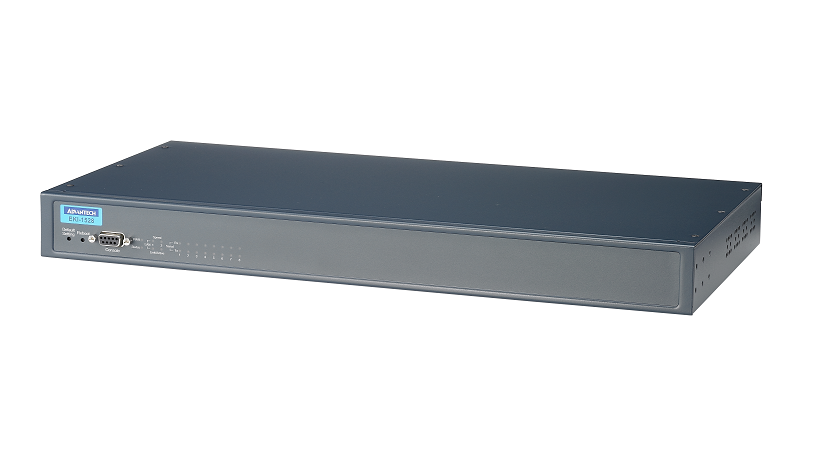 Advantech's EKI-1526NL and 1528NL console server series is available for order now. For more information regarding the console server series or other Advantech products and services, please contact your local sales support team.
For more product inquiry, please contact iiot.tech@advantech.com

Advantech experts will be providing you with dedicated support soon!