Speed Time-to-market & Boost Profits.
The value of iPlanet Care Peripheral Procurement Services is to provide trusted, worry-free peripherals that work with Advantech boards and systems.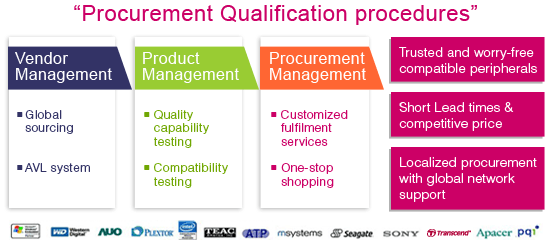 100% Compatible
In order to achieve 100% compatibility, the iPlanet Care Peripheral Procurement Service works directly with our strategic suppliers and partners to select warranted, quality components with lifecycle support. All selected components are fully tested after integration with Advantech boards and systems.
Worldwide Standardization
We offer a standardized peripheral product line to customers. This guarantees that all Advantech systems get the same quality peripherals from our regional service centers. Furthermore, each system receives the same after-sales (RMA) service worldwide.
Short Lead times + Competitive Price + Trusted Quality
Through partnership with strategic suppliers, we can acquire the best offerings of lead times, prices, and quality product with revision control.