ITA-460 series - AI and 5G Platform Powers Autonomous Things
22/11/2022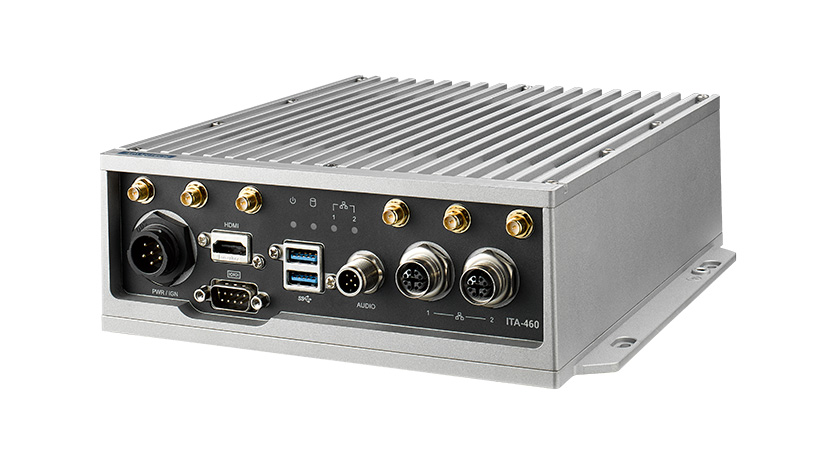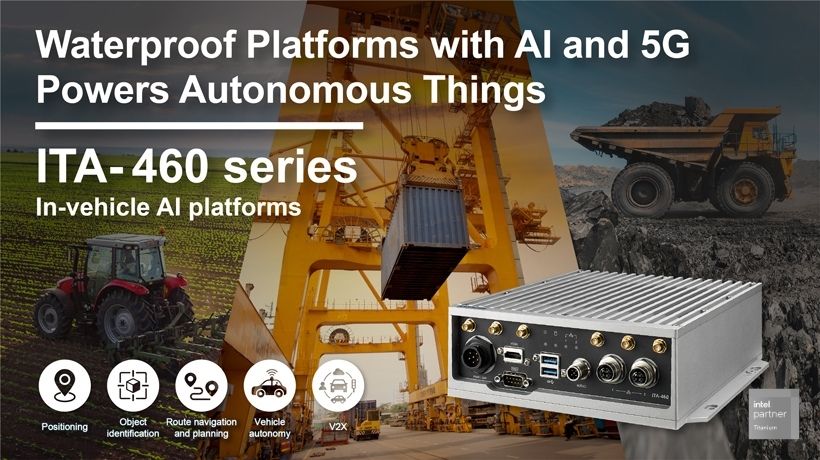 Taipei, Taiwan, Nov. 22, 2022 - Advantech Co., Ltd. (TWSE: 2395), a global leader in industrial IoT, releases its latest Artificial intelligence (AI) platform—the ITA-460 series for in-vehicle applications. Advantech's ITA-460 in-vehicle platform is powered by an Intel® CPU, supports AI visual recognition and features a modular, robust, compact and fanless design. ITA-460 series plays a key role as the central control hub gathering, processing, and analyzing data from all vehicle sensors. ITA-460 is also a highly robust and expandable in-vehicle solution designed for heavy machinery in construction, mining, and agriculture sectors, as well as for after-market upgrades.
Powerful CPU and GPU integration with Ubuntu certification goes far beyond mobility
While AI is becoming the beating heart of most innovations in the heavy machinery and mobility industry, ITA-460 series has a powerful Intel® 8th/9th Gen Core™ i CPU onboard, and allows the installation of several extensions that significantly increase functionality and efficiency. One of these extensions is the MXM GPU for AI acceleration, which allows vehicle operators to run workloads with large amount of data, as well as unleash the full potential of AI, such as for obstacle detection, shape shifting, pattern recognition and much more.
ITA-460 is equipped with three mini PCIe expansions to integrate WLAN, Bluetooth, WWAN and GPS wireless technology for high speed data transmission in demanding data-intensive applications. Together with powerful GPU integration, I/O interfaces, and ample storage expansion, ITA-460 helps break through the limitations of ordinary in-vehicle solutions to make them see, think, analyze and respond to events in smart ways. ITA-460 series helps achieve humanlike control on autonomous equipment.
Advantech also partnered with Canonical to include a certified Ubuntu distribution for ITA-460, featuring kernel self-protection, stack collision protection, and control flow integrity. Moreover, with over-the-air (OTA) and transactional updates, it makes ITA-460 ideal for many different AIoT vehicle applications and gives developers the best out-of-the-box Ubuntu experience.
Compact and rugged design with IP67-rated protection
With limited space in most vehicles, a smaller in-vehicle device is the better. High durability is also a top consideration for in-vehicle application developers. ITA-460 is Advantech smallest in-vehicle computer (with dimension 190 x 70 x 220 mm), complies with IP67-rated protection and has passed rigorous military grade endurance tests, the IEC 60721-3-5 5M3 standard that can withstand 3G-force shock, and MIL-STD-810G standard that can withstand strong vibrations (5G, 10-500Hz) for up to 8 hours.
Innovative ignition power management
Unlike most regular industrial computers which often operate nonstop. In-vehicle systems are totally different in that the only power source comes from the vehicle itself and power fluctuates as the vehicle is frequently turned on and off. But an in-vehicle system needs to act like a central control hub and needs to be independent from power surges and outages.
With this in mind, ITA-460 has a smart power circuit design that carefully manages power from the vehicle's regular circuitry with 12/24 VDC vehicle power (ISO 7637-2) and wide input voltage (8 – 32 VDC). ITA-460 has an innovative ignition power management that carefully monitors power and ignition on/off/delay, which greatly minimizes the risk of malfunction and provides continuous power to all crucial in-vehicle functions.
Autonomous heavy equipment and machinery will revolutionize the construction, agriculture, and mining industry by solving operational issues such as abnormal behaviors or costly accidents, creating a safer environment, increasing productivity, and lowering operational costs. ITA-460 and ITA-460G are available for order now. For more information about this or other Advantech solutions, please contact your regional sales representative or visit our website.
Click to learn more about the features of ITA-460