Advantech Partners with Domain-Focused System Integrators to Digitally Transform the Aerospace Manufacturing Industry
2021/10/15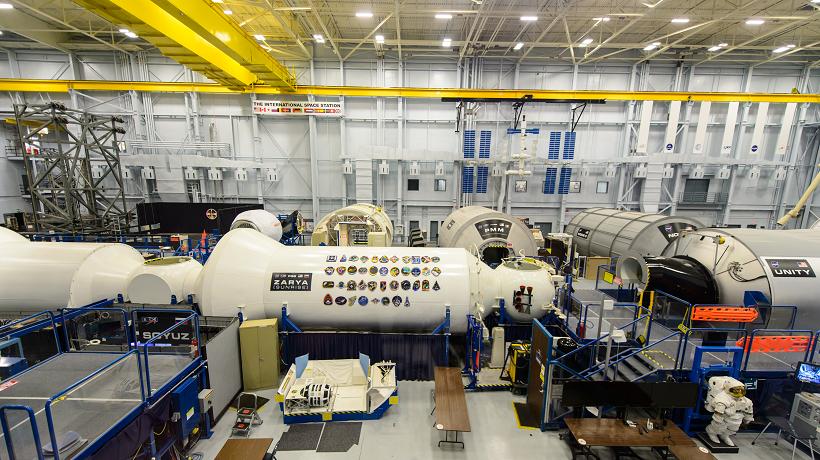 Advantech has assisted an aerospace research center in China with implementing an all-in-one IoT solution that integrates hardware and software. The solution accelerates the digital transformation of aerospace manufacturing processes by realizing data acquisition and integration in a multi-device IoT network in addition to the development of various smart field applications.
The aerospace industry follows a discrete manufacturing production model to deal with high-mix and low-volume production challenges. However, strict requirements in terms of product quality, craftsmanship, lead times, and regulatory compliance make production management highly complex and difficult to execute. The four main challenges faced by an aerospace research center in China were as follows. First, rapid increases in make-to-order and engineer-to-order tasks were exceeding existing production capabilities. Second, inefficient informatization management created an information island that prevented centralized management. Third, complex and diverse product configurations and craftsmanship considerations made it difficult to allocate human and machine resources, limiting the flexibility of production planning. Fourth, statistics regarding productivity, equipment utilization rate, and production costs could not be presented in real time, preventing management from having a clear overview of operational performance.
To address these issues, the aerospace research center initiated a smart manufacturing project 3 years ago. Adopting Advantech's IFS-52C-AG01 iFactory Smart Manufacturing Suite as a solution for metal fabrication management, the research center established an all-in-one IoTplatform based on a microservice framework.The platform provided a collaborative tool for conducting complex R&D processes and diverse production tasks, as well as realizing data-driven digital transformation and smart manufacturing production.
Rising to the Challenges of Equipment Networking and Data Acquisition
In terms of hardware, the IFS-52C-AG01 iFactory Smart Manufacturing Suite includes Advantech's ADAM-4571 serial device server, an ECU-1051 RISC-based industrial communication gateway, EKI-2525 unmanaged industrial Ethernet switches, and WISE-S100 stack light monitoring sensors. Combined with Advantech's web-based WebAccess/SCADA software and the iFactory/MetalWorks software application developed specifically for metal fabrication, the complete solution supported all of the aerospace research center's digitalization needs. This, in turn, accelerated their realization of smart manufacturing.
The production site contains over 200 pieces of equipment, such as PLC devices, CNC machines, electric meters, and motorized maneuverable platforms. These all use different communication protocols and interfaces. Accordingly, equipment networking was the firsthurdle that needed to be overcome in order to achieve digital transformation.
To realize centralized management, Advantech'sECU-1000 series of RISC-based industrial communication gateways were adopted to connectmore than 200 machines. These gateways were then integrated with WebAccess/SCADA to enable smart applications such as fault diagnosis, predictive maintenance, and energy consumption analysis. Another challenge was handling the massive amount of data collected from all the equipment. For this, Advantech andits partner NewPwr developed a data visualization solution that optimizes data management and analysis.

Dedicated Software for Aerospace Metal Fabrication
Data acquisition through the Internet of Machines enables various smart applications to be implemented. For this project, to cater to the demands of metal fabrication at the aerospace manufacturing site, Advantech collaborated with Siger Data, a seasoned domain-focused system integrator and partner, to develop the iFactory/MetalWorks solution. Smart applications were created to assist with managing workorders, abnormalities, equipment utilization,environmental safety, and employee KPIs. This satisfied the center's various smart management demands, from design and CNC machining to surface treatment and metal casting inspections.
By leveraging edge computing, the Metal-Works Cutter Smart Management Module can be used for real-time monitoring and analysis during CNC machining. This provides management with a clear overview of cutter conditions in real time, which subsequently reduces labor costs and increases cutter management efficiency.
Although iFactory/MetalWorks is web-based software, the server at the aerospace research center was located on site. Therefore, cloud-to-edge technology was adopted to transmit cloud capabilities to the edge, allowing cloud applications to be easily conducted on the on-site server. Moreover, this project's use of a microservice framework ensures that applications can be dynamically added in thefuture to satisfy diverse smart application needs. Overall, the MetalWorks solution has enabled the research center to visualize equipment data in real time for comprehensive monitoring and production optimization.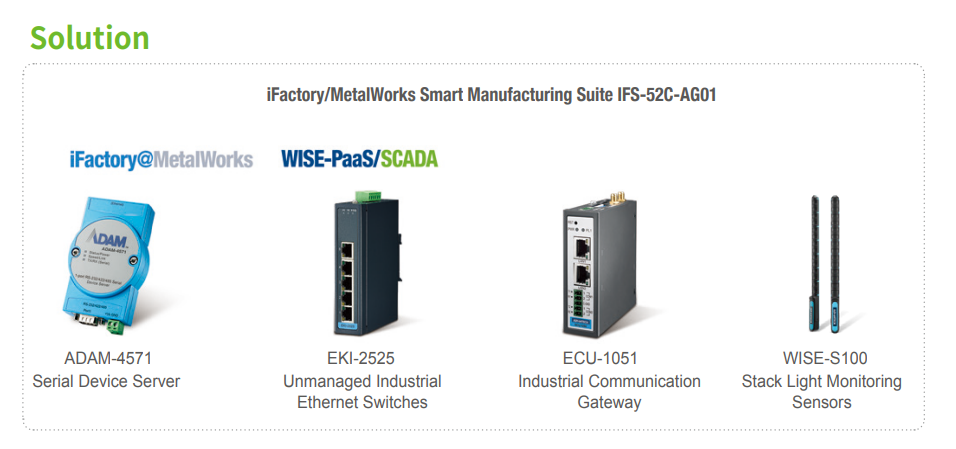 MyWISE-PaaS Magazine - The New Wave of the Industry 4.0
The Industry 4.0 revolution is predicted to bring about four critical changes in the field of industrial automation. Likewise, the Solution-as-a-Service model will become one of the three main business service models. Advantech focuses on co-creation in an effort to help expand the Industry 4.0 ecosystem in response to these trends.