Advantech Now Offers the Latest NVIDIA® Ada Generation GPU Cards
7/28/2023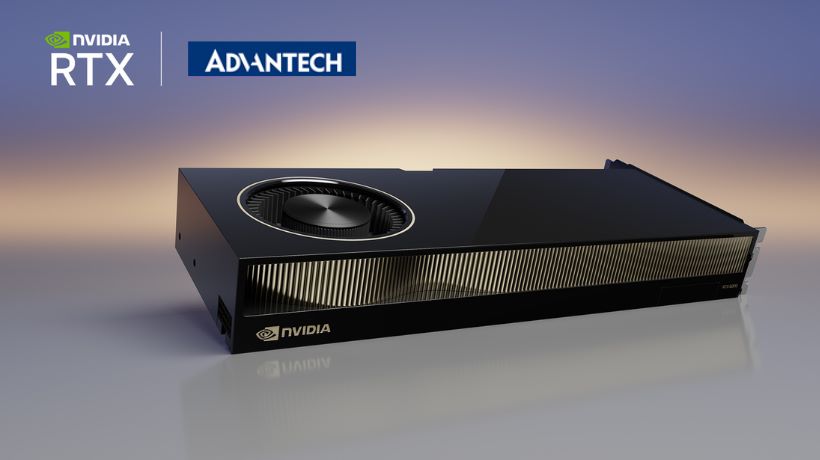 Taipei, Taiwan, July 28th, 2023 - Advantech (TWSE: 2395), a global leader in Industrial IoT and Edge AI solutions, happily introduces the newest additions to its lineup—the NVIDIA® RTX™ 6000 Ada and NVIDIA® RTX™ 4000 SFF Ada GPU cards, representing the pinnacle of professional GPU cards in both ultra-high-end and small form factor segments. These cutting-edge professional GPU cards are now available at Advantech, solidifying its position as a prominent innovator in this domain.
Ada Generation GPU: Incredible performance for professionals
Powered by the NVIDIA Ada Lovelace architecture, marking the most significant performance leap in NVIDIA's history, these graphics cards boast an augmented number of CUDA® cores compared to the previous generation. They are also equipped with third-generation RT Cores and fourth-generation Tensor Cores. The Ada generation graphics cards deliver over 2X single-precision floating point throughput, resulting in up to 2X higher performance for 3D model workflows, real-time ray tracing, and AI training. These professional RTX GPU cards offer unmatched performance and efficiency enhancements, making them the preferred choice in manufacturing, transportation, and medical industries for image processing and Edge AI acceleration.
NVIDIA Elite Partner provides early access and technical supports
As an NVIDIA Elite Partner, Advantech delivers a wide range of Industrial GPU Solutions, with a specific emphasis on NVIDIA RTX GPU cards, Quadro GPU cards catering to diverse enterprise needs. Additionally, Advantech enjoys early authorized access to the latest generation GPU cards, along with exclusive technical support from NVIDIA for our valued customers. Presently, Advantech offers the NVIDIA RTX 6000 Ada and RTX 4000 SFF Ada GPU cards. In the pipeline for the near future are more NVIDIA Ada Generation GPU cards, including RTX 5000 Ada, RTX 4000 Ada, A800 40GB Active, and RTX 4500 Ada, further expanding the options available to customers.
To find out more contact your local sales or visit the website at www.Advantech.com