Advantech Innovative Thermal Solution: DHCS Technologies
Advantech has developed a highly efficient thermal solution—the dynamic heat conduction system (DHCS). With its advanced design, the DHCS can effectively improve heat transfer performance. Compared to standard designs, the DHCS is more effective for dissipating CPU heat. Furthermore, it eliminates potential bending during PCB assembly and can reduce temperatures  by approximately 20~25°C.
Structure of DHCS
The DHCS comprises a base and a heat conduction block. The base accommodates all of the parts and has a small bronze heat conduction block that mates with the CPU for efficient heat conduction, thus transferring heat from the CPU to the base.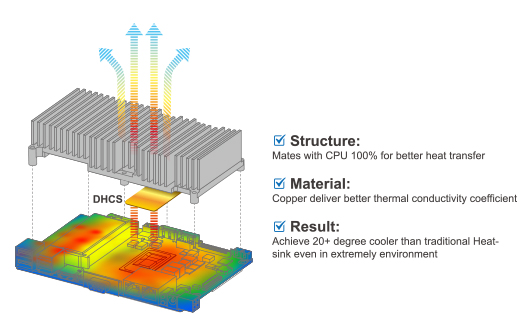 This DHCS has been successfully applied to Advantech's MIO-5272 high-performance CPU platform, and we are continuing to improve our professional heat sink designs to ensure effective system heat dissipation.
| Key features: | Benefits: |
| --- | --- |
| Perfect fit to CPU | Improved heat transfer and dissipation |
| Automatic CPU surface pressure adjustment | Prevents bending and CPU damage |
| Standard screw fittings | Tight assembly even under vibration |