Extreme High Reliability Design
Advantech is committed to providing industrial-grade embedded Single Board Computers (SBC) which are highly reliable, have multiple I/O and innovative features within small form-factors. These rugged boards benefit many application fields such as factory automation, medical, aerospace, transportation, outdoor instrument and more.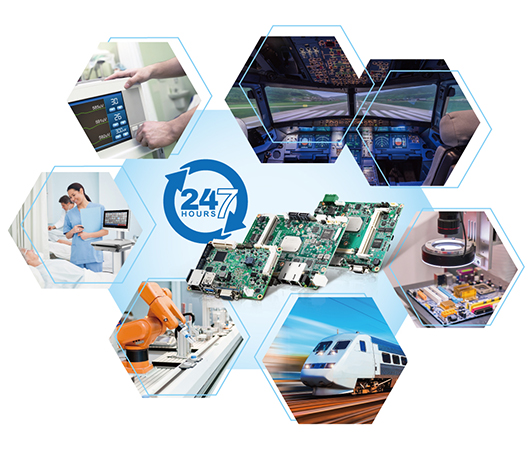 Solid Capacitors Provide Higher Power Reliability
Advantech embedded SBC products use solid capacitors in power circuitry designs which bring a lot of advantages. Solid capacitors with low Equivalent Series Resistance (ESR) properties are able to deliver substantially lower impedance at higher frequencies, which means they will generate less heat than electrolytic capacitors and give more stability. Higher ripple current absorption allows small form-factor designs without compromising stability. It also guarantees longer life cycles under high temperature operations.
Temp°C
Electrolytic Capacitors
(Working Hours)
Solid Capacitors
(Working Hours)
95°C
4,000 Hrs
6,324 Hrs
1.5X longer
85°C
8,000 Hrs
20,000 Hrs
2.5X longer
75°C
16,000 Hrs
63,245 Hrs
4X longer
65°C
32,000 Hrs
200,000 Hrs
6.25X longer
PCBs with High Tg Value Benefit Production and Thermal Contact
Due to high density, multi-layer PCB design and EU RoHS requirements, Advantech ESBC select appropriate PCB Tg values to improve Pb free production yield rates under higher reflow temperatures that might otherwise cause PCB popcorn effects and delamination. Higher Tg value PCBs also provide better toughness that prevent board warpage or twisting after reflow. They also provide better thermal contact and conduction for heat dispassion.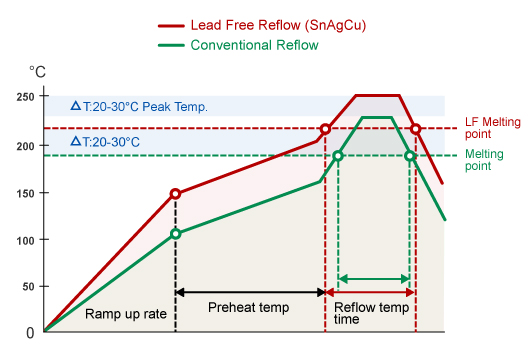 Custom Components for Specific Requirements
To fulfill various industrial application field requirements, we offer embedded SBC customization of connectors, components, or PCBA. For example, many applications need higher thickness gold plated finger connectors which offer better reliability so Advantech provides 5u", 15u", 30u" thick gold plate coatings or more. And to deal with high pollution, temperature, and humid environments, Advantech can customize your BOM by providing anti-sulfur components that provide longer lasting sustainability.
Advantech Component Management Center (CMC)
As a worldwide leading industrial solution provider, Advantech established CMC to consolidate and manage all internal components usage. They validate all component selections from the Approved Vendor List to provide the best quality, availability, and longevity for our customers and partners.