Advantech launched its latest IoT solution with Yocto support for ESBC software services. To fulfill the rising demand of embedded OS and SW industrial applications in the marketplace, Advantech ESBC products offer customers various types of selected embedded OS support including Windows Embedded and Linux (i.e. Yocto development), as well as customized SW services that bring the following features:
Reliable sensor/device connectivity and data acquisition
Easy installation and adoption
Customized design tools for different industrial environments
Collaboration with MS and academic research for science data
Easy data aggregation for maintenance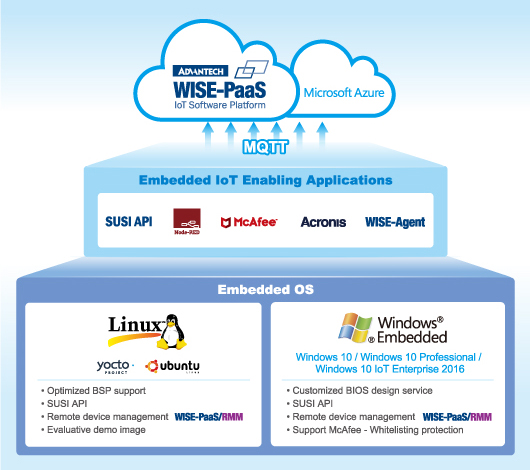 The First Yocto Plan for Embedded SBC
In the meantime, Advantech ESBC had invested in developing its 1st Yocto plan for MIO-2360. Advantech would provide Yocto Board Support Package (BSP), image, and instructions based on Intel® Apollo Lake platform. The BSP also integrates with Advantech's exclusive WISE-PaaS/RMM remote management software which provides real-time synchronized hardware and software monitoring and maintenance for complete protection. A perfect fit for embedded software integration.
Optimized BSP support
Remote device management
Evaluative demo image
Embedded Software Design Competency
In addition to Embedded OS, Advantech also provides embedded software services include embedded BIOS services, and industrial cloud services. Embedded software services help decrease design effort and project complexity, and accelerate product development.