One Stop shop
As a one-stop service provider, Advantech follows a comprehensive service model for its embedded single-board computers (ESBC), from design, manufacturing, validation, and procurement through to providing global service support . The experience of our ESBC team means that your product development time and procurement time can be shortened with our one-stop service for RAM, HDDs, add-on cards, and cables .
Our ESBC team can produce all types of small form-factor SBCs with modular BOMs, thus  offering a one-stop solution for customizing boards and system platforms. In addition to integrating our comprehensive engineering knowledge on rugged and reliable designs, we also possess open frame panel PC integration know-how and are thus able to provide comprehensive services that fulfill diverse customization demands.
Advantages of ESBC One-Stop Services:
Comprehensive integrated back-end infrastructure for streamlining the design-in process
Modular BOM service  and short time-to-market
Rich peripheral options  including WISE wireless modules, EXM modules, and the IDK series of LCD panels
ESBCs come in 2.5" Pico-ITX, 3.5" PC/104, 5.25" EBX, and multi-I/O expansion (MIOe) form factors
Scalable x86 performance with low-power to high-end extended-temperature fanless and slim platforms
Longevity design solutions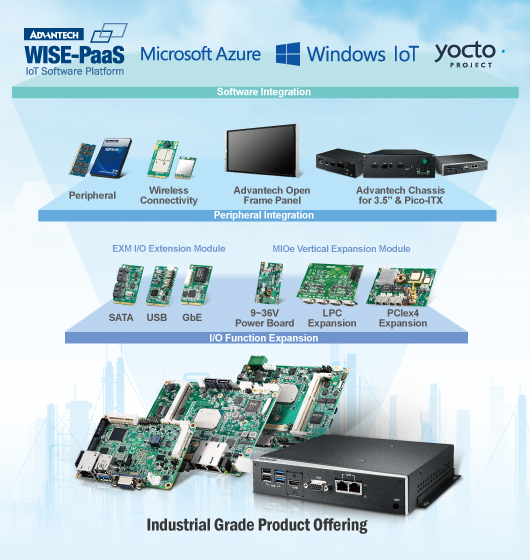 Panel PC Customization Service
Advantech's ESBC team utilizes its system integration know-how to develop rugged SBC designs. We also offer a configure-to-order service (CTOS) as a value-added service to saves you time and money on system configuration  while ensuring that you have the best panel PC system for your needs. Our expert R&D team can provide customization services ranging from mechanical modifications and software image distribution to I/O adjustment and more. This benefits you by providing you with unique products tailored to specifically to your applications.
Strengths of the ESCB team:
Deep domain knowledge on embedded boards and panel PC integration
Exclusive mechanical R&D for customized panel PC chassis designs
Customized chassis assembly, testing services, packaging, and labeling
2-year global warranty for integrated systems/peripherals
Quality assurance on reliability and safety
OS expertise with Microsoft, embedded systems, Linux, customer-supplied software, software imaging, RAID systems, server setup/configuration , and software activation/registration
System Design-In Services
Advantech also has a range of slim fanless systems with the EPC-S series of SBCs . To avoid prolonging customization, you can immediately choose any standard system products that meet your needs. More of our value-added services are as follows:
Design-in services: MIOe design-in, thermal simulation, and safety certification servic
System optimization: customized system design, safety and RF performance consultancy, and local CTOS
Software development: embedded Windows customization, Linux BSP and image, and local software partners