Industrial applications specifically designed for harsh environments or outdoor applications have unique requirements. Extreme environmental conditions, for example, high or low temperatures, thermal shock, high humidity, and electromagnetic disturbances, necessitate the most unique specifications. Because system failures are generally quite costly, all systems must have the highest level of failure tolerance to operate reliably under every possible condition. Wide temperature testing ensures the system's reliability in extreme operating environments.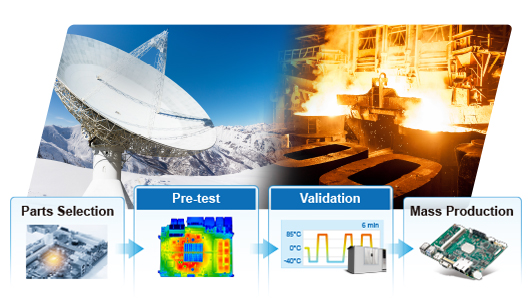 Industrial-Grade Component Selections
ESBC (Embedded Single Board Computers) components are 100% compliant to -40~85°C temperature ranges for native extended temperature models. Advantech ESBC group believes that for high reliability and quality, component selection of extended temperature models should start from the beginning—at the EVT phase in the product's life cycle.
For ease of locating and deploying components, hardware, and layouts that support a wide operating temperature range, Advantech's Component Information System (CIS) approves vendors, and a special purchasing team manages a database for selecting industrial-grade components including CPUs, chipsets, clock generators, super I/O, and power solution packs that guarantee reliable system operation for extended periods of time. Component selection is chosen fundamentally, including Advantech embedded memory modules, peripherals such as WiFi, extension modules, and thermal solutions. ESBC products are able to guarantee -40~85°C wide temperature systems backed up by multiple validation procedures.
Design Stage Pre-Test
Ensuring each component selection can operate under -40 to 85°C , ESBCs with embedded peripherals and thermal solutions are validated two to three times. One of the most important tests is to confirm all components meet thermal profile testing.
Extended Temperature Testing (ETT) Solutions
During the design validation stage, embedded SBCs operate Phoenix testing to evaluate system and component performance under a range of environmental conditions, including various dynamic temperature burn-in cycles over extended periods of time. Depending on the system requirements, designs are required to pass -40 to 85°C testing without loss of function. This stringent testing process ensures the reliable performance of mission-critical applications under extreme and rapidly changing temperatures.
Procedure in Mass Production
Advantech's Design Validation Phoenix testing process ensures embedded SBCs undergo dynamic a PassMark burn-in test at 100% loading and a power on-off test. This meets IEC60068-2-1; IEC60068-2-2; IEC60068-2-78; IEC60068-2-14 criteria.
Before products are launched, embedded SBCs must receive complete certification of Phoenix operation. After launch, the embedded SBC factory operates -40 to 85°C testing again before shipping to qualify the quality, and Ongoing Reliability Tests (ORT) are performed regularly.