A Cost-Effective Vibration and Noise Testing Solution Enhances Quality Assurance Testing for Fan Maker
6/10/2020
In product manufacturing, quality testing is crucial for ensuring that the final product received by customers meets the required standards. When building cooling fans for electronic products, after assembly, high-precision fans must be assessed not only for normal operation, but also to measure the vibration and noise caused by the bearing turning the fan blades in order to evaluate the overall product quality.
Therefore, sensors, an accelerometer, and a microphone are necessary for collecting vibration and noise data to conduct fan quality testing. Previously, quality testing of multiple production lines in fan production plants necessitated the installation of data acquisition cards into box PCs via PCIe bus. However, this solution is not only expensive, but also requires a comparatively larger computer, which overcrowds the already limited space of production lines. Additionally, the connection between the acquisition card and the port can be unstable, and interruptions in connection will impact data transmissions.
The customer for this project was a manufacturer located in Taiwan and specializing in the research, development, and production of precise motors, micro fans, and heat dissipation modules. In order to improve the breadth and depth of quality assurance, the fan manufacturer decided to increase the number of production line quality testing points to correlate with its recent production line expansion. The manufacturer planned to have full inspections conducted in the semi-finished zone in order to identify and reject defects in advance before subjecting products to spot inspections and quality rechecks in the finalized zone.
The company wanted to find a more cost-effective alternative with the following requirements:
A compact hardware platform capable of supporting numerous production line test points
IEPE signal conditioning and BNC adapters for the accelerometer and microphone
Able to collect signals from multiple sensors through multichannel and high-resolution analog inputs
USB ports for connecting to scanners
Network ports for uploading test reports
Support for open source programming languages to avoid total rewriting of system programs
Advantech's fan vibration and noise testing solution comprises a box PC and USB-5801 dynamic signal acquisition device. With USB-5801 four IEPE channels connected to two accelerometers and one microphone sensor, the USB-5801 four independent channels can collect sensors signals simultaneously to produce quality test reports on site. Meanwhile, the box PC USB port is also used to connected to a scanner to enable rapid entry of product data, eliminating keyboard-based data input.
The box PC's network port is then used to transmit quality test reports to the backend management system for integrated management. The 24-bit resolution USB-5801 is a DAQ module that combines IEIE signal conditioning with hub and indicator functions. Compared to pre-assembled card solutions, the box PC + USB-5801 is compact, making it ideal for limited-space installations that necessitate additional computers. Moreover, because no data acquisition card is required for data collection, the security and stability of the card connection are no longer a concern. Furthermore, the industrial design of USB-5801 is more robust to conquer environmental noise and convenient to deployment and replacement.
USB-5801: 4-ch, 24-bit, 192 kS/s Dynamic Signal Acquisition USB 3.0 I/O Module with Analog Output and Tachometer
MIC-770: Compact Fanless System with 8th Gen Intel® Core™ i CPU Socket (LGA 1151)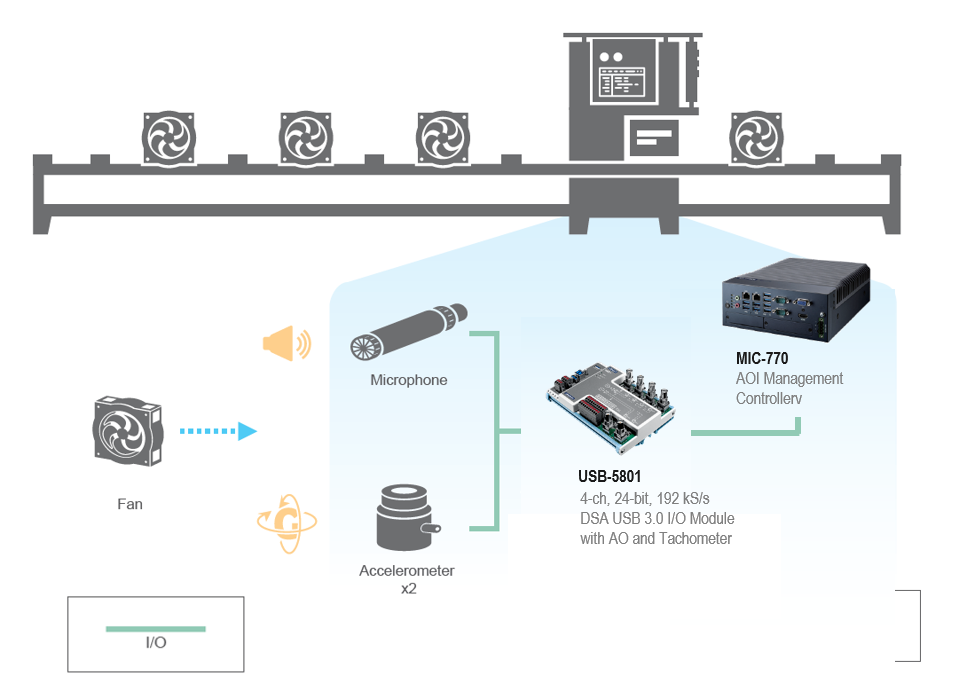 In order to improve the fan manufacturer's quality assurance, the production line must have enough test points to filter out low-quality products. Extensive installation of quality test points necessitates a solution with a high price-performance ratio to protect the company's profit margins. The advantages of Advantech's fan vibration and noise testing solution include its compact form factor for limited spaces, easy production line installation with built-in terminals, high-speed sampling rate and resolution without a data collection card, sufficient I/O channels for data acquisition and equipment signal control, and various interfaces for network and accessory integration. More importantly, this solution is economical. Advantech guarantees at least 10 years of serviceability with numerous service locations worldwide. The fan manufacturer's system requirements were fully satisfied. Thus, following the trial implementation on a single production line, the company decided to introduce the solution to their other production lines and overseas factories as well.