Secure Edge Orchestration for Connected Oilfields Helps Streamline Applications
7/2/2022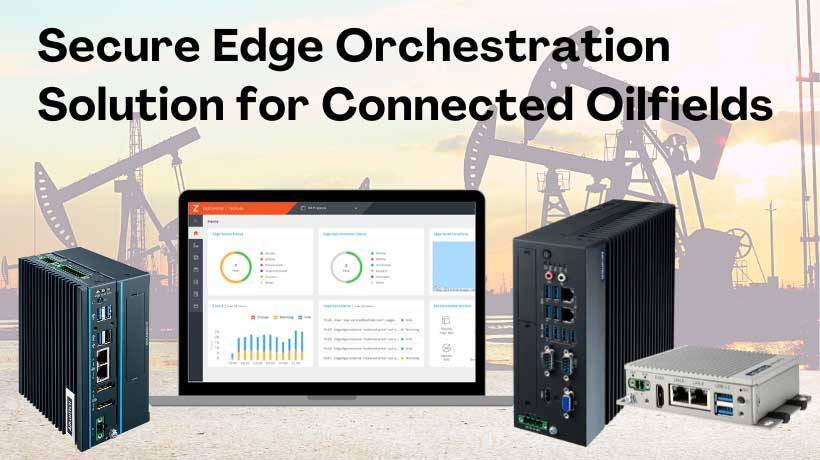 An Intel-based ecosystem collaboration among Advantech, ZEDEDA, and Arrow Electronics for successful oilfield monitoring and control
Real-time visibility of accurate data is imperative for effective management, safety, and productivity in the oilfield, especially for remote assets. These sites require numerous pieces of equipment in order to operate effectively and, for the most part, that equipment is required to function in remote, unmanned locations, posing many challenges to traditional SCADA systems.
Implementing an edge compute solution to create a connected oilfield system provides companies with cost-effective, 24/7 visibility of assets and processes. With actionable insight at oilrigs, wells, and refineries, potential cost savings could exceed millions of dollars.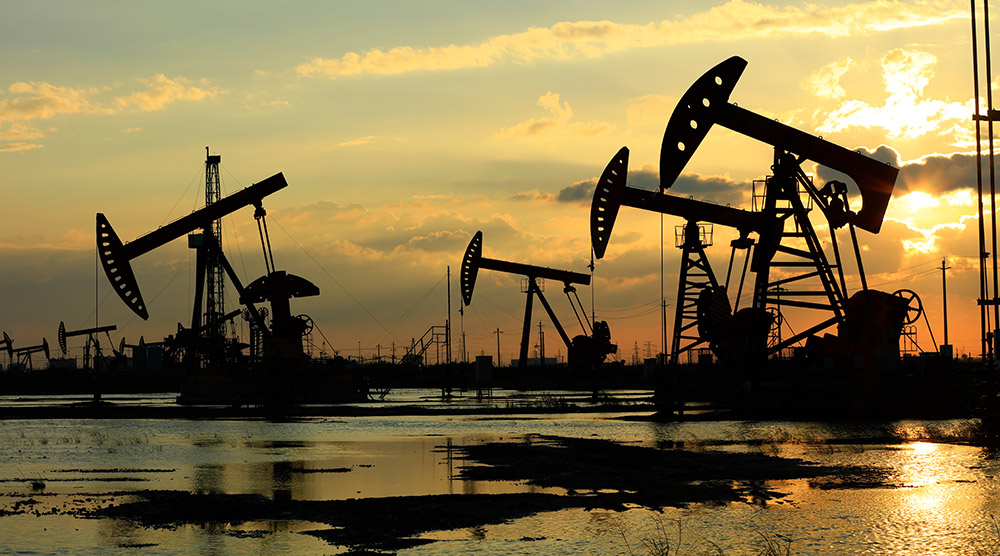 A major oil and gas customer recently needed to modernize and implement a scalable Connected Oilfield Solution. It previously did not have the ability to manage and orchestrate its sizable fleet of thousands of devices throughout several global sites, many located in remote and/or harsh environmental conditions. In addition to improving management and monitoring of its fleet—while also eliminating costly truck rolls—the customer sought to improve its software deployment system.
Ultimately, the customer needed complete supervision and accurate data collection for all assets in order to monitor and manage operational and software statuses. It also wanted to gain deeper insights into operations by utilizing machine learning and artificial intelligence for new applications. Additional key objectives of the Connected Oilfield Solution included reducing operational costs, increasing security, consolidating edge hardware, and simplifying deployment, management, and orchestration of edge devices in the field. For example, the customer wanted the ability to validate every time a system started up, confirm correct software components, and ensure downloaded software components came from an accurate and trustworthy source.
To find a Software-as-a-Service (SaaS) solution that met its requirements, the oil and gas company worked with its Intel® IoT Solution Aggregator, Arrow Electronics, to select and implement the ideal Internet of Things (IoT) edge orchestration solution. Choosing the right hardware that would work seamlessly with its chosen SaaS solution was equally essential.
The Solution: ZEDEDA IoT Edge Orchestration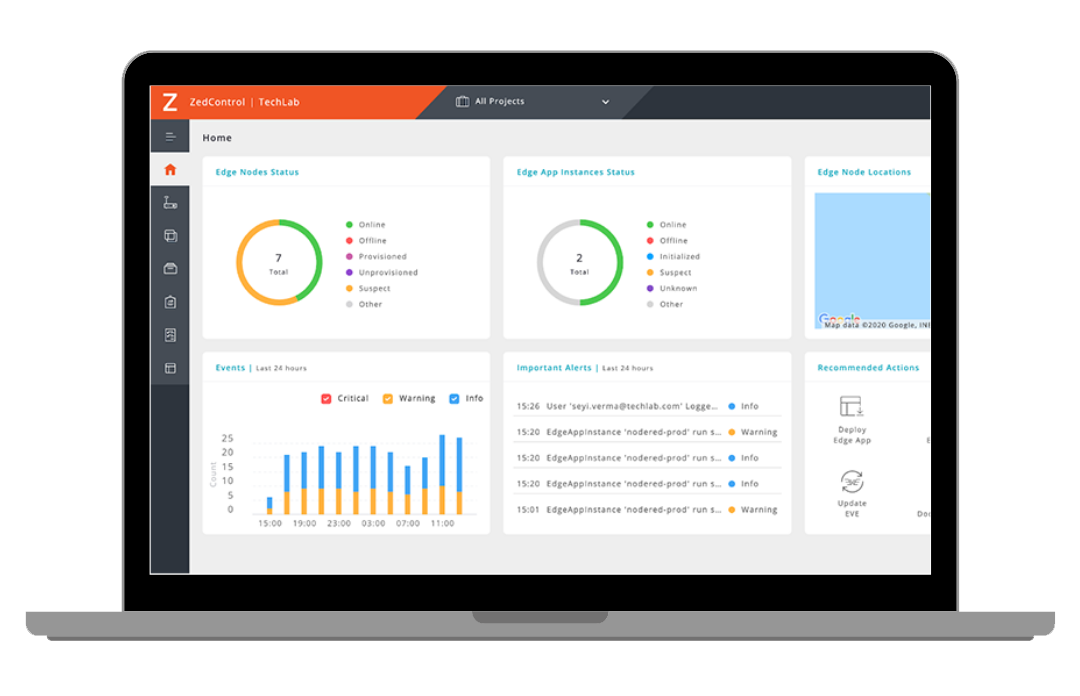 ZEDEDA, market leader in SaaS edge virtualization, offers a scalable, cloud-based IoT edge orchestration solution that met all the customer's needs: cloud-native agility, freedom of any hardware, application, and cloud, zero-touch provisioning, powerful security, and flexibility for future-proofing applications. The orchestration solution delivers visibility, control, and security for the distributed enterprise, but also offers the independence of deploying and managing apps on 3rd-party hardware and connection to any cloud or on-premise system.
With ZEDEDA's ZEDCloud console, the customer is able to orchestrate edge hardware and apps at scale to add intelligence to its operations on-demand, all while unlocking the value of data for real-time decisions. The secure ZEDEDA orchestration solution works in tandem with the management of selected Advantech industrial hardware utilized for data acquisition, intelligent connectivity, edge processing, control, and secure backhaul. Advantech is the industry leader for top-of-the-line IoT edge systems and embedded platforms. The customer has multiple edge compute options depending upon performance and environmental requirements, all with internal Intel® processing:

To meet the customer's security needs, ZEDEDA utilizes the open source EVE operating system (OS) to create a crypto-based ID leveraging the hardware-root-of-trust (TPM) in Advantech hardware. Combined with measured boot and remote attestation, this ensures the trusted devices with correct software system is able to connect to ZEDEDA ZEDCloud Users are not able to tamper with the hardware locally without going through ZEDCloud with role-based access control. As an added measure against physical tampering, I/O ports (e.g. USB) can be disabled remotely. All functions from measured boot and encryption of data at rest and in motion build off this trust anchor. The built-in distributed firewall provides granular per-app control over data flow. All resource utilization and network policies can be established through the remote ZEDCloud console.
ZEDEDA's subscription-based ZEDCloud service is agnostic when it comes to customer application data—all data can stay on-prem or be backhauled to the customer's cloud of choice. ZEDCloud features a built-in application marketplace that includes popular edge applications, such as Azure IoT Edge, Nozomi Guardian, and OpenVINO. ZEDEDA's direct integration with Azure IoT greatly simplifies deploying and managing secure IoT solutions at the edge. Enterprises and OEMs can also customize the marketplace with their own curated apps.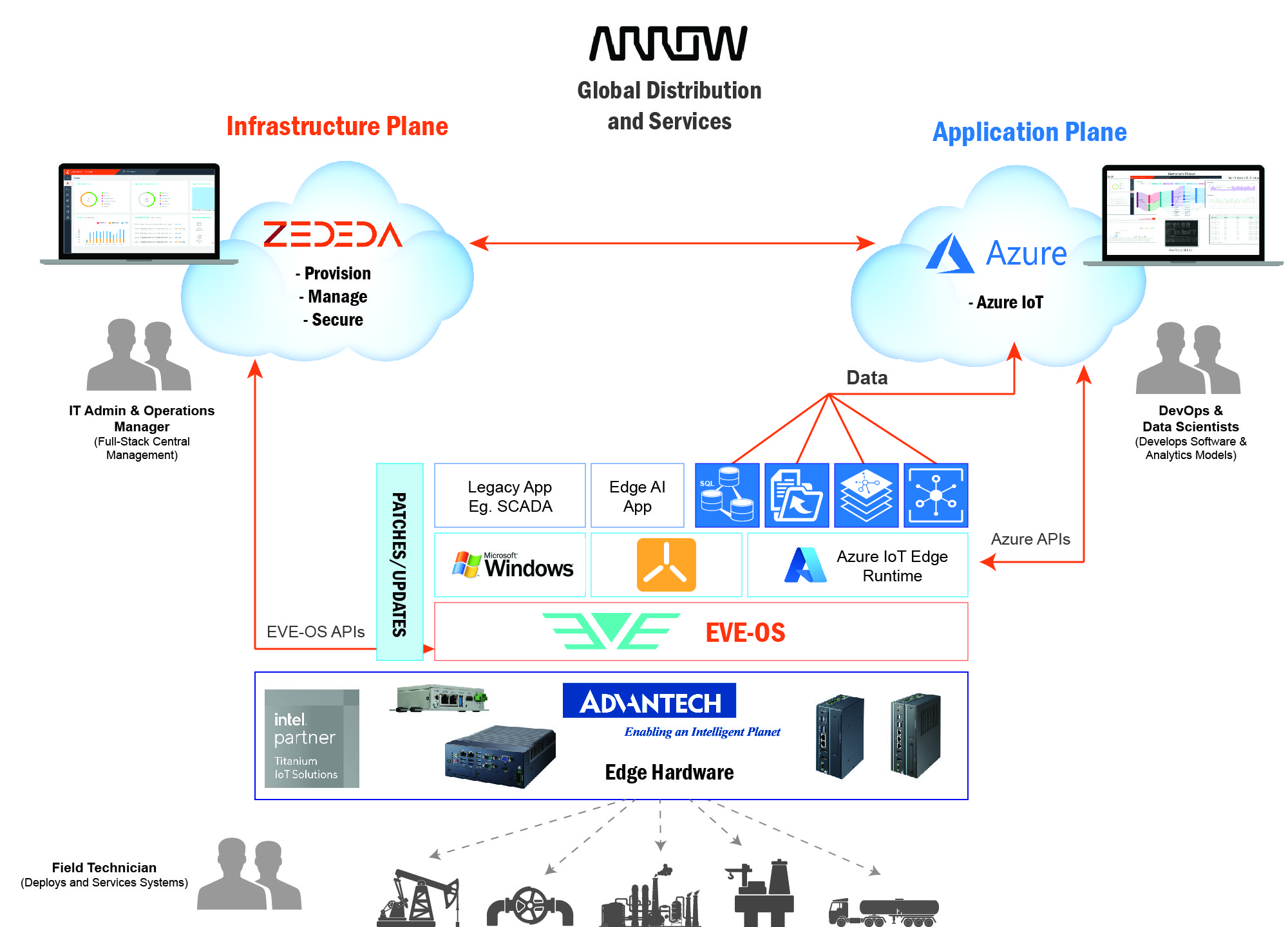 Advantech UNO-2271G V2 Edge IoT Gateway
Intel® Celeron® Dual-core N6210/ Pentium® Quad core N6415/ Atom® Quad core x6413E processor
4GB/8GB DDR4 onboard memory
Compact, robust, fan-less, and cable-free system with high stability
Operating temperature -20~60°C / -4~140°F for deployment
Modular design offers optimized basic unit with 2 x GbE, 2 x USB 3.2 Gen1, 1 x HDMI 1.4
Optional second stack for increasing functionality, including PoE, COM, wireless connectivity, or more than 20 additional I/O options via Advantech iDoor expansions
Built-in TPM 2.0 for hardware-based security
Supports Windows 10, Ubuntu Classic, and Ubuntu Core 20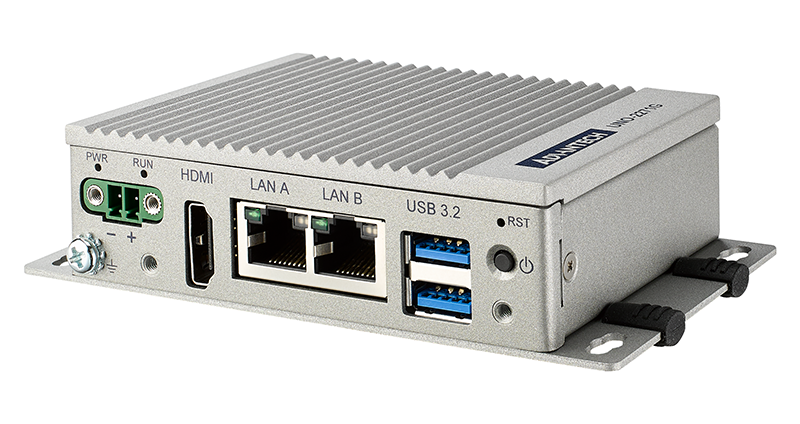 Advantech UNO-148 Fanless DIN-Rail Edge Computer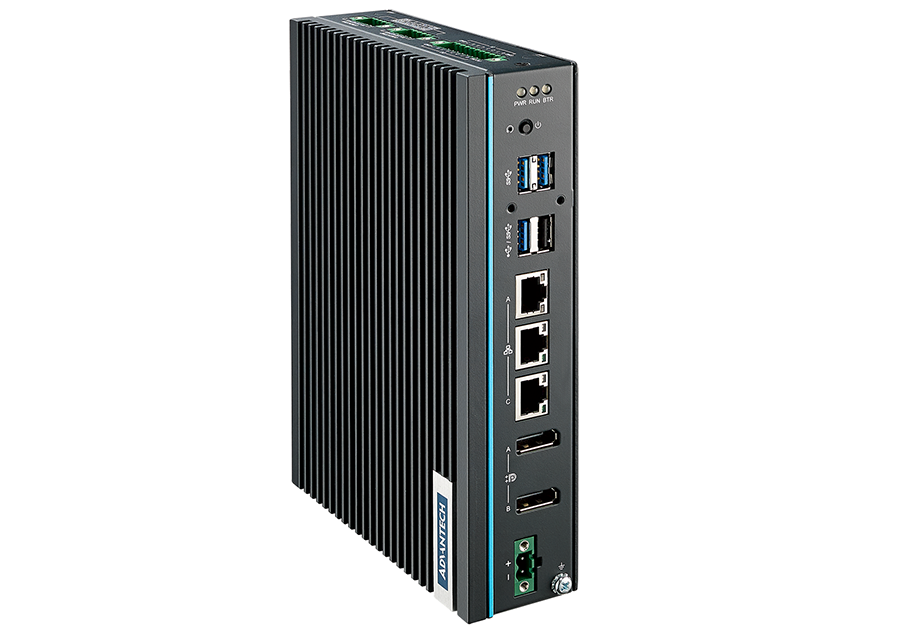 General operation temperature range (-20°C~60°C / -4°F~140°F)
Port isolation for 8 x DI, 8 x DO, 4 x COM
Supports M.2 M key 2280 NVMe SSD Storage
Supports M.2 B+M key 2242 storage and 3042/3052 cellular modules
Supports M.2 E Key 2230 Wi-Fi modules
Supports Time-Sensitive Network (TSN) technology
Remote out-of-band (OOB) power management with Advantech iBMC technology
Onboard TPM 2.0 to provide hardware security
Compliant with IEC 61010-1 safety requirements
Advantech MIC-770 V2 Compact Industrial Fan-less Edge Server
Intel® 10th Gen Xeon®/Core™ i CPU socket-type (LGA1200) with Intel® W480E/H420E chipset
Wide operating temperature (-10°C~60 °C / 14°F~140°F)
VGA and HDMI output
2 x GigaLAN, 2 x USB 3.2 (Gen2), and 6 x USB 3.2 (Gen1)
2 x RS-232/422/485 and 4 x RS232 serial ports (optional)
1 x 2.5" HDD/SSD and 1 x mSATA
Supports Flex I/O and iDoor technology, flexibly configure additional HDMI, DVI, Comport, DIO, remote switch I/O
Supports Advantech i-Modules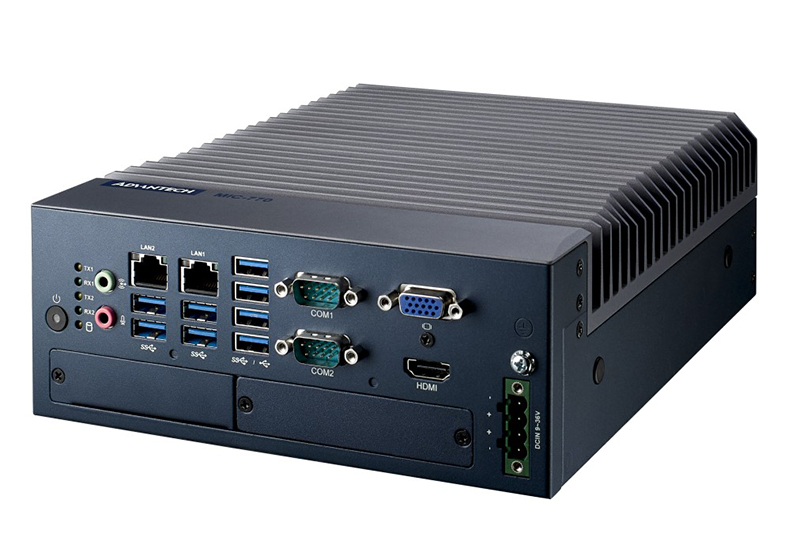 Advantech UNO-410 Explosion-Proof DIN-Rail Gateway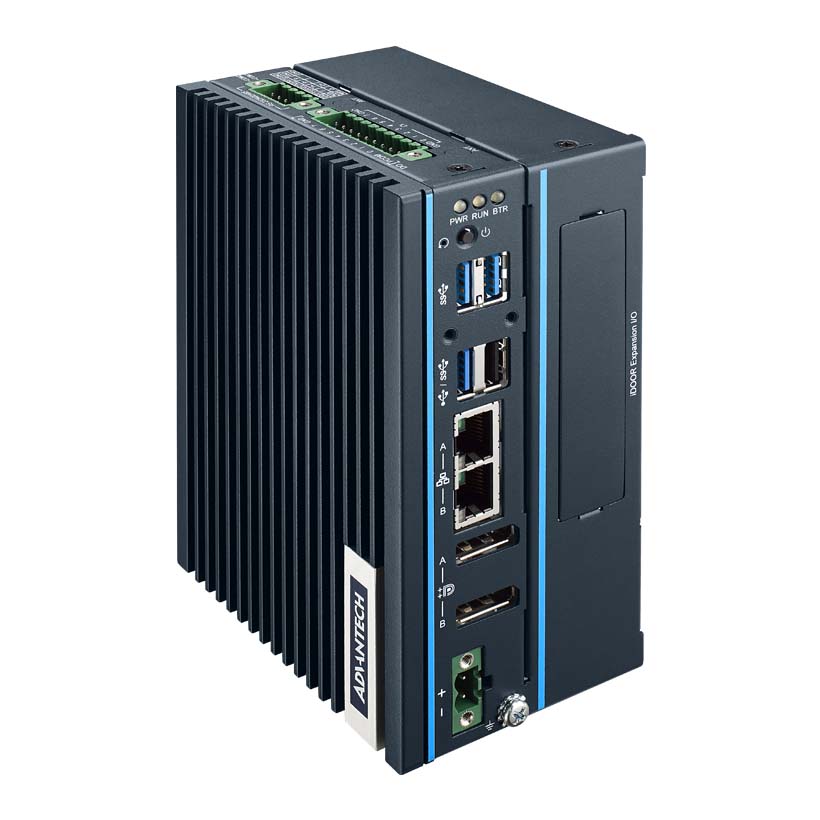 Explosion protection with UL listed Class 1, Division 2 /ATEX Zone 2/ IECEx Zone 2 certification
Intel® Atom® E3940 processor (1.6 GHz) with 8 GB DDR3L memory
Port isolation for 8 x DI, 8 x DO, 2 x COM
Dual storage with M.2 2242 SATA SSD and 2.5" HDD/SSD
Onboard TPM 2.0 provides hardware-based security
Supports M.2 3042/3052 module
Upstream oil and gas operations have been collecting and analyzing large amounts of seismic data for years. Downstream of exploration, producing oilfields also generate large amounts of data. Collected data includes:
Reservoir: downhole indicators, such as pressure, temperature, flow rate, drainage patterns, and composition, help adjust extraction techniques.
Field wells: well data helps optimize limited resources, identifying the most productive opportunities.
Surface equipment: oilfield equipment is subject to performance-degrading events (vibration, shocks, wide temperatures, flow rate, pressure, maintenance cycles, chemicals, and more).
Predictive analysis can reduce downtime and unnecessary expenses.
Drilling efficiency: comparing data from various drilling operations to identify best practices leads to more efficient and repeatable operations.
Following implementation, the oil and gas customer saw the following returns on investment (ROI) and values:
Ability to supervise a whole fleet of devices through a single-pane of glass
Highly-secure solution allowing deployment in remote areas
Ability to deploy existing Windows-based software alongside new containerized investments
Scalability of the solution with Kubernetes (K3s) at the edge
Safe solution allowing full revert of software deployment to previous version without possibility of "bricking" to the device
Improvement of productivity and security through systematic remote software updates
Full overview of the hardware and software status of every device of the fleet at any time
Ability to deploy applications at the edge to analyze data, create insights, and make actionable decisions
The combination of ZEDEDA's edge orchestration solution with Advantech hardware enabled the customer to modernize its numerous remote locations and fleet devices to create a successful Connected Oilfield Solution. The same infrastructure is also the perfect fit for additional oil and gas industry applications in various operations. Intel, Arrow Electronics, Advantech, and ZEDEDA provide infrastructure that is helping oil and gas companies deploy data strategies that are secure, flexible, and scalable.
Contact Us to Schedule a Demo