Advantech Releases IMC-595 Three-in-one Mega PoE Media Converter That Enables Flexible Network Deployment
8/26/2021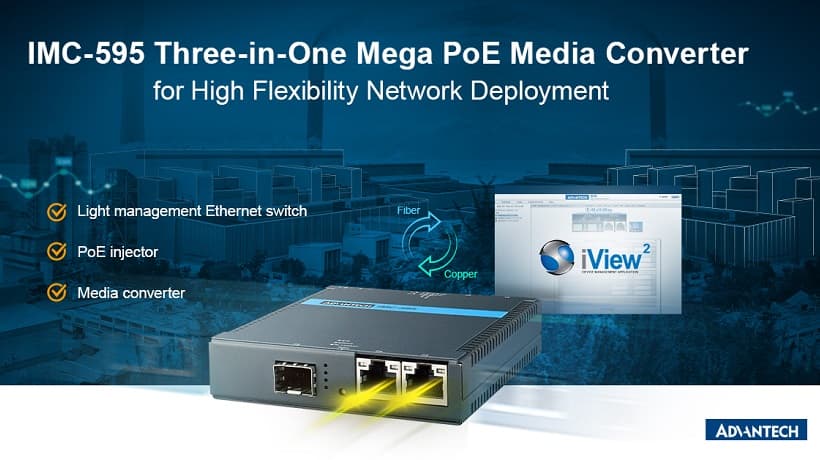 August 2021, Taipei, Taiwan - Advantech, a leading supplier of industrial communication solutions, is proud to release the IMC-595 three-in-one mega PoE media converter. This compact, industrial grade solution can serve as a fiber-to-Ethernet media converter, a 90W PoE injector, and/or a light management Ethernet switch. It comes with 2 x Gigabit 90W PoE ports in a compact 9 x 9 cm (3.54 x 3.54 in) housing and supports wide operating temperatures (-40 ~ 75 °C/-40 ~ 167 °F). These attributes make IMC-595 an excellent choice for applications in harsh environments that require slight network deployment changes.
Three-in-one design for high flexibility network deployment
Advantech's IMC-595 can be used in three ways — as a media converter, as a PoE injector, and/or as a light management Ethernet switch. Its fiber and RJ45 connectivity enables it to convert between fiber and copper cables. Additionally, the RJ45 ports can deliver 90W power and Gigabit data on the same cable to two PoE P.D. devices. It supports light management functions and can be remotely managed by SNMP/iView monitoring software. These multi-functional features empower diverse network infrastructure redeployment.
Compact design with wide operating temperature support
Advantech's IMC-595 features a 9 x 9 cm (3.54 x 3.54 in), palm-sized form factor adaptable to network infrastructure upgrade applications with limited space. IMC-595 is capable of delivering network service without overheating when integrated within small cabinets. In addition, it accommodates the wide operating temperatures (-40 ~ 75 °C/-40 ~ 167 °F) created by harsh working environments.

Advantech's IMC-595 is an ideal solution for users seeking to update network infrastructure, expand network coverage distance, or pursue light network management functions. IMC-595 also accommodates limited space applications within enclosed environments, or with harsh operating conditions.

Versatile 5-port, up to 180W power output at extended operating temperature
Provides a Switch/Injector mode setting via SNMP/iView
Supports SNMP/iView for remote management
Dip switch for LFPT and Power Force mode
Supports LLDP and Modbus TCP protocols
Supports Jumbo Frames up to 9,216 bytes and Broadcast Storm Control ON/OFF
IMC-595 three-in-one mega PoE media converter will be available for order August 2021. For more information about this, or other Advantech products and services, please contact Advantech or visit www.advantech.com.
For more product inquiry, please contact our HQ at

iiot.tech@advantech.com

Advantech experts will be providing you with dedicated support soon!