Advantech Partners with NETGEAR to Develop Innovative SDVoE-Compliant Audiovisual Processing Solutions
5/31/2022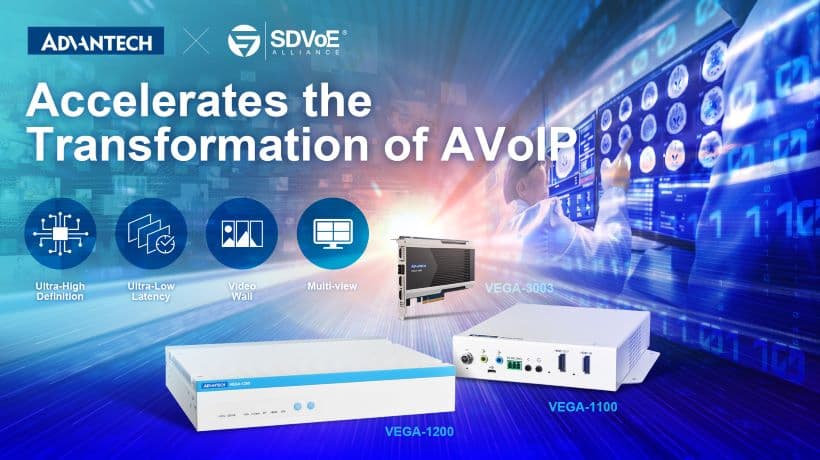 May 31, 2022, Taipei, Taiwan - Advantech, a leading provider of advanced video processing solutions, is pleased to announce a partnership with NETGEAR, a leading global provider of networking products. The aim of this partnership is to develop Software-Defined Video-over-Ethernet (SDVoE) solutions that benefit the entire SDVoE Alliance ecosystem.
The SDVoE Alliance is an industry consortium dedicating to standardizing the adoption of Ethernet for AV signals to facilitate the development of high-quality, low-latency video solutions. Since joining the SDVoE Alliance in 2021, Advantech has introduced new SDVoE-compliant video transmission and processing solutions. "SDVoE Alliance focuses on technical interoperability and supports the bringing together of strong manufacturers for partnership and collaboration. I'm happy to see NETGEAR, with their portfolio of pro AV-ready 10G and 100G switches showing their support for Advantech, who offer creative products such as VEGA-1200 Hybrid Endpoint, VEGA-3003 SDVoE PCIe module and more," noted Justin Kennington, President, SDVoE Alliance.
To support diverse audiovisual content streaming applications in the medical, manufacturing, and broadcasting industries, Advantech's VEGA series offerings have been equipped with SDVoE technology, which enables point-to-point, point-to-many, and multicast AV-over-IP communication. Moreover, as part of the company's commitment to cultivate additional vertical industries, Advantech is partnering with NETGEAR to develop high compatible SDVoE products that benefit SDVoE Alliance members and customers worldwide.
Magic Pao, Associate Vice President of Advantech's Video Solutions Division, commented "We are excited to cooperate with NETGEAR and look forward to providing complete and advanced AV-over-IP solutions worldwide." He added that, "The key aspect of our collaboration is to ensure the interoperability of SDVoE ecosystem offerings and provide more comprehensive solutions to our customers."
"NETGEAR and Advantech make a great partnership," remarked Laurent Masia, Director of Product Line Management for Managed Switches and the Pro AV Engineering Services team at NETGEAR. "Both companies offer outstanding products targeting SDVoE installations and are recognized as leaders in the industry."
For this partnership, Advantech will leverage its competencies in hardware design and manufacturing, while NETGEAR will leverage its expertise with IP networking infrastructure, to innovate high-performance SDVoE-compliant audio/video solutions that promote the ongoing convergence of audio/video technologies and IT networking infrastructure for a wide range of industries.