Advantech embedded IoT gateways (UTX Series) analyze and transmit data from end devices, accelerating decision making that result in increased efficiencies. This helps customers acquire the intelligence to drive new design innovations, making business transformation a profitable action rather than a challenge.
Simplifying IoT Gateway Deployment
Intelligent gateways play a critical role in IoT by collecting sensor data at the network edge, filtering, and normalizing the data for sharing in the cloud. To simplify IoT deployment, Advantech developed the UTX-3115/3117 gateway family, which offers multiple RF module connectivity in a wide-temp embedded box computer coupled with Intel® software and our pre-configured WISE-PaaS cloud service software with security and management features and support for Linux and Windows OS.
UTX-3117 Design Features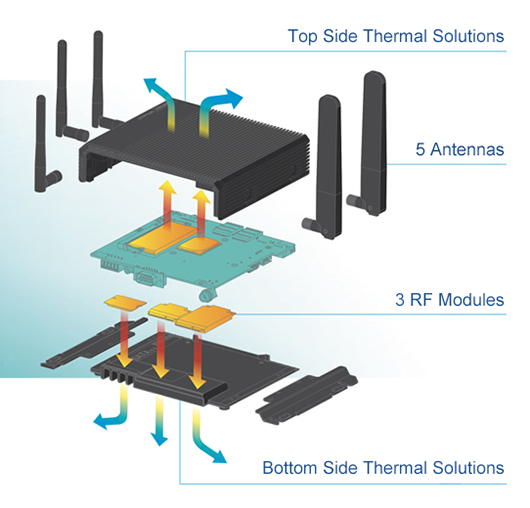 Our solution uses Intel® Apollo Lake E3900 series and N series processors, offering enhanced processing power in a compact, low-power package which is ideal for factory automation, smart city street lighting controls, information system signage and more. UTX- 3117 is compatible with Microsoft Windows 10 IoT Enterprise, Yocto Linux, and Wind River (Advantech) Pulsar OS. UTX-3117 has Advantech intelligent software integrated to offer a total solution for bridging connectivity from sensors to the cloud. Furthermore, UTX-3117 is also certificated with AWS Greengrass security solution to run IoT applications seamlessly across the AWS Cloud and local devices using AWS Lambda and AWS IoT.
Smart City Street Lighting Controls

Information System

Factory Automation

Smart Energy
Pre-integrated WISE-PaaS for IoT Software
UTX-3117 also comes bundled with Advantech's WISE-PaaS solution on Microsoft Windows 10 IoT Enterprise, and Yocto Linux. WISE-PaaS includes more than 100 RESTful APIs including account management, device management, device control, event management, system management, and database management. WISE-PaaS offers centralized management and a dashboard builder for data visualization which allows customers to monitor and manage all connected devices.