Executive Team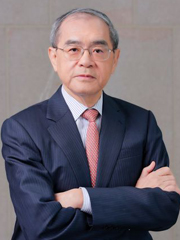 Established Advantech in 1983
Lead Advantech to recognition as one of the Top 20 Taiwan Global Brands for many years
K.C. Liu founded Advantech in 1983 and has been the Chairman ever since. Soon after the founding of Advantech he vowed, "Though I cannot win a gold medal for my people in the Olympic Games, I will strive instead to serve them by creating a world-class company." His passion and leadership has inspired the company to stay focused on its core competencies, and ultimately to achieve its status as the leading light in the worldwide industrial computing arena. From 2013 until now Advantech was recognized as a Top 10 Taiwan Global Brand by the prestigious brand-consulting firm Interbrand.
K.C. Liu was born in 1954 and graduated from the Department of Communication Engineering at National Chiao Tung University in Taiwan. Before founding his own company, he worked as an R&D engineer and then later as a sales engineer for HP Taiwan in the Instrument Department. During this period, he accumulated a wealth of knowledge and practical experience. These lessons were invaluable when he and two partners who had been colleagues with him at HP Taiwan later decided to found Advantech.
Advantech is a leader in providing trusted, innovative, embedded and automation products and solutions; offering comprehensive system integration, hardware, software, customer-centric design services, and global logistics support through its extensive global network.
K.C. Liu, an avid reader, often purchases good management books to share with all of the management team. Periodically, the company holds book-club meetings in its branch offices around the world. Especially high on his list of favorites are: "Built to Last", "Good to Great", and "Blue Ocean Strategy", which he says have had a great impact on the way business is done at Advantech.