Traffic Management
ITA-3000 Series are Advantech's product offerings that target for Road Surveillance application. With the trend of urbanization, the numbers of vehicles on the road are increasing which indicates the need of road surveillance in city is mushrooming to keep the city safe 24/7. Advantech ITA-3000 Series, with the feature of high performance and wide operating temperature, they will be the best offerings for traffic management system.
System Topology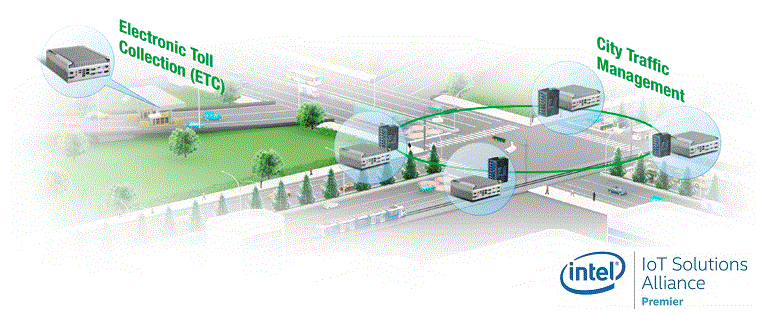 Traffic Management Offerings
Exclusive for Road Surveillance
Supports -25° ~ 60° C (-13 ~ 140° F) Wide Range of Working Temperature
Supports 9V~36V Wide Range of DC Inputs
Easy-accessible CF/DOM Module
Anti-vibration Test Enhancement
Application
Traffic Management Surveillance System
System Requirement
ITA-3000 Series is one of Advantech's new traffic management product offerings that cater to road surveillance applications, which have become ever more vital as urbanization increases. Populations and their vehicles are gradually aggregating in cities, with attendant increases in car accident and crime rates. As a result, road surveillance is regarded as one of the paramount segments of municipal infrastructure. Take China as an illustration: The value and needs for road surveillance implementation in 2,000 cities and towns are worth more than $10 billion. Advantech and its eco-partner have foreseen the business opportunities and delivered solution packages in this vertical market. In terms of surveillance application, ITA-3000 Series is well-known for its vibration resistance, its wide-range operating temperature, and the resulting resistance to harsh working environments. It is also known for high image processing performance. Besides, ITA-3000 Series's flexible I/O design assures quick customization for our global system integrators as they cater to their localized demands and needs.
Electronic Toll Collection
System Requirement
In the evolution from manual to electronic toll collection, the intelligent, high performance ITA-3000 Series system has helped substantially to decreased workforce requirements as well as assuring traffic flow on the highway, playing an indispensable role in expressway systems. ITA-3000 Series already has a great number of ETC success stories, especially in Greater China area and in Europe, resolving highway toll collection issues and enhancing commuting efficiency. The ITA-3000 Series with its anti-vibration design, operates under a wide range of temperatures and in extremely unfriendly environments. Its inherent robustness assures stable roadside function, and meets the demands of our partners and system integrators. In addition to stability, its high levels of processing and graphical performance make ITA-3000 Series the best solution for electronic toll collection applications. Cameras detect and record the license plates or e-tag every vehicle coming and going on the highway and transmit the data to processing centers, where road usage and appropriate tolls are calculated. ITA-3000 Series design features target ETC markets and provide an ideal solution.
License Plate Recognition System
System Requirement
When it comes to traffic management, a high performance, integrated system which is capable of identifying license plates is an indispensible tool for a traffic information center. Precisely detecting each vehicle license plate, whether coming or going, is the trend for the future in implementing electronic toll collections. This helps to decrease workforce requirements, decrease traffic violations and accidents, and to resolve issues effectively when car accidents occur. Therefore, it is important to have a system which can accurately detect, record, process, and transmit huge streams of license numbers 24/7, particularly at peak hours. In addition, it is more difficult to identify license plates during pouring rain or a snowstorm, when efficient traffic management control is even more crucial. ITA-3000 Series high-performance design overcomes these natural challenges and delivers precise license plate identification at all times.
PoE Managed Switches for Surveillance
EKI-7000 Series
To connect IP cameras across large, comprehensive and critical geographies and ensure secure and high bandwidth data transmission, Advantech's Gigabit Managed Redundant Industrial PoE Ethernet Switch and wide Temperature Switches are the best fit. As PoE devices help to realize a centralized power supply solution and provides up to 15.4 watts of power per port to power IP-based surveillance systems, fully Managed function allows network administrators from the control center to see the status and to manage multiple switches plus the Gigabit transmission speed ensures high quality and high speed images transmission. Advantech EKI-7659CPI supports 8 Power over Ethernet (PoE) ports and 2 Gigabit combo ports while its proprietary redundant network protocol offers advanced ring topology to reduce traffic down time and to provide faster recovery time which create reliability in the network.