Multi-Angle Vision Inspection and 6-Axis Smart Robotic Integrated Solution for Automotive Manufacturing
1/3/2022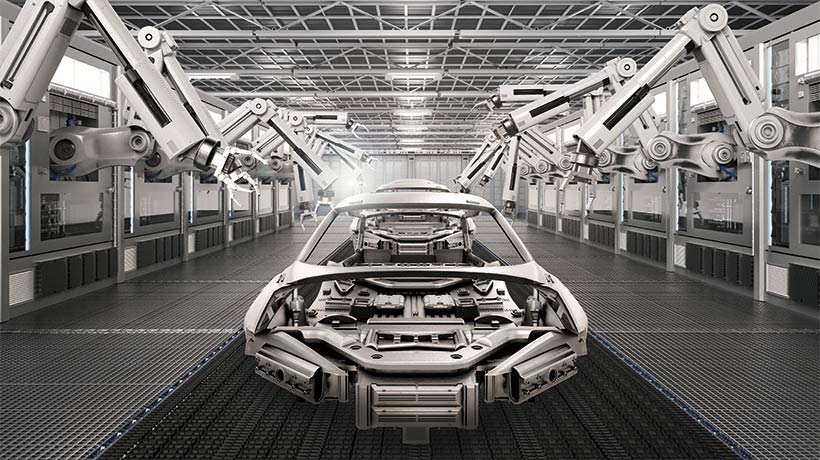 A traditional automobile manufacturer was aiming to expand their core business and investment in electric vehicle (EV) production. In automobile manufacturing industry, production lines are not duplicable. For either traditional (gasoline-powered) automobiles or new EVs, manufacturers need to establish a completely new production line for any new model. In other words, each single vehicle model has its own production line. Doing business in such a rapidly changing and competitive automobile market presents unique challenges. The entire automobile production plant needed to be re-configured while the EV designs were evolving and features for each new model were being specified.
Advantech received a request from a robotics system integrator (SI) who serves a global commercial automobile manufacturer which needed to expand their production lines for the new EV manufacturing. To make this happen, new robots needed be commissioned. Robots are key pieces of equipment that turn a standard factory into an advanced manufacturing center as they can be dynamically configured and upgraded to fulfill dedicated EV manufacturing processes.
Production line shut downs are never an option, so the new line had to be equipped with an advanced robotic platform that was capable of handling high-speed vision processing, data transmission, and multiple channels of digital I/O for data collection. The IPC solution to support the manufacturing needed to enable a 6-axis robot to achieve multi-angle automated visual inspection (AOI) at each point in the manufacturing cell where the four 6-axis robots were installed. Because Advantech has a solid reputation and in-depth experience in this kind of industrial application, the SI asked for Advantech's help.
The robots were tasked with performing AOI functions so each robot carried 3 cameras to enable multiple angle vision capture. An IPC solution was required to process and analyze data from the frames collected from the 12 x PoE cameras installed on the 4 robots in each manufacturing cell. Usually, an IPC computer is installed inside a cabinet aside from the robot but connected to it. But because so many cables were connected to the IPC, a front panel I/O design was used for easy management and maintenance. In all, Advantech proposed the IPC-631 front I/O 4U rackmount chassis integrated with an AIMB-787 10th gen. Intel CPU motherboard, 1 x NVIDIA Quadro RTX A-6000 GPU card, 4 x CPIE-1674 frame grabber cards, 12 x PoE cameras, and 1 x PCIE-1756 DIO card as the multi-angle vision inspection and 6-axis smart robotic integrated solution.
The total AOI solution offered high speed productivity and high reliability. The AIMB-787 industrial grade motherboard powered the AOI inspection and data analysis. The IPC-631 chassis featured a front I/O design in a 4U depth rackmount case, which allowed easy installation, maintenance, and outstanding heat ventilation. Cameras captured incredible detail from every corner and each camera captures 14 frames/sec, while each high-speed GigE frame grabber card could process 56 frames/sec, in other words, each manufacturing cell working in tandem handled 10,800 frames/min in total.
Individual components included: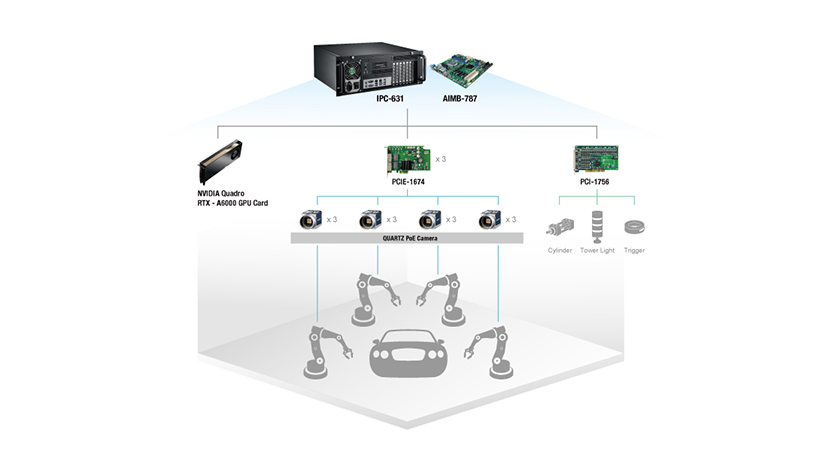 Advantech's high speed, powerful AOI solution fulfilled the customer's expectations for production efficiency, reliability, and high-quality output, as well as compatibility, ease of integration, and the accuracy of robots on the production line. The solution also included 5G expansion, so the customer could upgrade the system and painlessly migrate to 5G industrial manufacturing going forward.
The system integrator was satisfied with Advantech's solution because it offered high compatibility, less system integration effort and provided a responsive one-stop-shopping service.The end user customer experienced higher production efficiency, reliability, quality, and output, as well as expandability to lower capital investment.
Advantech keeps up the momentum with global automobile manufactures to meet ever-changing market needs.