Highly Integrated IPC Solution Selected as Universal Platform by Worldwide Manufacturers
1/3/2022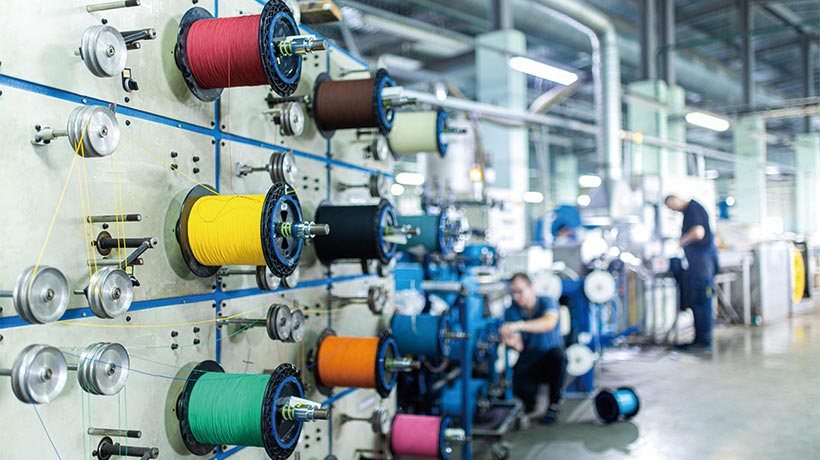 A global manufacturer in Asia that produces a wide range of high quality fastening products and merchandise worldwide, wanted to upgrade their systems for better production efficiency and to do this they needed a high-end IPC solution which could be widely deployed on their production lines across all their manufacturing sites worldwide. The solution needed to feature high computing power and legacy compatibility, but needed to be a modularized design so they could change/upgrade add-on cards (motion, frame grabber, GPU etc.) and add new functions as production needs required.
The manufacturer wanted an innovative platform that could fit their existing and future needs. The specification included processing requirements that must go beyond what regular industrial PCs (IPC) can deliver. This invariably meant it would need to use a server-grade system to meet their specifications. But buying a server solution was too expensive for what they wanted, plus they would only utilize part of its capacity, which was an unnecessary waste.
To mitigate the cost of purchasing expensive servers, they decided to combine a CPU + GPU solution that would meet their needs. The GPU would be used not only for graphics, it could also be utilized to provide an additional source of powerful processing. The standard way to integrate a GPU card is to insert it into a slot on the motherboard and that usually means a 4U chassis. But the customer only wanted a 2U size chassis and a 2U chassis cannot accommodate full-sized GPU cards — so what to do?
Full-sized or double decker graphics cards are taller than a standard 2U chassis, so the card needed to be installed vertically via a rear adapter connected to the motherboard, which holds the card horizontal. Also a full size RTX GPU card with thermal heat sink can weigh a lot and installation may damage the connector or cause unstable signal transmission. So Advantech offered the ACP-2020G 2U rackmount chassis for ATX and uATX motherboards, which is a premier IPC solution that uses the Intel Gen 10 processor and chassis with a special bracket design which can hold full sized / double decker GPU cards and effectively disperse heat via dual 100 CFM fans.
Advantech's ACP2020G chassis with NVIDIA® Quadro RTX™ A6000GPU card and AIMB-787 motherboard was selected to be deployed in all their manufacturing sites because it was the most cost-effective solution that met their expectations in the most efficient way. Advantech specially designed their innovative card holder bracket in ACP-2020G to support heavy GPU cards, so that the whole system can run at peak performance. Of course a GPU card running at full capacity generates heat so there are 2 x 100 CFM fans installed that make good use of the built-in 850W 80 plus platinum grade power supply.
ACP-2020G

: 2U Rackmount Chassis for ATX and uATX Motherboard.

AIMB-787

: Industrial ATX Motherboard with Intel® 10th generation Core™ i9/i7/i5/i3/Pentium®/Celeron® processor and Q470E chipset.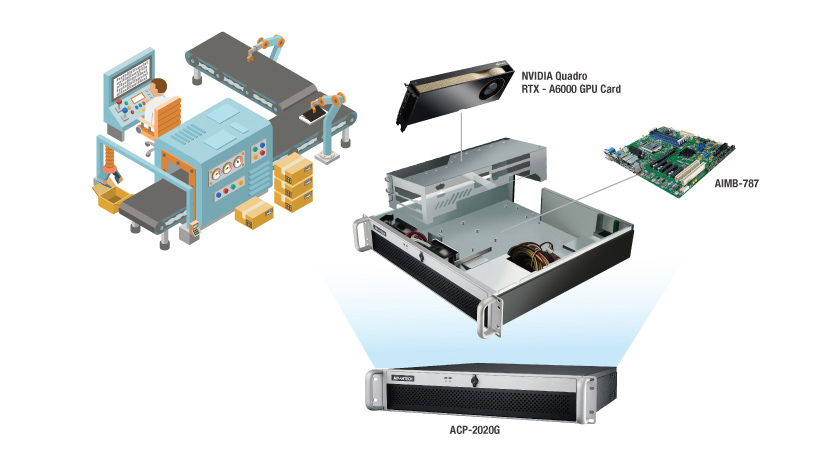 The whole solution delivers on high performance computing, legacy compatibility, and most importantly, cost efficiency.
ACP-2020G's 2U footprint saves space and its card holder bracket is designed for full-sized GPUs with heat sinks. And not only GPU cards, it can also accommodate motion cards, frame grabber cards, as well as single, double, and even triple decker GPUs as well.
ACP-2020G benefits customers who want to upgrade their system to server level but don't need full server performance. It greatly optimizes production efficiency whilst minimizing capital investment.