The ITA-260 Series Demonstrates Best Practices for Edge Computing on Intelligent Transportation Systems
1/31/2023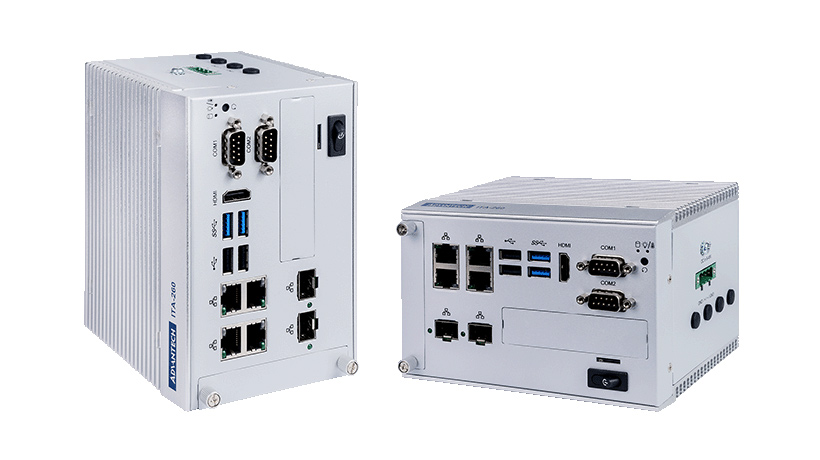 Taipei, Taiwan, Feb. 01, 2023 - Advantech Co., Ltd. (TWSE: 2395), a global leader in industrial IoT, releases its latest fanless edge platform—the ITA-260 series for smart transportation applications. Advantech's ITA-260 edge platform is powered by an 11th Generation Intel® Core™ i3/i5/i7 Processor supporting AIOps (Artificial Intelligence for IT Operations). It is designed for video surveillance, traffic management, and electricity monitoring for railroad and road applications. It can also function as a roadside unit (RSU) for V2X communication solutions or as an edge control unit for electricity distribution in EV charging stations or for railway trackside diagnostics. It can also be used for a diverse array of intelligent applications in other domains as part of smart and sustainable infrastructure.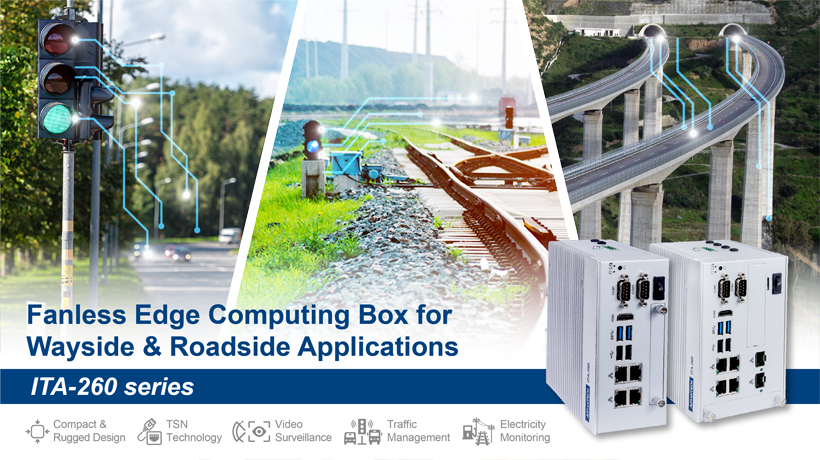 Support for TSN and Diverse I/O for Low-Latency Streaming
The ITA-260 series is equipped with USB, LAN, HDMI, COM, and wireless connectivity for multiple data streams in real time. What makes the communication functionality significant is that it supports 6 LAN ports: 2 of the ports are designed for IEEE 802.11AS Time-Sensitive Networking (TSN) and another 2 ports support fiber-optic communication for real-time massive long-distance data transformation from the edge to the cloud. With this technology, traffic control centers and railway operators can obtain diagnostic data and perform predictive maintenance and remote management, which greatly reduces management costs and enables higher overall quality of transportation.
Compact with DIN-Rail Mount for Quick and Easy Installation
ITA-260 is Advantech's smallest transportation edge platform. It matches the height of a typical smartphone with dimensions of 150 x 70 x 120 mm (H x W x D). It can easily fit into a limited space such as in electricity maintenance cabinets next to roads or railways. This frees up space for other gauges/devices and optimizes the use of space for smart traffic systems and other purposes such as smart street lighting. Together with its compact size and DIN-rail design, ITA-260 delivers optimal flexibility for installation, enabling many kinds of smart transportation applications.
Rugged Design with EMC EN 50121-4 Compliance
Roadside and wayside control systems are getting smaller and therefore less intrusive on the appearance of a city. ITA-260 is a compact and fanless edge computing platform which withstands a -40 ~ 60 °C operating environment and has an IP40 rating, making the ITA-260 the perfect edge system for intelligent transportation applications. It is especially suited to applications that require the whole system to be installed outdoors, such as for an EV charging center, a smart street lighting system, or a traffic signal system. Additionally, ITA-260 has attained the strict EN-50121-4 railway certification. This means the ITA-260 does more than just roadside edge computing; it helps railway operators secure the power supply system and monitor the environment of the wayside for railway safety.
Smart transportation applications are very diverse. Advantech provides a wide range of wayside and roadside controller solutions from the entry level to the middle level with the ITA-260 series and the advanced ITA-3650G. These solutions are available now, and users can select suitable solutions for particular intelligent systems to enhance the quality of life in cities and beyond. For more information about ITA-260 or other Advantech solutions, please contact your regional sales representative or visit our website.