Session Border Controllers
6/2/2017
With the advent of VoIP came a host of network opportunities and challenges. One such challenge related to NAT (Network Address Translation) as the borders between networks, private and public or inter‐carrier were traversed. Various network devices and techniques evolved to solve these NAT traversal issues; one however, took the lead and now has become ubiquitous, offering a variety of functions – the Session Border Controller or SBC. The enterprise session border controller market was valued at USD 310.1 million in 2015 and is expected to reach USD 528.4 million by 2022, at a CAGR of 8.26% between 2016 and 2022 according to the analysts at Research and Markets.
A Session Border Controller does exactly what is says; Controls the data streams and sessions (in the VoIP case sessions represent calls) as they traverse the border or interconnection point between two networks. The border point of control can be in the enterprise e.g. where a corporate network enters the public Internet or at an interconnect between two service providers. In either case the SBC provides a variety of functions for its host network.
Securing and connecting the network – Network Address Translation (NAT) is performed and firewall functions may be implemented in conjunction with other firewall devices. VoIP signaling is enabled and corrected as necessary. The border is policed and protected from potential Denial of Service or other attacks. Ultimately the SBC says who gets in and who doesn't.
Quality of service – An SBC can act as a load sensing and balancing router and becomes a key component of the network's QoS policy

Management &Statistics – As all network traffic must flow through an SBC it's a great place to collect statistics, billing and other management information.
Regulatory compliance – SBCs must allow for lawful interception and monitoring of calls and have the ability to prioritize emergency calls.
SBCs have advanced since the first generation versions which essentially supported multiprotocol communication on both SIP and H.323. The current generation of SBCs have evolved and now offer enhanced functionality by acting as a bridge between emerging WebRTC implementations and SIP.

Flexibility, connectivity and performance are all required to size the ideal Session Border Control platform to the number of sessions which can be supported, reaching tens of thousands of signaling sessions and several hundred thousand users at the high end. Advantech's network appliance product line provides these three key vectors. In addition, long term commitment and expertise in designing and supplying open standard x86 platforms ensures that Advantech offerings always provide for the latest technology and can demonstrate clear upgrade paths. The Advantech FWA-3230 is an excellent example of an OEM application ready platform based on Intel architecture with a choice of Intel® Xeon® Processor E3 series or Intel® Core™ i7/i5/i3 Processors, providing six Gigabit Ethernet ports with three bypass segments and a wide choice of I/O expansion options. The FWA-3230 is ideally geared towards the mid-range needs of the SBC OEM. When throughput needs are higher, the FWA-5120 based on single or dual Intel® Xeon® E5-2600 Processor V4 CPUs fits more demanding requirements for higher performance and 10/40GbE connectivity,
Mid-range solution:
Advantech OEM-Ready Appliances with Intel® Xeon® processors for Session Border Control
FWA-3230 1U INTEL® XEON® E3 SERIES NETWORK APPLIANCE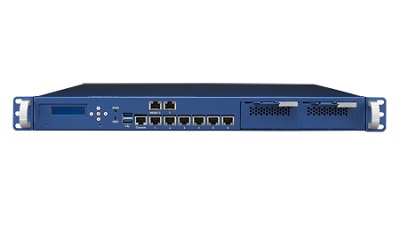 The FWA-3230 1U appliance can be configured with a range of Intel® processors, Ethernet ports, PCIe I/O options and Advantech Network Mezzanine Cards (NMCs) to create cost effective platforms for specific enterprise networking applications such as SBCs. The FWA-3230 1U network appliance can scale from entry-level performance using Intel® Celeron® and Pentium® processors to the mid-range segment using Intel® Xeon® E3 series processors, offering an outstanding price/performance ratio with each SKU. Memory configurations can include four DDR3L 1333/1600 DIMMs for up to 32GB in total. In the base configuration, the system comes with support for two 2.5" SATA HDDs/SSDs, LCM, RJ45 console, two USB ports and six Intel® I210-AT GbE controllers.

For I/O expandability, two standard PCIe full-height, half-length slots with rear access allow the integration of off-the-shelf PCIe adapters and up to two Advantech Network Mezzanine Card (NMC) slots offer further flexibility for additional front-panel network ports. Featuring an optional server BMC in accordance with IPMI2.0, the FWA-3230 supports state-of-the-art remote and lights-out management for increased reliability, serviceability and improved total cost of ownership. Advanced features such as power supply monitoring via PMBus allow the whole platform to be remotely managed. All management firmware can be remotely upgraded using the industry standard HPM.1 protocol.
Supports Intel® Xeon® Processor E3-1225/E3-1275/E3-1268 V3, 4th generation Intel® Core™ i7-4770S/i5-4570TE/4570S, Intel® Pentium® G3420/G3320TE, and Intel® Celeron® G1820/G1820TE

Four DDR3L Un-buffered 1333/1600 DIMMs sockets, for up to 32GB memory (FWA-3230A); two DDR3L Un-buffered 1333/1600 DIMMs, up to 16GB memory (FWA-3230B)

Six 10/100/1000 Mbps LAN on board with up to 3 bypass segments

Two 2.5" SATA HDDs / SSDs or 1x 3.5" HDD

Up to two Advantech Network Mezzanine Cards (NMCs)

IPMI2.0 compliant Remote Management (optional)
Hi-end solution:
FWA-5020 1U INTEL®XEON® PROCESSOR E5-2600 V4 SERIES NETWORK APPLICATION PLATFORM


The FWA-5020 is a 1U rackmount appliance optimized for networking applications that features either one or two Intel® Xeon® E5-2600 v4 processors. The appliance can be configured with 12- to 22-core CPUs thanks to advanced thermal system design that supports processor wattage of up to 145W.

The system architecture of the FWA-5020 puts an emphasis on compute performance, data plane throughput and encryption throughput. Some of the optimizations include larger on-chip cache memories and Intel QuickPath Interconnects, running at up to 9.6GT/s for reduced cross-socket memory I/O latencies and increased throughput.

Memory support for each socket includes 4 DDR4 channels with speeds up to 2400 MHz for up to 512GB of error correcting code (ECC) memory. To provide failover capability, the server features advanced reliability, availability, and serviceability (RAS) modes such as mirroring and sparing to increase platform reliability.

The enhanced system architecture with two PCIe Gen3 x8 slots per CPU for density-optimized network mezzanine cards (NMC) and one PCIe Gen 3 x16 slot per CPU for dual QuickAssist DH8955 adapters, provides an efficient platform for maximum packet and crypto throughput in a reduced 1RU footprint. For management, the server has two built in 1000Base-T ports, 2 USB ports and a console port.with advanced LAN bypass and two 10GbE SFP+ ports. These built-in options can be augmented by the four front-loaded NMC slots that provide the ability to add additional modules.