Tobii Dynavox and Advantech Deliver a Cutting-Edge AAC Product
6/24/2021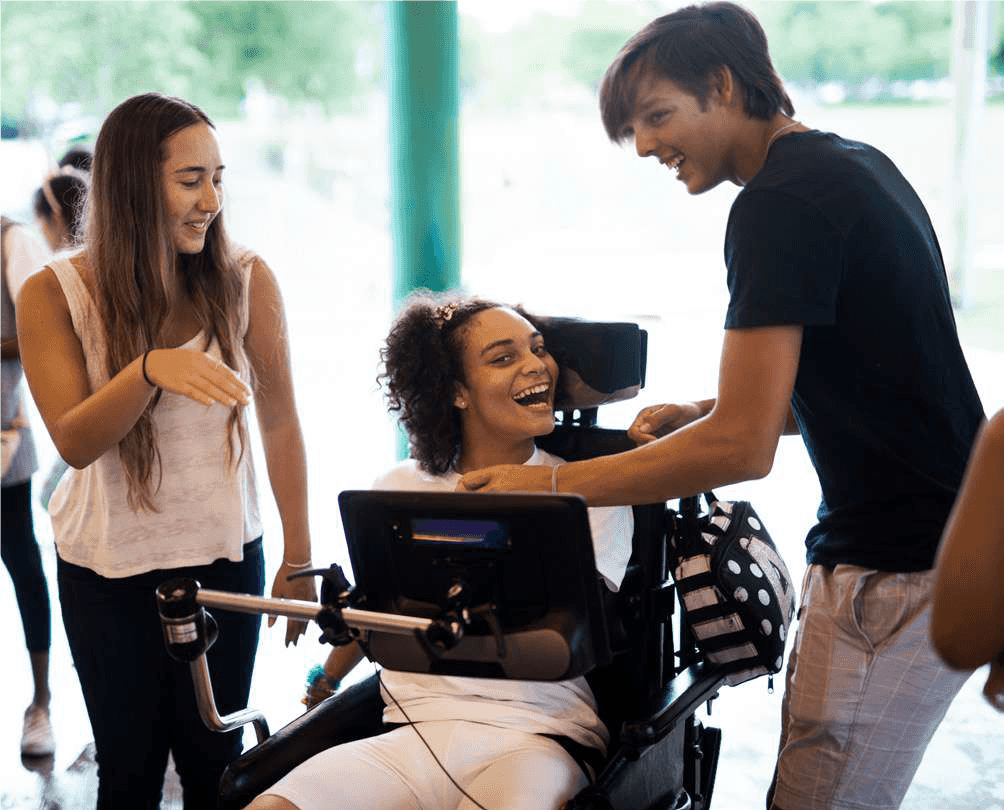 Photos provided by I-Series launch 2019
Interview with Mr. Anders Malnes Mathisen, Product Manager, Tobii Dynavox
Nowadays, people communicate in so many ways. With the help of technology, we not only communicate, but also connect and interact with others on social networking sites, through apps, in online games, and more. However, for people with ALS, cerebral palsy, autism, Rett syndrome, or speech disorders, communication can be difficult. Additionally, they may not have the physical coordination necessary to operate technology. Thus, to assist physically challenged people with communicating, Tobii Dynavox, the global leader of eye tracking-enabled and touch-based augmented and alternative communication (AAC) devices, and Advantech co-created a next-generation I-Series AAC device that stands out from the competition.
Eye tracking is a sensor technology that enables a computer or machine to determine what the user is looking at, also known as the gaze point. Eye tracking has revolutionized assistive technologies and offers substantial potential for many other healthcare devices, such as bedside terminals, nursing stations, diagnostic imaging equipment, hospital information kiosks, and surgical robots.
With eye tracking-enabled AAC devices, a basketball coach with ALS, for example, can generate synthetic voice commands to coach children; a civil engineer who is paralyzed from the neck down can work and live an independent life; and a 5-year old girl with Rett syndrome can express her feelings and build a relationship with her family. AAC devices provide severely disabled people with a voice, as well as a means, to better engage with society and live a more rewarding life.
Dedicated AAC devices empower people
AAC devices can be as simple as symbol cards, or as advanced as communication boards and speech-generating devices (SGDs). For over 30 years, Tobii Dynavox has been helping people with special needs live a free and independent life by integrating and digitizing several important AAC methods into their product offerings. With Tobii Dynavox's eye-tracking devices and software tools, disabled people can use the Internet, social media, e-mails, and messaging apps just like everyone else. Tobii Dynavox also provides software for education, training, and literacy development to meet the specific needs of people with different types of disabilities.
However, for people who have medical complications and multiple disabilities, consumer mobile devices are not suitable for their needs. The Tobii Dynavox slogan – "Power to Be You" – describes solutions that allow users to express themselves easily, control electronic products in their homes, explore the world, and reach their full potential. Thus, a dedicated rugged tablet that is also slim and lightweight was essential.
Although Tobii Dynavox's I-Series eye-trackingenabled SGDs have helped many physically challenged people, the company's enthusiasm for helping others didn't stop there. In 2017, they began researching and preparation work to develop a new generation of I-Series products. Being in a niche market and serving unique users, Tobii Dynavox's requirements from a manufacturing partner were very clear—stable, highquality, and long-term service. Mr. Anders Malnes Mathisen, Tobii Dynavox's product manager asserted, "For us, quality is very important. We need a reliable and competent design manufacturing partner who can provide robust and reliable products. That's our key metric for supplier evaluation."
As a global supplier of medical and industrial tablets for more than 30 years, Advantech has a dedicated Design and Manufacturing Service (DMS) team that provide customizable ODM products. Their services include collaborative design, flexible manufacturing, tailored software, and global technical support. For this project, Advantech's mobile DMS team did not just meet the criteria; they went the extra mile to provide a sustainable solution with customized software, global logistics support, and after-sale services.
Sustainable products are the key to long-term services
During the initial product development process,Tobii Dynavox and Advantech spent about 6 months establishing the industrial design specifications. During this time, the mobile DMS team flew to Tobii Dynavox's U.S. office in Pittsburgh twice in order to meet with Tobii Dynavox and better understand their design concept.
Unlike Advantech's previous industrial applications that focused on tablet size and weight, the priority for this project was robustness. For Tobii Dynavox's users, the tablets needed to be lightweight without compromising operational efficiency, robustness, and water resistance. The tablets also needed to be ergonomically designed to support eye tracking and ensure face-to-face communication is as natural as possible. Mr. Anders Malnes Mathisen commented, "It's very important to deliver features that are different from the average consumer-grade tablet. We can provide a lot of value by offering powerful and unique features, such as the partner window for face-to-face communication."
To achieve Tobii Dynavox's design requirements, Advantech made many pioneering manufacturing decisions, from designing a unique printed circuit board, sourcing extra-small components, and even selecting a specific industrial touch panel. Industrial-grade touch panels are typically thicker than consumer-grade panels because of their impact-resistant and vandalproof features. To achieve Tobii Dynavox's aesthetic design concept, the mobile DMS team took advantage of Advantech's global supply chain and found a thin panel that not only passed drop tests, but also complied with medical safety and EMC regulations.
When the product development was nearly finished, component shortage issues unexpectedly occurred. For the average person, learning how to use a new phone or laptop every now and then is easy. However, for Tobii Dynavox's users, being trained on and getting used to a new AAC device can take several months. After which, the AAC device becomes a lasting companion. To ensure long-term service for the new I-Series products, Tobii Dynavox made a difficult decision to alter the design, which delayed the project by one year. But thanks to Advantech's global sourcing ability and understanding of sustainable product design, the new I-Series devices were finally delivered in the last quarter of 2019.
According to Mr. Anders Malnes Mathisen, "The beginning of the project was very challenging. But considering the new I-Series products, we are very sat isfied with our partnership with Advantech." Since their launch at the end of 2019, the new I-Series products have helped thousands of physically challenged individuals in several countries. However, sales of I-Series products are still heavily reliant on medical professionals to increase patient awareness of advanced and dedicated AAC devices. Nonetheless, Tobii Dynavox have a thorough understanding of national health insurance schemes and subsidies for medical assistive devices in Europe and North America, and have strong connections with local authorities, special-needs schools, and patient groups, contributing to the promotion of the latest I-Series products.
In addition to Europe and North America, Tobii Dynavox is also promoting I-Series products in Japan and China. Undoubtedly, Tobii Dynavox's efforts will attract the attention of medical professionals and local governments in many more countries. In the future, Tobii Dynavox and Advantech will continue using the latest technologies and developments to design solutions for people with physical disabilities in order to empower them to live independent and fulfilling lives.