Advantech's High-Performance IPC Solution with GPU Card Adopted for 3D Computed Tomography Applications
12/12/2019
Compared with traditional CPUs, GPUs offer superior power for processing large volumes of data, making them ideal for computing-intensive industrial applications such as medical imaging, smart surveillance, intelligent video analytics, and machine learning. In addition to accelerating data processing and video decoding, which frees up the system memory, GPUs enable enhanced graphics for precise and vivid imaging.
3D computed tomography (CT) is a nondestructive scanning technology that allows users to view and inspect the external and internal structures of an object in 3D space. It works by taking hundreds or thousands of 2D digital radiography projections of an object from a 360 degree perspective.
A medical equipment builder adopted Advantech's high-performance IPC solution — comprising its IPC-7130 ATX/micro-ATX motherboard chassis, AIMB-786 industrial ATX motherboard, and SKY-QUAD-GV100 NVIDIA® Quadro® GPU card — for CT scan computing in order to meet customer demands for technology that could support big data and 3D image generation and processing.
Equipped with an Intel® Core™ i7-8700 processor with 128 GB of memory, the entire IPC solution allows large volumes of data to be reformatted into various planes or even as volumetric (3D) representations of structures. The IPC-7130 ATX/micro-ATX motherboard chassis features a built-in intelligent system module that enables smart fan control to ensure quiet operation. Moreover, the IPC-7130 provides dual 3.5-inch hot-swappable HDD trays for storing large image data in RAID 1.
The AIMB-786 industrial ATX motherboard supports multiple communication interfaces and expansion slots, such as LAN and a fiber network card, for connectivity with a picture archiving and communication system (PACS). Meanwhile, the SKY-QUAD-GV100 NVIDIA Quadro GPU card uses the Turing™ GPU architecture and delivers a six-fold performance improvement compared to previous generation graphics cards.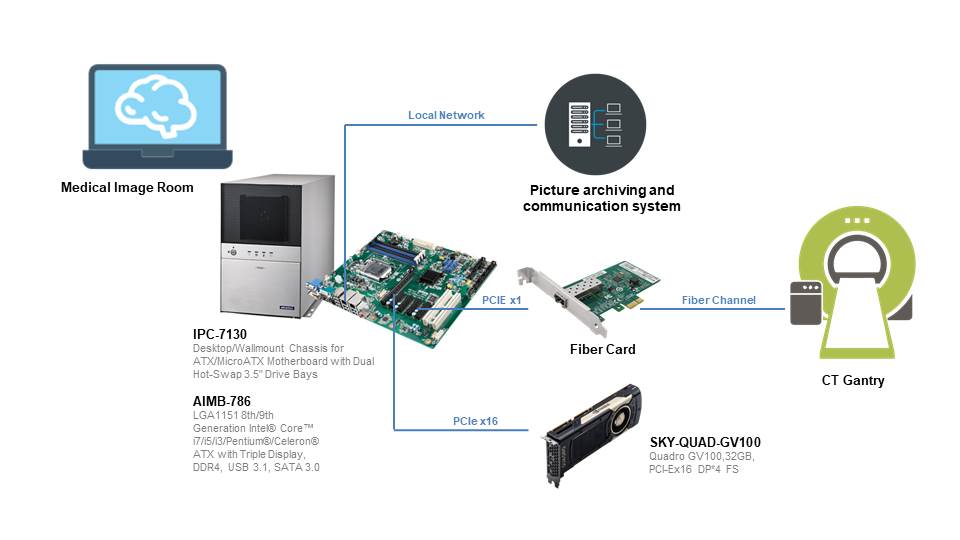 IPC-7130:

Desktop/wall-mount chassis for ATX/micro-ATX motherboards with dual hot-swappable 3.5-inch HDD drive bays

AIMB-786: 8/9th generation Intel® Core™ i7/i5/i3/Pentium®/Celeron® LGA1151 ATX motherboard with triple display support, DDR4, USB 3.1, and SATA 3.0

SKY-QUAD-GV100: NVIDIA® Quadro® GV100 GPU card, 32 GB, with PCI-e x16 and 4 x DP connectors
Product life cycles are crucial to medical equipment builders. Advantech guarantees a life cycle of 7 years for IPC-7130 and 3 years for the SKY-QUAD-GV100 NVIDIA® Quadro® GPU card, with strict revision control. This saves customers the cost of re-qualifying new hardware and re-doing safety certifications.
When installing graphics cards, users often face challenges related to heat dissipation, power budgeting, cable routing, reliability, and maintenance efforts. Advantech's high-end SKY-QUAD-GV100 GPU card draws an impressive 250 watts, with GPU temperature rates of up to 96 °C (93 °C with 50% clock showdown). With a highly reliable and ruggedized design, Advantech's systems are designed to prevent hot air from recirculating within the rack chassis.
The height of gaming graphics cards often exceeds two slots, which may cause interference and configuration and assembly issues. Advantech's data quality assessment (DQA) process, which encompasses a thermal profile, vibration test, and burn-in test, offers a trusted and certified integration solution to maximize production efficiency and performance.