Advantech's AIMB-288E Kit Leverages Compact Design to Accelerate Edge AI Deployment
9/23/2022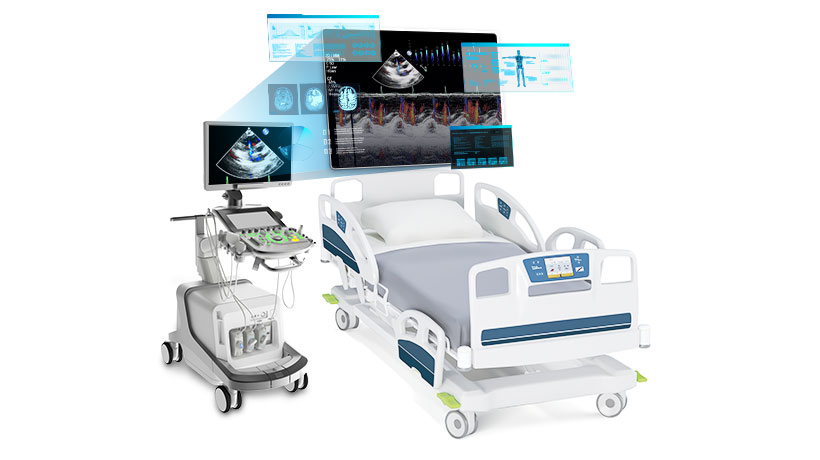 The continual emergence of new diseases and conditions necessitates medical equipment upgrades aimed at helping medical staff improve diagnosis accuracy. These upgrades should help handle increasing amounts of data in an effort to reduce the possibility of misjudgment and resulting misdiagnosis. Accordingly, the use of GPU acceleration architecture to reinforce the AI analysis capabilities of medical equipment has become increasingly common. For example, lesions can be identified through the evaluation of medical images with AI. This helps medical professionals make accurate diagnoses and optimize the quality of treatment.
AI inferencing requires excessive power consumption and ultra-high computing speeds. As a result, the CPUs integrated within motherboards may prove insufficient. Medical equipment manufacturers usually employ two strategies when improving computing performance. First, they leverage PCIe slots with multiple lanes to support high-performance GPU cards. Despite their usefulness, these GPU cards raise the height of the system by around 10 cm and produce unwanted noise during high-temperature operation. This creates challenges for the healthcare industry — where space is limited and a quiet environment is required. Second, customized GPU cards can yield high-performance solutions with compact form factors. However, the cost of customization is relatively high; increasing the total cost of the equipment and indirectly affecting market acceptance.
To this end, a manufacturer in the United States specialized in mobile medical equipment was seeking an integrated solution contacted Advantech following the release of AIMB-288E. This ultra-thin GPU-accelerated motherboard provides the same performance as other comparable units without increasing the system size. These capabilities met the system builder's medical AI system criteria — which were oriented around performance, size, software, and price — and enabled their developers to focus on AI software development. In the end, they integrated AIMB-288E into their product in an effort to help medical staff improve the accuracy of ultrasonic diagnosis and overall quality of service.
The Advantech AIMB-288E utilizes 12th Gen Intel® Core™ i CPU, DDR5 RAM, an Nvidia Quadro T1000 embedded GPU, ultra-high-speed NVMe SSD, and an ultra-thin cooling system. Compared to similar general-purpose motherboards, AIMB-288E saves more than 66% of the available space. This produces a solution ideal for integration into medical devices such as ultrasonic equipment and Da Vinci robotic arms.
AIMB-288E Benefits
A Powerful Built-in CPU and GPU
AIMB-288E provides excellent data processing by leveraging a CPU with up to 16-cores performance. It also integrates the NVIDIA T1000 GPU on the motherboard to provide an additional 5.2 fold improvement in 3D graphic performance and 2.6TFLOPS of AI computing power. These capabilities meet client demands for improved graphics computing capabilities. They further met the client's demands for GPU acceleration performance and an all-in-one design for self-testing. In addition, the compatibility assurance helped the customer quicken the adjustment process between hardware and firmware at an early stage thus reducing development time.
An Overall Height of 4.2 cm
Most motherboard slots are of the vertical PCIe type. If users want to expand computing performance, an external GPU cards must be installed vertically in these slots. This is why AIMB-288E features a GPU module interface with horizontal MXM slots pre-installed on the motherboard alongside a powerful cooling system that fits within the form factor. In total, the overall height of AIMB-288E is under 4.2 cm. This combination of components adhere to IEC-60068 verification process standards thus ensuring operational stability. In sum, this slim and innovative design makes it easy to integrate; and quickens application upgrades and deployment.
Highly-Efficient and Quiet Cooling Module
AIMB-288E features a built-in CPU and GPU capable of incorporation into a closed ultrasonic equipment. When installed in confined spaces, chip temperatures can rise quickly during high-performance computing processes. The ultra-thin thermal module on the AIMB-288E maintains 100% performance when operated at ambient internal enclosure temperatures of up to 60 °C. The cooling fins are made of composite materials and spaced densely to maximize surface area during heat dissipation, ensuring a uniform, acceptable temperature. Additionally, AIMB-288E removes the heat generated by the system using two fans that face the CPU and GPU respectively. These features avoid overheating and resulting throttling.
This success story, involving a US medical equipment provider, demonstrates the vast research and development resources needed when customizing motherboards and developing AI solutions. These considerations are particularly poignant when attempting to reduce system size while maintaining computing performance and ensuring excellent heat dissipation. Advantech AIMB-288E integrates the relevant components in advance according to the hardware upgrade requirements of AI-assisted applications. This enables medical system developers to use AIMB-288E out of the box. It also reduces the burden placed on SI and reduces the workload of developers, related costs, and overall time to market. When combined, these features and benefits produce a solution that handily accelerates the application of AI in the healthcare industry.

Integrated GPU cards help SI accelerate equipment and software development.
Low-height chassis (4.2 cm) saves space.
The built-in ultra-thin thermal module ensures quiet and effective CPU and GPU heat dissipation.
This solution is capable of maintaining 100% performance at 60 °C ambient temperatures.