Automatic Vision Inspection Solution for Product Traceability in the Food and Beverage Industry
6/4/2018
Introduction
With greater market demand for food safety, traceability is receiving increasingly more attention in the food and beverage industry as well as the packaging industry.
Traceability refers to the ability to verify the history,location, and application of an item via documented recorded identification, thus enabling the recall of goods based on precise date/time and location information.
One of the world's leading providers of beverage containers required a system to identify bar codes and alphanumeric characters on ink-jet-printed labels at a run rate of 7 units and minimum 99.9% accuracy. Since there were few engineers in the factory, the customer sought to implement a reliable system with an easy-to-use GUI for workers with a less technical background.
System Description
Advantech provided a PC-based automated optical identification system with multiple cameras to identify bar codes, data codes, and characters on beverage containers.
The system included an AIIS-3400P 4-channel PoE compact vision system with an Intel® 6th / 7th generation Core i CPU;Inspector Express, a GUI machine vision application specifically designed for easy design and deployment of automated inspection on the factory floor; and QCAM-GM0640 0.3-MP industrial cameras with PoE for simple installation and maintenance.
Project Implementation

AIIS-3400P: Compact Vision System,Supports Intel® 6th / 7th generation Core i CPU, 4-ch Camera Interface for GigE PoE

QCAM-GM0640: 0.3-MP Industrial Camerawith PoE
Inspector Express: Machine VisionApplication Software
System Diagram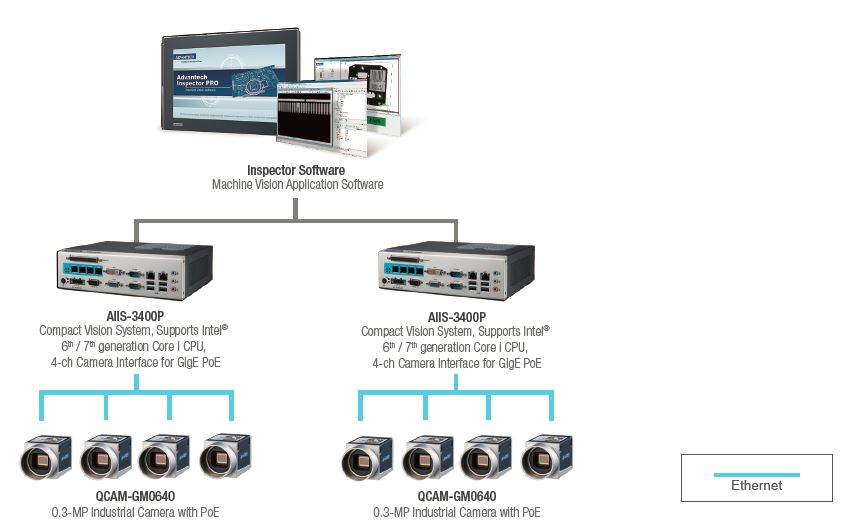 Conclusion
Advantech Inspector Express facilitates building and deploying machine vision applications without any programming skills. It supports a wide range of Advantech industrial PCs, smart cameras, and embedded systems, and can be deployed on different hardware platforms without modification.
The AIIS-3400P's series' support of PoE combines power and signal supply into a single cable, and GigE Vision compliance and the system's compact size further simplify installation and maintenance.