Back-end Packaging: Automated Inspection and Sorting
2/26/2019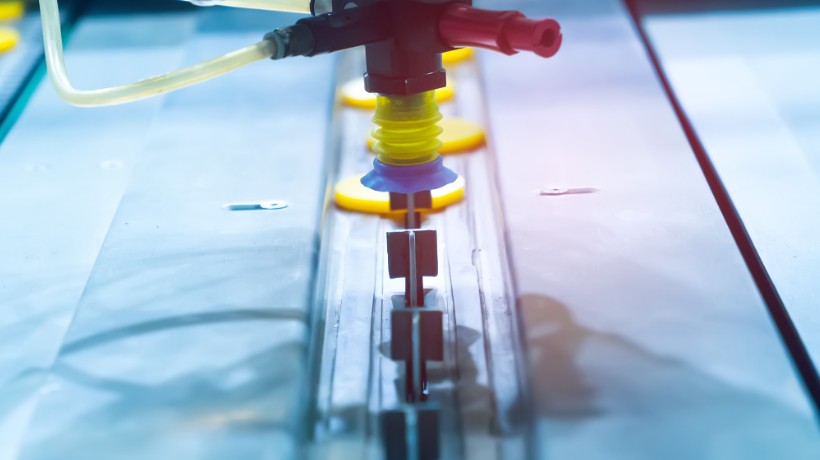 Market: IEM
Location: Singapore
Whether for semi-finished, work-in-progress, or shipment-ready products, inspection is an essential quality control (QC) procedure. However, with the increasing adoption of high-performance automated equipment in factory production lines, conventional manual inspection and defect sorting QC procedures cannot keep up with modern mass production. To maintain efficient, high-volume production processes without compromising quality, replacing or assisting manual operations with automated inspection and sorting is virtually inevitable.
Using data acquisition and computing to track workpiece locations on conveyer belts is extremely important for the successful introduction of automated inspection and sorting systems. To complete the automation process, systems developers need highly stable control units and signal acquisition cards, as well as readily available software for necessary algorithms. To meet this need, Advantech offers a turn-key solution featuring industrial computers, encoder-counter PCI acquisition cards, and demonstrative algorithm programs. Advantech's technical support team solves systems development problems to enable the rapid implementation of automated inspection and sorting processes in the factory production line.
The client for this project was an American electronics component manufacturer with decades of industry experience that produces magnetic components and inductors widely used in electronic products, medical equipment, and automobiles. With a global customer base, the company relies on production facilities spread across the U.S., Mexico, Scotland, Taiwan, Singapore, China, and Malaysia to rapidly fill new orders. To improve production speed and product quality, automated inspection and sorting systems were recently introduced. The aim was to reduce issues related to manual operations, such as errors and low efficiency, while accelerating inspection speeds to prevent workpiece bottlenecks at inspection points.
The company deployed the first automated inspection and sorting system at its Singapore plant. The new system automatically records inspection data and conducts sorting operations according to the inspection results. Non-defective, degraded, and defective products were routed to different workstations for subsequent handling. To complete the automated processing, the production line integrated with an industrial computer equipped with a signal acquisition card. The card was used to receive signals from encoders and sensors on the conveyer belt, store images, and transmit trigger signals to the sorter. Although the company is capable of developing hardware and software solutions, the process of automating operations is quite complex. Therefore, the company required a supplier that would be capable of providing the relevant software and technical support to address multiple function and sequencing issues.
Advantech's integrated solution featured an AIMB-785 ATX embedded motherboard, a PCI-1784U four-channel encoder-counter PCI card, and customized algorithms. After the PCI-1784U card was installed on the AIMB-785 motherboard and Advantech's custom algorithms were integrated with the company's self-developed application system, the AIMB-785-based industrial computer [PW1] was ready to serve as the control unit for the automated inspection and sorting system. Now, functions such as signal acquisition, data storage, location positioning, and trigger signal transmissions, could be performed using Advantech's integrated solution.
The entire inspection process can be divided into the following four steps: 1) As workpieces are placed on the conveyer belt for inspection, the control unit reads the encoder signal to obtain location data. 2) When the workpiece reaches the location sensor, the sensor transmits a signal to the inspection unit and the PCI-1784U card. 3) The camera (or other inspection unit) receiving the signal then begins inspection operations, transmitting the results to the control unit. 4) As the workpiece continues moving along the conveyor belt, the control unit processes the location data and transmits trigger signals to the sorter. The sorter then sorts the workpieces within the specified unit range, thereby completing automated inspection and sorting. Equipped with a 6th generation Intel® Core™ i7/i5/i3/Pentium®/Celeron® processor, AIMB-785 is a high-performance, industrial-grade embedded ATX motherboard ideal for large-volume data acquisition and computing. Accordingly, although quality inspections involve many workpieces moving rapidly on the production conveyer belt, Advantech's AIMB-785 system has the performance capabilities to handle such applications. [PW1]PLEASE CHECK What industrial computer? This has not been introduced. I assume you are referring to the solution provided by Advantech. But please double check the sentence to ensure accuracy.

ACP-4000: 4U Rackmount Chassiswith Visual and Audio AlarmNotifications
AIMB-785: LGA1151 6th / 7th Generation Intel®Core™ i7/i5/i3/Pentium/Celeron ATXwith Triple Display, DDR4, SATA III
PCI-1784U: 4-channel, 32-bit EncodercounterPCI Card with MultichannelIsolated Digital I/O
DAQNavi: Software Development Packagefor Advantech DAQ Productswith Example Algorithms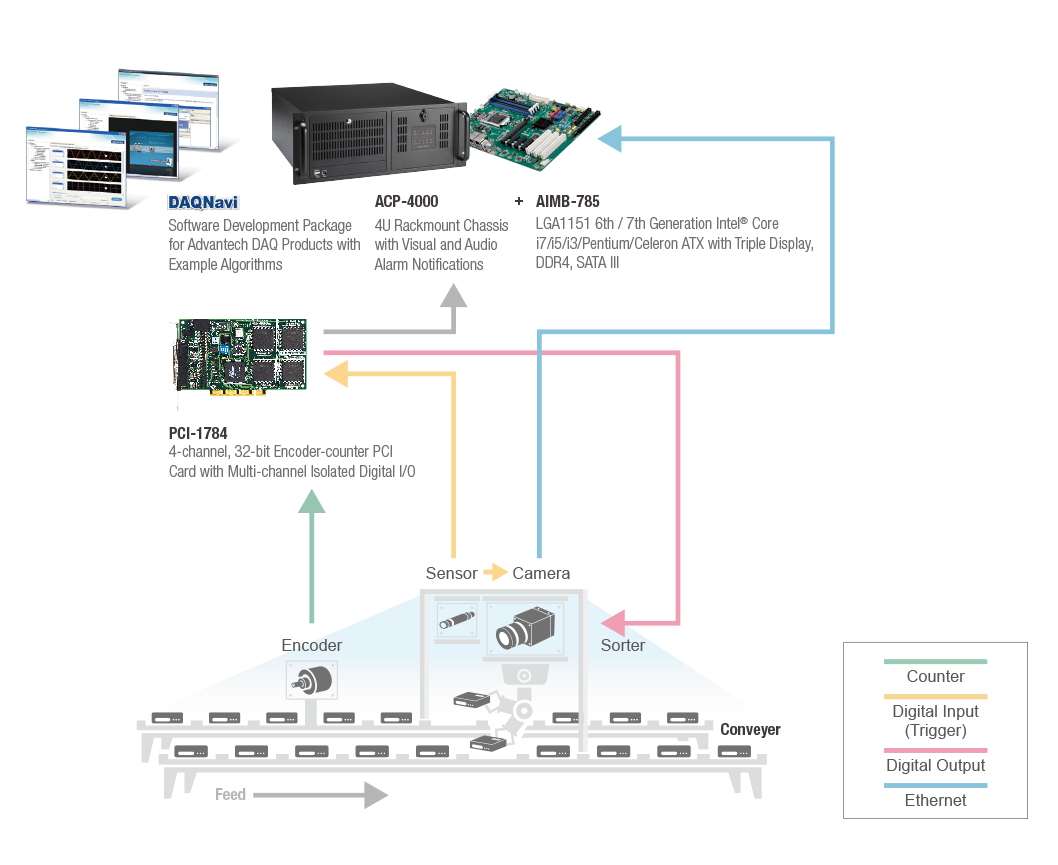 The essential functions of automated inspection and sorting systems include encoder signal receiving, locating, and unit triggering.For this project, Advantech offered a comprehensive integrated software-hardware solution that satisfied the manufacturer's usage requirements. Accordingly, the manufacturer did not incur high initial investment costs for unnecessary functions, nor have to worry that inadequate functions would render the system ineffective. Moreover,with Advantech's technical support, the company was able to cost effectively develop an appropriate application system.
Advantech's PCI-1784U card and custom algorithms provide practical functionality and widespread applicability for diverse manufacturing facilities. System developers with similar requirements can easily modify the parameters to employ the same example algorithms. Advantech offers integrated solutions that allow companies to maximize production efficiency by automating the inspection and sorting process.