Back-end Testing: IC Test Handler Machine Automation Solution
2/26/2019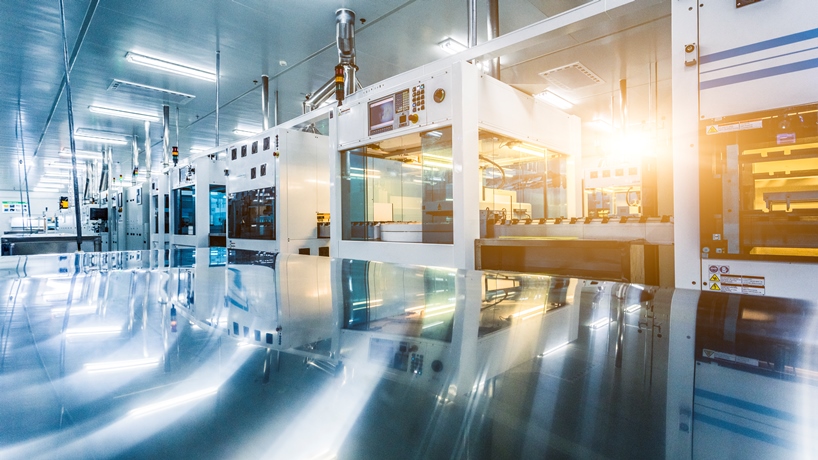 Market: IEM
Location: China
High-end testing and sorting machines in the semiconductor IC packaging sector, such as BGA, QFN, and QFP, have long been monopolized by foreign companies. This customer intended to embrace domestic production of such equipment to reduce order costs, fill the vacuum in the domestic market, and, eventually, advance into the competitive international marketplace. The project adopted comprehensive Soft Motion control and an MVIP solution developed independently by Advantech. It was based on the EtherCAT Automation Protocol, which is the mainstream protocol in China's domestic market. Advantech's solution satisfied technical requirements and competed favorably against products from the United States, Europe, and Japan. It effectively controlled costs for system integrators while achieving domestic production for IC packaging test handler machines. Advantech's solution played a vital role in further developing China's industrial chain of integrated circuit production.
The customer required a highly stable computing platform with a minimum of 4-core and 4-thread CPU, H81 chipset, 4G, 128G SSD, 350W power supply, 5 slots, 2 PCIE and slots. A collection of 256 sets of IO signals and autonomous distribution of IO signals with data acquisition for 8 lines of USB simulation was also needed. The customer demanded control over 14 Panasonic EtherCAT servomotors + 14 EtherCAT RTA stepper motors. They needed a flexible cornering design for the velocity curve and z-axis servo torque control functions. Finally, an expansion for 1 PCIGPIB slot and compatibility with NI programs was required. The system had to ensure stable and continuous operation, without failure, 24/7.
Advantech PCI-1203-32AE can control 32 axles and it responds instantaneously within 500us. The flexible design for the velocity curve satisfies customers' requirements for high efficiency in cornering without reduction in speed. The torque table control functions meet customers' requirements for core functions for the z-axis torque control and greatly improve the efficiency of the machinery and the yield rate of the products.
ACP-4D00

: Dual-Node 4U Chassis for Half-Sized Slot SBC


PCI-1203

: 2-port EtherCAT Universal PCI MasterCard


PCIE-1753

: 96-ch Digital I/O PCI Express Card

PCI-1671UP

: IEEE-488.2 Interface Low Profile Universal PCI Card


USB-4704

: Multi-function USB Module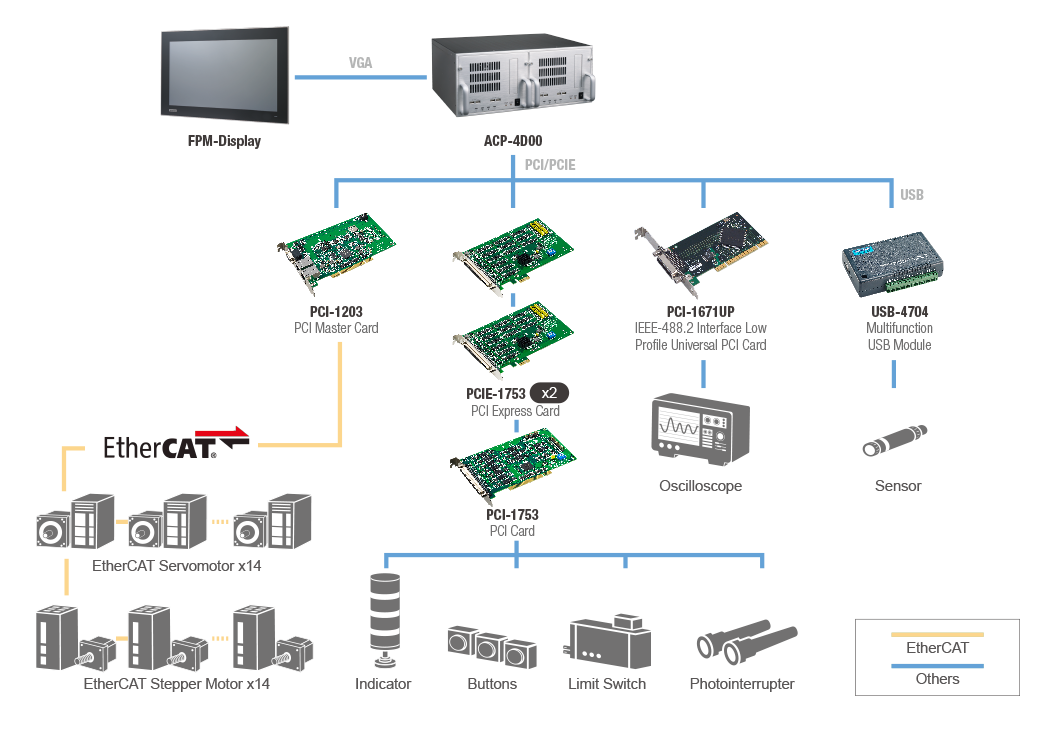 Advantech's hardware and software products are both stable and reliable, offering 24/7 continuous operations.A variety of functional algorithms satisfy customers' requirements for core processes and customized services to ensureoptimal performance. Cost-effective total solutions help customers break the monopoly of foreign technologies. UsingAdvantech, the brand brought added value to its customers.