Collaboration between Handsfree Group and Advantech Stretches the Boundaries of The Emergency Services
11/2/2021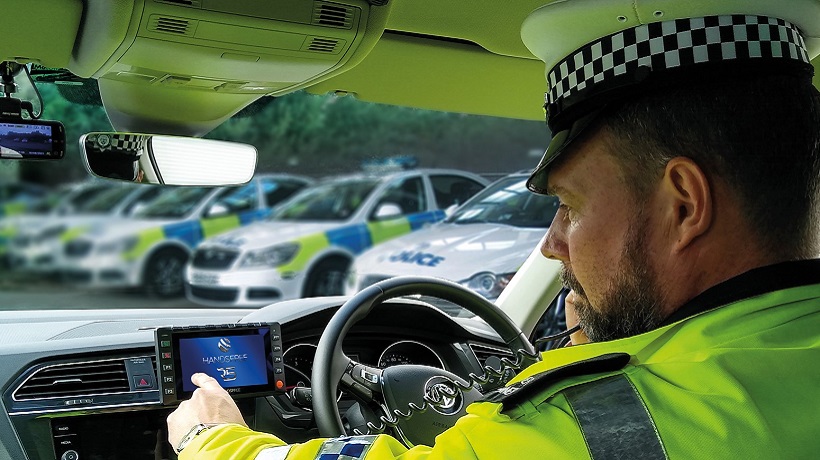 Photo provided by Handsfree Group
Interview with Matthew Johnson, CEO and Co-Founder, Handsfree Group; Lars Böddeker, Sales Director Transport & Logistics Europe, Advantech; Liwei Chang, Product Manager of Intelligent Mobile Solutions, SIoT Group, Advantech
Handsfree Group selected Advantech as a strategic key supplier for developing a Fixed Vehicle Device (FVD) for the United Kingdom (UK) Emergency Services Network (ESN). The two companies (along with multiple other suppliers and partners) have collaborated to produce a Fixed Vehicle Device branded "The R5" – consisting of a User-Interface (UI) Touchscreen and Control Unit. The purpose of this device is to improve public safety and mission-critical responses to emergency situations; in-line with the requirements of the ESN User Organizations.
Understandably, security and safety issues are continually the most crucial concern in every country. Therefore, knowing that a fast and reliable emergency response is available when life threatening, or critical events occur provides peace of mind to governing bodies and the public.
Modern Emergency Services involve highly complex, information-led activities that usually require multiple data sources within a very short amount of time – a demand that is not currently fulfilled by the technology in use. As technologies such as artificial intelligence (AI), big data, and visual recognition mature, Emergency Service Organizations are presented with new opportunities to work more efficiently.
Enhanced emergency services by upgrading ESN
For many years, the Airwave/TETRA network has provided Emergency Services Users in the UK (including police, fire and rescue, and ambulance), with robust and reliable voice, as well as basic data services. However, the growing need for higher data speeds to support various types of data from different agencies and sources has led to this service being insufficient. The combination of computing and mobile connectivity exceeds the boundaries of what The Emergency Services can achieve within the current field.
In response to this issue, The Home Office is leading a cross-government programme to deliver a new critical communications system to replace the current Airwave service. ESN will transmit fast, safe, and secure voice, video, and data across the 4G network and give first responders immediate access to life-saving data, images and information in live situations and emergencies on the frontline.
At the end of 2019, Handsfree Group was successful with a framework agreement to provide FVD and associated accessories, which will be used by the 3 Emergency Services (3ES) (fire, ambulance, police), as well as other non-critical ESN organization users.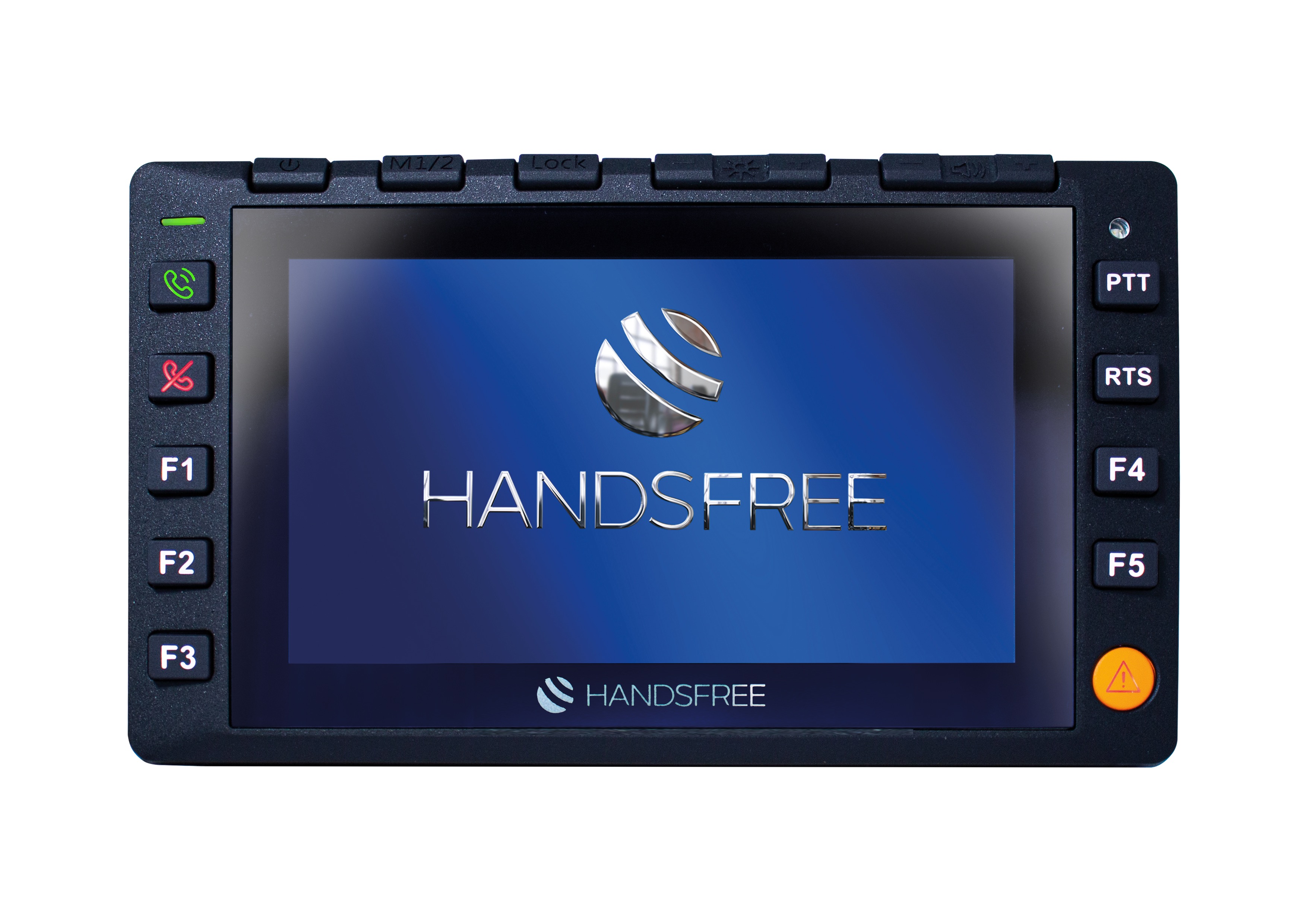 Photo provided by Handsfree Group
Fast track project development with trusted collaboration and a partner ecosystem
To go from design, system development, and acceptance testing to system certification within eighteen months; Handsfree not only created a new team dedicated to the project, but also needed a strategic partner for developing and supplying the central computing solution. However, due to the extreme time pressure and complex project requirements, it was difficult to find a partner who could fulfill all requirements of the project. After visiting Advantech's Headquarters and learning more about Advantech's capabilities and key competences, the company chose Advantech as the key strategic partner for both the core control units and user interfaces of its R5 ESN FVD System.
Being the leading provider of in-vehicle computing systems, Advantech has all the technology elements and a vast partner ecosystem in place to move the project forward very quickly. For instance, partnering with one of Google's 3rd party laboratories, Advantech was able to help Handsfree achieve the most important mandatory requirement by offering the Android operating system and GMS/EDLA certification right from the beginning of the project.
Highly integrated design exceeds ESN users' expectations for connectivity and usability
To fulfill ESN device system requirements, Handsfree conducted pre-tender user engagement to obtain in-depth knowledge of requirements and user cases behind each of the requirements. Leveraging Handsfree's experience in the field of in-vehicle solution integration, the R5 was designed with the future in mind, exceeding user expectations. It is an ergonomic system integrated with all the functions and features needed by both ESN users and commercial fleets.
Integrated multiple voice communication methods, as well as wireless solutions (such as LTE, Wi-Fi, Airwave DMO (device to device), Bluetooth headset and Handsfree speaker and microphone), means that the R5 offers a hybrid approach to users, so that they can have the benefits of data-intensive connectivity and reliable Airwave/TETRA network during the transition from Airwave/TETRA to LTE. The R5 is a feature rich system that supports a 9-to-36-volt wide range vehicle power supply input, as well as multiple interfaces, such as USB, CAN, and Ethernet. In addition, it has two IP67 user interfaces (capacitive touch screen and high brightness panel) with extra-large buttons for in-coming phone call support, push-to-talk, along with five programmable hot keys for quick control over sirens and lighting.
Initial feedback on the R5 was well-received by Users, not only because the system goes beyond expectations, but also because Handsfree offers a one-stop service - from supplying FVD and related accessories, to installation and software. Apart from its own installation capacity, Handsfree teamed up with installation partners to provide UK wide services, so that ESN organizations can have the system supplied, installed, and maintained in the long-term by the same company. Due to early acquisition of the certification, and faster testing and verification progress, R5 user feedback could be obtained early on in the project. There are more than 45,000 vehicles that needed to be fulfilled in the UK. Handsfree is positive that the R5 will obtain a large market share.
The new ESN critical communications system offers better connectivity to the three main services - police, fire brigade, and ambulance. They will be able to communicate and exchange information to each other more efficiently through the control room. Also, it is a more cost-effective solution than Airwave/TETRA network due to sharing costly infrastructure and potentially some core network elements with existing cellular networks, which will continue to evolve and benefit ESN services. It will also give the Emergency Services access to the latest mobile communications products and applications, opening up the world of technology, so that they can choose whatever tools they need to meet their unique operational requirements.
As the relationship between Handsfree Group and Advantech goes from strength to strength, it has led to many new opportunities from Handsfree's transport logistics and parcel delivery customers. The two parties are currently working on a project which will include the latest solutions such as video telematics, and ADAS and driver behaviour detection. Looking to the future, Handsfree will roll out R5 ESN FVD systems in other countries, upgrading from Tetra to LTE through Advantech's global distribution network and partners.