Data Collection at the Edge—a Full-Circle Approach to Digital Transformation
6/6/2021
In numerous industries, such as mining, new energy, and oil and gas, implementing data collection at the edge is an ideal way to gain a competitive advantage in an ever-changing, sometimes volatile, market.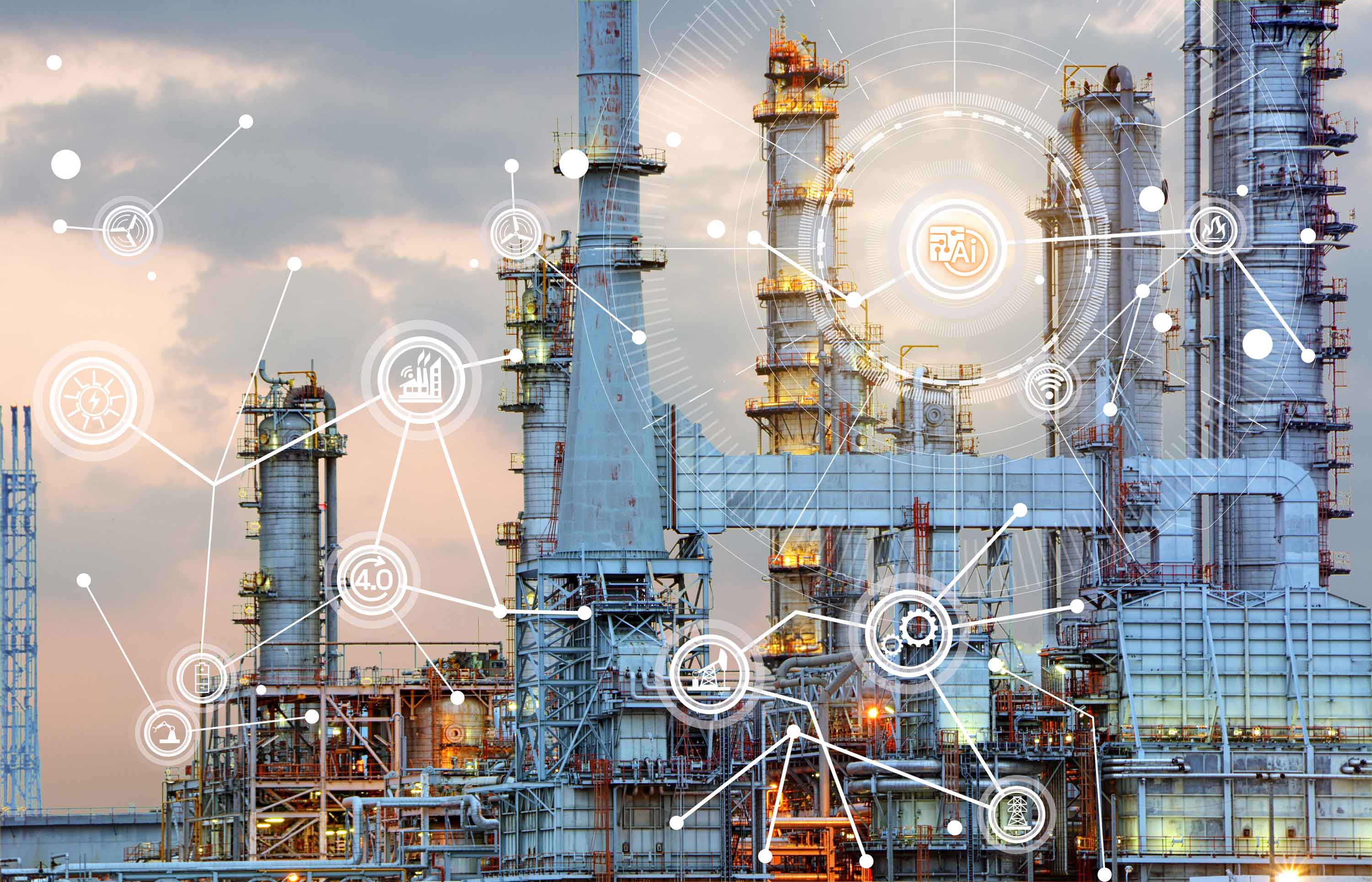 Simply collecting equipment and process field data does not achieve the full goal of a digital transformation with Industrial Internet of Things (IoT) technologies. Once the data is successfully collected, it must then be processed, optimized, and analyzed for past, present, and future intelligence. This full-circle approach to data results in major gains and a competitive advantage.

Edge computing is an ideal way to collect and process field data in remote, industrial environments. Edge computing means data is transformed closer to its origin—closer to the source of that data. When data is processed closer to its source, network traffic is optimized when sending and receiving data from the enterprise. With optimized traffic and lower latency, response time, bandwidth, security, and more are all improved.

Edge computing works in correlation with various edge connectivity solutions, which means getting the data when and where you need it—and more effectively. With the availability of data at the edge, we are able to use modern analytic technologies to gain a better understanding of how systems work in order to improve efficiencies and take corrective actions before failures occur.

Specifically for the oil and gas industry, the promise of industrial IoT technologies is not necessarily in directly managing existing assets, but more on a classification of a new asset: information on all elements of the business and operations.
Through legacy system modernization and real-time monitoring with data at the edge, organizations big and small can leverage advanced technology to drive efficiencies and open new opportunities for continuous improvement. This could mean utilizing data analytics at the edge to optimize production, remote monitoring for predictive maintenance, virtual simulations for improved efficiency, and much more.
Additionally, more producers in the energy industry are attempting to connect and share data in real time across many different enterprise systems, as well as improve visibility of SCADA and sensor measurement data from the field. All areas of the industry want to increase efficiencies and switch from preventative maintenance to less costly predictive- and condition-based maintenance.

Edge Computing—the Potential of New Technologies
Utilizing data at the edge helps to optimize data-driven capabilities of your process and application. Several key benefits include the following:
Reduced network and bandwidth usage.

Improved data speeds and lower latency ensures real-time collection and monitoring. In mission-critical applications, just a few seconds can make all the difference in intelligence-based systems.

Reduced costs.

In addition to cost savings from practicing predictive maintenance—and fewer truck rolls when utilizing remote monitoring— there are also reduced costs associated with securing data at the edge. Additionally, communication costs decrease when utilizing "on-change" or publish/subscribe protocols.

Alleviated security concerns.

Secure protocols help to enable encrypted data for transfer. Moreover, when data is collected and analyzed locally (at the edge), it is protected by the security of the on premise enterprise.

New opportunities.

When implementing a data collection at the edge architecture, users can enable new industrial IoT use cases, all without burdening the existing SCADA and control systems.
A big take-away benefit from edge computing also lies in real-time analytics. Collecting and analyzing real-time data allows for predictive- and condition-based monitoring.
Predictive Maintenance in Your Hands
Predictive maintenance relies on continuous monitoring of asset performance through collected data that can provide advance warning of equipment issues and possible failures. Preventative maintenance, such as regular equipment upkeep and maintenance checks, is not sufficient on its own to avoid downtime and escalated costs. A more advanced approach like predictive maintenance is necessary to avoid operations downtime, maintain on-site safety, and more.

Many industries are shifting from time-based preventative maintenance to condition-based maintenance strategies. This is successful only through reliable, real-time data collection and analysis. In addition to technical advantages, having diverse sets of data from across an enterprise can help gain insights into all aspects of the business, possibly uncovering additional areas of needed improvements.

Specifically, for the oil and gas industry, predictive maintenance through edge computing can help companies focus more on business, less on operations. By unlocking predictive maintenance through edge-computing platforms, less time is spent on legacy day-to-day operational practices. Enabling remote asset connectivity minimizes the need to always be on site, decreases the need to place personnel resources in potentially hazardous scenarios, and increases O&M practices between back and front office teams. In leveraging the capabilities of the IIoT, troubleshooting time can be reduced from days to minutes, leaving more time to spend on other strategic operational aspects of the business.

Software Solutions: ThingWorx Kepware Server & ThingWorx Kepware Edge
Kepware has software solutions to help connect, access, and control industrial data, such as Kepware's traditional ThingWorx Kepware Server and ThingWorx Kepware Edge—a new offering that allows Kepware's industrial data collection technology to run in a Linux environment.

ThingWorx Kepware Server is the industry's leading connectivity platform that provides a single source of industrial automation data to applications. The platform design allows users to connect, manage, monitor, and control diverse automation devices and software applications through one intuitive user interface.

ThingWorx Kepware Edge offers out-of-the-box connectivity enabling users to reduce connectivity costs and more quickly realize ROI within a data acquisition and IoT-enabled landscape. Software solutions need compatible hardware to work correctly, and Advantech—as a key alliance partner—offers a broad portfolio of industrial-grade devices that work hand-in-hand with Kepware software solutions.

How ThingWorx Kepware Edge Solves Common Connectivity Issues "at the Edge"
Request-response:

ThingWorx Kepware Edge translates request-response protocols, such as Modbus, to "on data change" protocols, such as OPC UA or MQTT. This allows production to save money investing in network infrastructure by sending less data over those connections.

Security:

ThingWorx Kepware Edge collects data directly at the source and translates insecure protocols to secure protocols that utilize modern TLS, enabling reduced investment and friction in securing network architecture.

Reliability:

By hosting a Linux device locally with remote assets, companies gain more reliable data transfer capabilities using modern industry standard protocols and can minimize or eliminate data loss.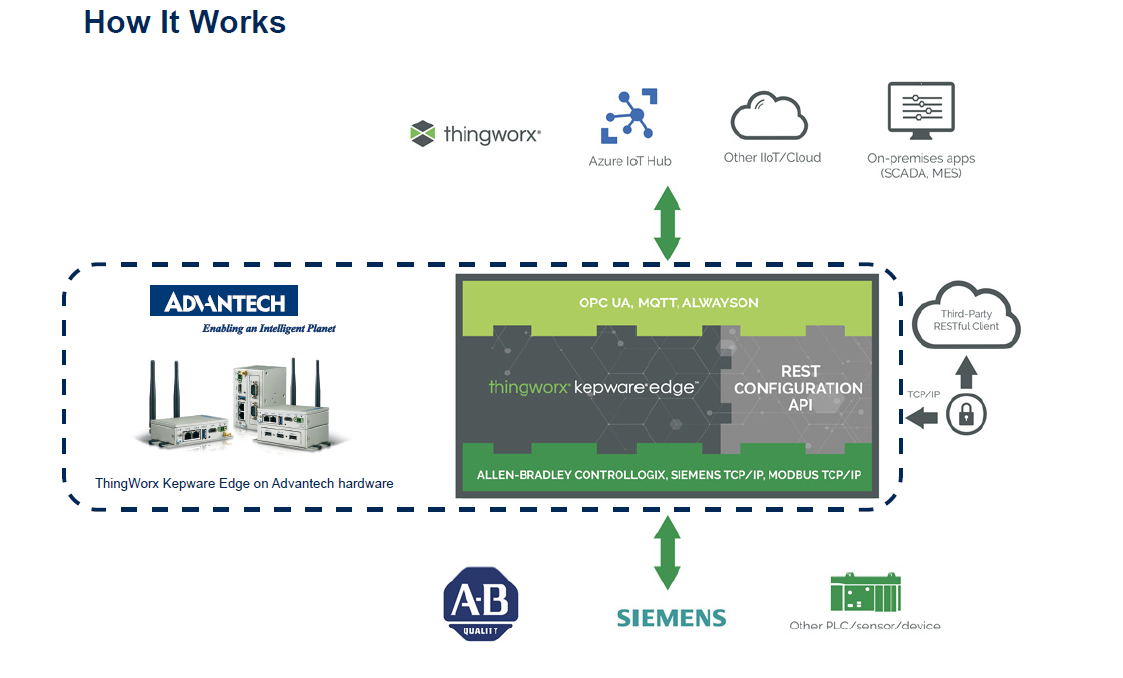 Critical and Technical Features of Kepware Solutions
Kepware provides critical technical features that enable accessibility, aggregation, optimization, connectivity, security, and diagnostics. It offers the following benefits:
IoT-ready, connecting Operations with IT and enabling business intelligence and operational excellence across the enterprise
Full native integration with the ThingWorx Manufacturing Accelerator, including the ThingWorx Controls Advisor app that provides remote real-time visibility into connectivity across all factories

Compatible with leading hypervisors, such as VMware and Hyper-V, for flexible deployment on public and private clouds

Integrates with IT applications for visibility into assets on the plant floor at any time and from any location

Enhanced messaging security via SSL and TLS for secure, authenticated, and encrypted communications across various network topologies

Advanced application security features to meet site security requirements

Sophisticated access control to the server, data source, and data values

Multiple redundancy options to ensure resiliency, high-reliability, and uptime in critical applications

Scalable unified architecture, providing the flexibility to combine drivers and consume multiple protocols in a single server

Streamlined interface for simple installation, configuration, maintenance, and troubleshooting
Advantech as a Key Hardware Technology Partner
Advantech is a leading provider of trusted, innovative industrial communication and compute products and is a key strategic partner of Kepware. Advantech offers comprehensive system integration, hardware, customer-centric design services, and global logistics support.

Edge computing solutions facilitate data processing at or near the source of data generation and serve as a decentralized extension of the cloud, data center, or network operating center. This eases the integration of machines, process equipment, and more in local field sites with less delay. Advantech provides comprehensive edge solutions, from intelligent platforms to ruggedized gateways and more, which are compatible with Kepware software solutions.

Hazardous Environmental Requirements
Additionally, for oil and gas applications, some hardware devices need to be Class 1, Division 2, or C1D2. This classification is required for most equipment because the gases and liquids present in hydrocarbon production and processing often-present fire or explosion hazards to an extent that is not present in other situations. Because of this reality, the technology going into such zones must involve design, construction, and operational elements that keep the chance for combustion or explosion acceptably low.

From human machine interface (HMI), embedded automation computers, I/O modules, network gateways, Ethernet switches and more, Advantech offers C1D2-certified solutions to help your organization meet hazardous location needs. Advantech leverages more than 30 years of experience in the industrial automation industry and a strategic technology partner network for designing different products and solutions. With Advantech, you get reliable, rugged solutions for all types of field locations.

Get to Know: Featured Device UNO-430
Advantech's UNO-430 is a highly ruggedized gateway featuring IP69K/68 waterproof certification and a wide operating temperature of -40°C to 70°C, which is ideal for general outdoor and indoor applications that need to withstand harsh environments.
The waterproof enclosure features a front door for easy access and maintenance as well as a cable gland that offers further ingress protection. This eliminates the need for waterproof cabinets, cables, or wiring, which enables customers to use the UNO-430 as a standalone data acquisition gateway.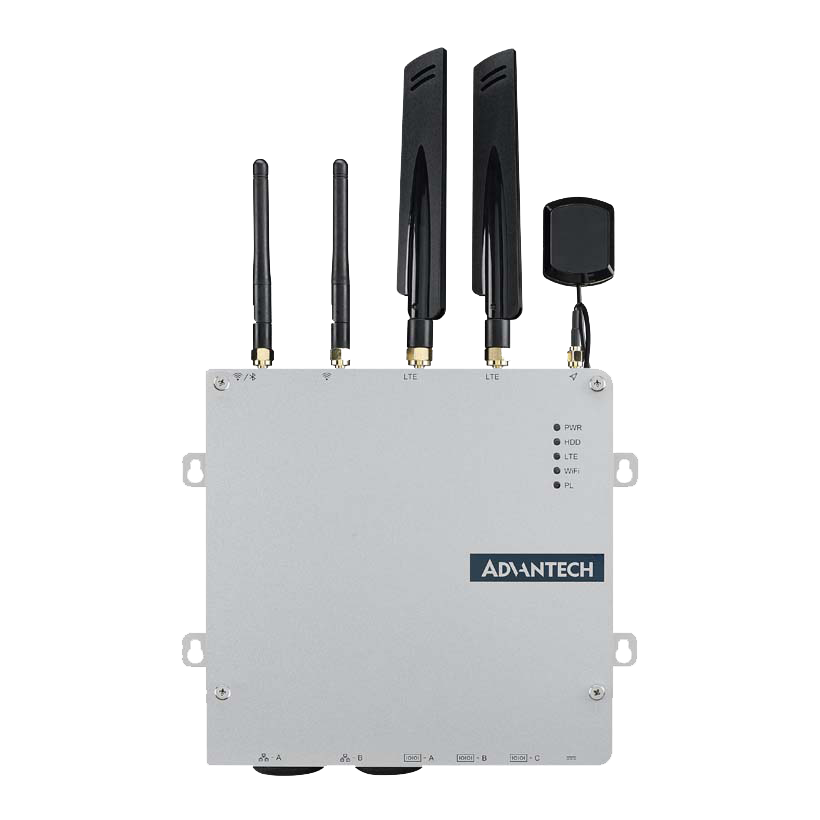 Intel® Atom E3950 Quad-core processor with 8G DDR3L memory
Reserve M.2 3052/3042 key B, M.2 2230 key E for Wi-Fi, LTE, and GPS expansion
2 x GbE, 2 x RS-422/485 (isolated), 1 x RS-232 (console), and hardware security TPM2.0
IP69K and IP68-rated protection from water and dust
Wide operating temp design for harsh environment
Easy maintenance with front door and cable design
Bi-direction wall-mount support
Kepware and Advantech—Better Together
Thingworx Kepware Edge solves connectivity challenges by taking industrial data and converting it to MQTT, OPC UA, or Thingworx AlwaysOn; however, Thingworx Kepware Edge still needs to be deployed on a hardware device, such as Advantech industrial devices. To become partners, Advantech devices go through rigorous testing to make sure the two products are able to successfully work together.

Testing consists of processing 10,000 tags of various data type and scan rates, and sending the data to both an OPC UA Client and a MQTT Broker. Advantech is a listed Hardware Partner of Kepware, and has successfully completed this test on one or more models.

It can be a struggle for many in the field to get the data they need, when they need it, and how they need it. To help solve these issues for customers, Advantech and Kepware will continue to work together as part of its strategic alliance, aiming to make data connectivity easier and more efficient to adopt. The benefits of IIoT and Industry 4.0 are now easily within reach.