Delivering Smooth 4K Live Streaming Solution for Sports
4/8/2019
4K/UHD broadcasting is increasing rapidly especially for sports events. To provide a better service and improved experience for their sport fans, Advantech helped a national broadcaster in Taiwan to implement a 4K live streaming system tailored for sport-focused events such as professional baseball and basketball. Using Advantech VEGA technology, the broadcaster was able to add real-time 4K/UHD encoding to their outdoor broadcasting (OB) van and mobile electronic field production rack. Now they are able to provide a live-sport TV-streaming service so all their sport fans can watch live sports including CPBL (Chinese Professional Baseball League) and SBL (Super Basketball League) and enjoy real-time 4K multiple angles viewing pleasure anywhere.
The key focus is on 4K/UHD contribution links from both an OB van and an electronic field production rack back to the distribution hub, depending on the location and stadium concerned. There are several 4K cameras setup in each stadium to generate the 4K video content. Local production then creates a single 4K feed on four 3G-SDI cables to be encoded and transmitted for further distribution.
Therefore, the main requirement was to implement a real-time 4K HEVC 60 fps contribution-encoding engine, connecting to SDI-based equipment across 4 x 3G-SDI and transmitting the compressed video streams via MPEG-TS over UDP. Other requirements included a need for low-latency, ultra-low-power, and a guarantee that live performance could be sustained. Moreover, for a space-limited environment such as OB van or a mobile rack, a compact size would be needed.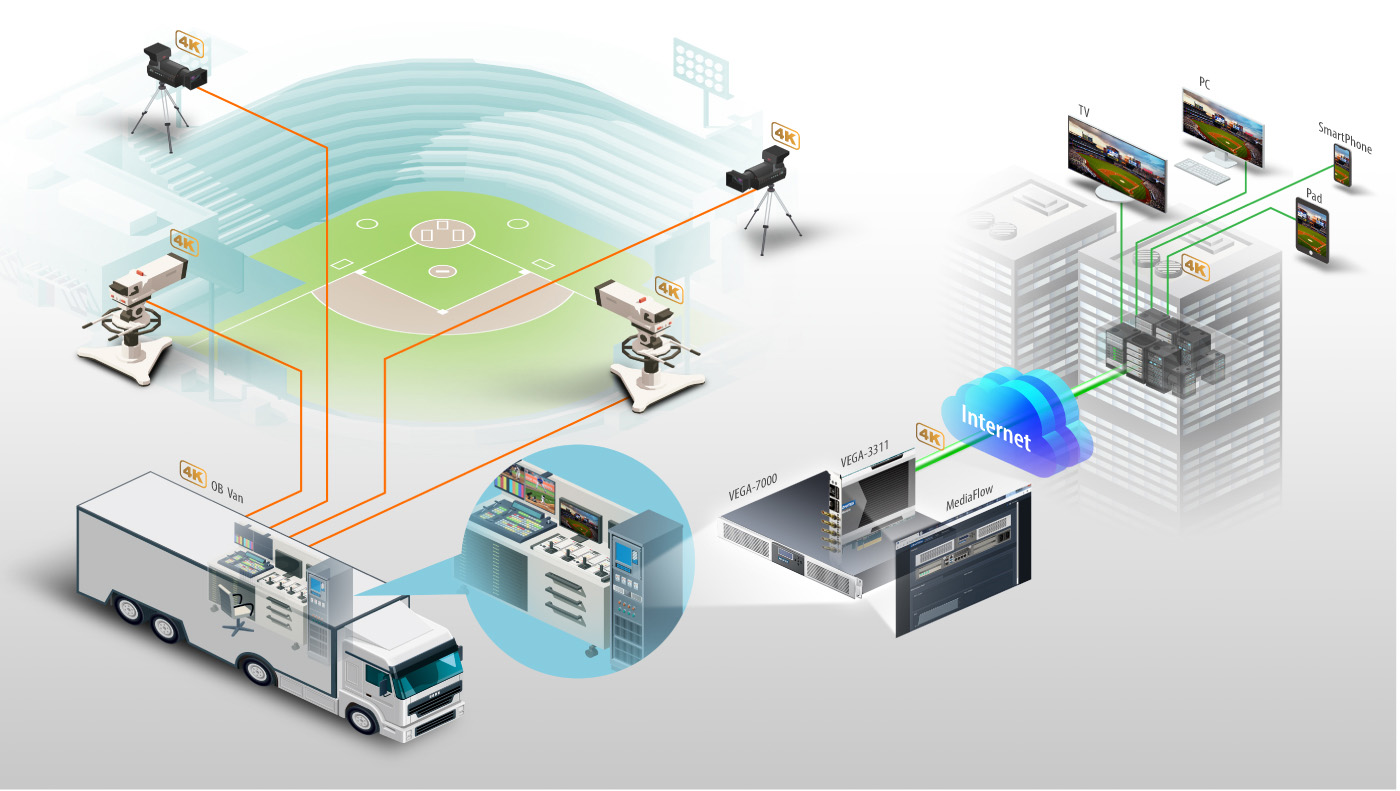 The solution, as implemented, offered the complete 4K contribution encoding and streaming platform in a package that fitted into the standard 600mm racks available in all locations, and consumed less than 300W of power.
The broadcaster made use of Advantech's VEGA-3311 4K/UHD encoder that can provide real-time and professional-grade HEVC video encoding at 60 fps with up to 20x less power consumption than a software only solution, and significantly reduces bit rates by 50% when compared to AVC. The VEGA-3311 is a standards-based PCI Express add-in card featuring both a 4 x 3G-SDI video input and a hardware-based encoding engine.
The VEGA-3311 is mounted in a VEGA-7000 video server. The VEGA-7000 video server is a short depth, low power server appliance designed for multiple high bit rate channel encoding scenarios. With four PCI Express accelerator card slots available, the server can efficiently offload heavy-lifting video processing tasks in live workflows and significantly improve density, scalability and cost of live UHD video solutions. The VEGA-7000 also runs the MediaFlow video processing configuration and management utility to setup and control all the elements necessary to implement the contribution encoding and streaming workflow.
Advantech's video solutions, including video server and UHD PCIe encoding cards, offer customers a cost-effective 4K encoding solution without compromising operational efficiency, floor space, power consumption and total cost of ownership (TCO). It's an ideal solution in live productions whether it is a contribution encoder at a major event or a broadcast encoder in the central studios.
Acquisition support:
raw video from 4K cameras or local switchers can be directly acquired by the VEGA-3311 via built-in 4-ch 3G-SDI inputs and be encoded directly. When used in standards-based equipment, this both maximizes PCI Express slot usage and minimizes the need to process raw video internally.
High quality video encoding:
the VEGA-3311 supports professional grade 4Kp60 10-bit 4:2:2 HEVC encoding. The hardware-based solution is ideal for contribution with guaranteed performance at high bit rates enabling high quality contribution encoding and low latency.

Cost efficient and flexible:
thanks to the convergence of IT and broadcast technology, the VEGA-3311 can be integrated into existing server based applications leveraging the economies of scale of COTS hardware. System developers can easily offload heavy lifting video processing tasks to the VEGA-3311 to reduce dramatically time to market and in-house development efforts.

Application ready platform:
Advantech can provide a range of video-focused server products, optionally with MediaFlow control and management software. MediaFlow is customizable web-based video management software; its user-friendly interface allows an operator to set up and use the platform without any programming ability required.

Integrated Video Solution Provider:
Advantech offer one-stop shop video solution from video server, 4K encoding accelerator cards, and media software, plus with our dedicated R&D support and global experience, we deliver states-of-the-art products and real-time service.
Nowadays, to provide better sport experience as well as engage broader audiences, not only the 4K live sports broadcasting is increasing rapidly, and also give the viewer the WOW experience of actually being there at the match put the viewer in the action as if you're in the stadium no matter you are in a living room or backyard BBQ. Along with the video evolution in the media industry, video solutions developers can now leverage VEGA-3311 to immediately upgrade 4K live stream capability enabling high-quality, time-to-market and TOC efficiency.
Products Used in this Project