Advantech's Industrial Communication Solution Helps Build Stable Data Network Infrastructure for Russia's Electronic Toll Collection System
8/21/2017
Market: Intelligent Transportation System
Location: Russia
Partner: Corson Technologies
The Platon electronic toll collection (ETC) system was introduced to Russia's federal highways in November 2015. The ETC system was implemented to facilitate the collection of toll charges aimed at offsetting the damage that heavy trucks with a gross vehicle weight exceeding 12 tons cause to Russian's major highways.
The entire ETC system fulfills several tasks:
1. Monitoring cargo car movement between cities
2. Tracking cargo travel distances for toll collection purposes
3. Combining data from weighing stations to check for road axis load limit violations
4. Assisting police with license plate recognition and vehicle theft checks
Numerous devices and equipment (e.g., sensors, laser scanners, IP cameras, and RFID readers) had to be installed and connected to the servers; thus, an industrial Ethernet network was required. To aggregate and manage multiple data flows from different devices, the customer needed a reliable industrial managed switch that could operate in a wide temperature range.
Moreover, the customer had a zero-tolerance policy for system downtime. Thus, the Russian Government would impose a large fine against the system integrator in the event of a system failure.
To build a functioning ETC system that would fulfill the requirements of the Russian Government, numerous devices needed to be installed in the system.
Each site consists of an overhead toll gantry with sensors and a control box installed on it.

Each lane has a video camera installed for license plate recognition.

Laser scanners are also installed to acquire information on passing vehicles (e.g., dimensions and weight) to ensure that license plates are not swapped to avoid toll payment, and to obtain data from RFID readers fitted to the car windshields in order to process toll payments.
RFID readers are fixed to car windshields to provide GPS tracking between checkpoints and to spool data to the main system when passing under a read station.
After testing different products, the system integrator decided to adopt Advantech's industrial managed switches (EKI-7428G-4CI & EKI-7720G-4FI) and fanless vision system (AIIS-5410P) for the entire ETC project. These were selected because of their excellent redundancy capability and reliability. The quality of these products not only helps prevent system downtime but also ensures the highest system performance at all times.
Furthermore, Advantech offers a compatible integration of vision system industrial PCs and network switches. At each checkpoint site, AIIS-5410P systems are used to host several Linux virtual machines that serve multiple functions such as license plate recognition and car profile scanning/recognition. Meanwhile, EKI-7428G-4CI managed switches are utilized to aggregate data flows from various devices, including the vision system industrial PCs, IP cameras, and RFID readers, and form an X-Ring Pro, Advantech's self-developed data redundancy technology, with EKI-7720G-4FI managed switches to further ensure network stability. Finally, EKI-7720G-4FI managed switches pass data to the control room for monitoring and advanced analysis.
By using Advantech's X-Ring Pro technology, the system integrator was able to conveniently establish a redundant Ethernet network with an ultra-high speed recovery time of less than 20 ms. This ensured that the data gathered from each checkpoint would be safely transmitted to the control room without interruption and that the likelihood of system downtime would be eliminated.
EKI-7428G-4CI: 24 PoE Gigabit ports + 4 Gigabit Copper/SFP Combo Ports Managed Redundant Industrial Ethernet Switch
EKI-7720G-4FI: 16 Gigabit Ethernet ports + 4 SFP Ports Managed Redundant Industrial Ethernet Switch
AIIS-5410P: Fanless Vision System with Intel® Core™ iProcessor, 4-ch GigE PoE Camera Interface, and PCIe Slot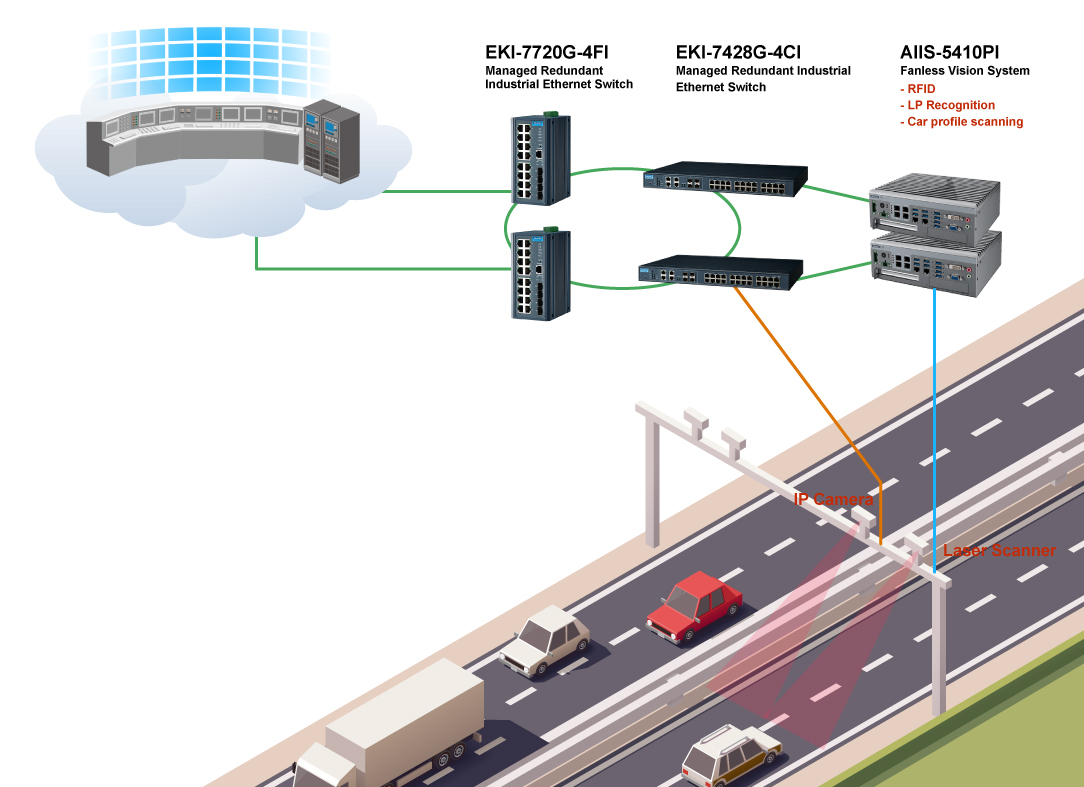 With the reliability of Advantech's products and prompt support from the technical team, the system integrator was able to secure this project by building robust and stable data network infrastructure to meet the stringent requirements of Russia's ETC system.