Enhancing Fish Aquaculture Farm Management with Wireless Remote Control Solution
9/23/2020
Keeping fish as pets in aquaria or garden ponds is a popular hobby and recent advances in fish husbandry and aquarium equipment technology have further facilitated the hobby. With an increase in world-wide interests, fish aquaculture has evolved into a huge business. As a subtropical island, Taiwan had an edge in developing fish aquaculture and was able to propagate over one hundred species of ornamental fish. Some experts have said that some species of ornamental fish have a high economic value with great potential for development. Therefore, the question arises of how to improve the quality of aquaculture systems using automation devices has become important for the Taiwanese fishery industry.
In Penghu County, Taiwan, fish farmers use a variety of equipment such as air pumps, water filters, coolers, heaters, sunshades, and heat insulation paraphernalia in the aquaculture farm to ensure the health of fishes. Ornamental fish have to be separated into different tanks to breed based on their age and species. In order to ensure high quality production, the aquaculture manager not only has to understand the situations of each fish tank, e.g. PH value, temperature, and CO2 of water, but also needs to control the various devices to keep the indoor temperature at a steady state. Admittedly, all necessary conditions increase the complexity of aquaculture management. Due to the strict control requirements, an easy to implement and maintain, solution to integrate the software and hardware functions to suit the various types of fish for different needs.
| | |
| --- | --- |
| Advantech WebAccess | Browser-based HMI/SCADA Software |
| EKI-2528I | 8-port Unmanaged Industrial Ethernet Switch w/ Wide Temp |
| UNO-137 | Din-rail Edge Controller |
| ADAM-4520 | Isolated RS-232 to RS-422/485 Converter |
| ADAM-2031Z | Wireless Sensor Network Temperature & Humidity Sensor Node |
| ADAM-6017 | 8-ch Isolated Analog Input Modbus TCP Module with 2-ch DO |
| ADAM-6015 | 7-ch Isolated RTD Input Modbus TCP Module |
By using Advantech's UNO-137 din-rail edge controller with SCADA software, ADAM-4000 and ADAM-2000 remote I/O modules, the aquaculture system can be monitored and controlled continuously. First, the ADAM-2000 wireless I/O series products are in charge of the indoor temperature and humidity control with built-in sensors and transmit the data using the IEEE 802.15.4 protocol. Since ADAM-2000 I/O modules can be powered by batteries, they can be placed anywhere to acquire the data without the need of external power supply. Therefore, the area of the control system can be almost limitlessly extended. As for the ADAM-4000 series products, the ADAM-4017 connects various sensors in the fish tanks to measure the water PH value, temperature, and CO2 percentage in real-time and the ADAM-4015 controls the pump, air-conditioning, humidifier, and sunshade to adjust the indoor temperature and humidity. All of those parameters will be delivered to the UNO-137 din-rail edge controller via the RS-232/RS-485 converter (ADAM-4520) and the online status of the aquaculture system will be displayed on the screen.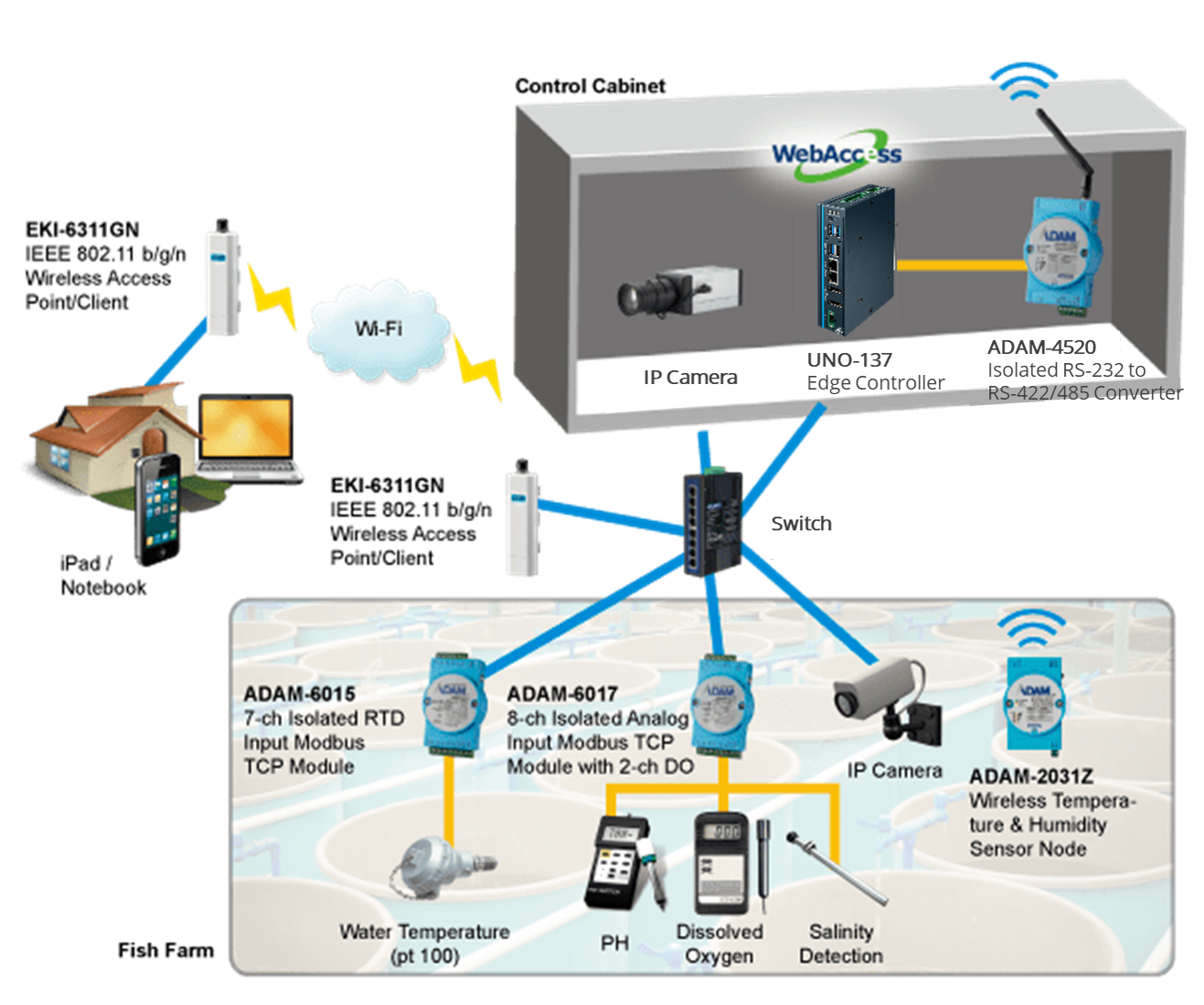 Regarding this case, the aquaculture farm owner tried to integrate many mechanical controls by himself, but this semi-automatic operation still had room to improve and sometimes it had problems fully monitoring and controlling in real-time the aquaculture environment. Combined with wired and wireless sensor networks, Advantech's total solution provides the remotely monitoring system to enhance the control quality so that the farmer can always keep track on what's going on in the aquaculture system and further improve the production quality and quantity of ornamental fishes.