Intelligent ePaper Bedside Cards Streamline Ward Information Flow in Yeezen Hospital
1/28/2022
Yeezen General Hospital in Taiwan adopted Advantech's ePaper solution for its digital bedside cards to help primary healthcare providers complete daily tasks more efficiently. By significantly reducing staff workloads, this solution improves doctor–patient relations and enables the provision of enhanced medical care.
Interview with Geng-Wang Liao, Vice Superintendent of Yeezen Hospital; Xiang-Fen Lai, Deputy Director of Yeezen Hospital Nursing Department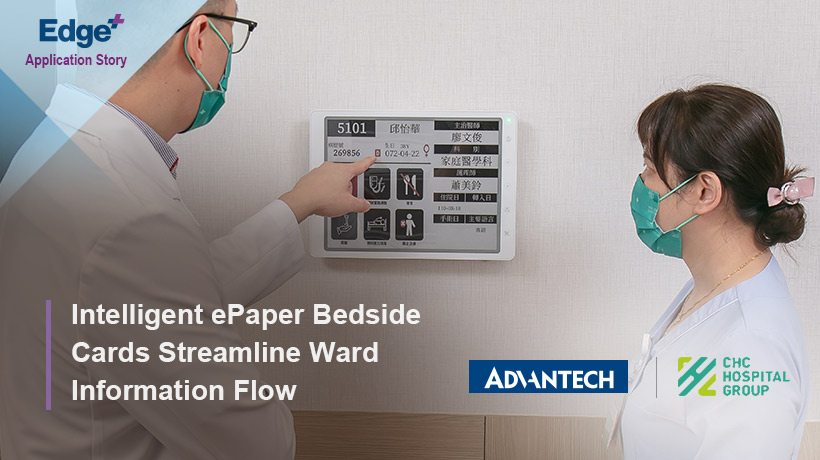 One of the most important goals of promoting smart solutions in healthcare is reducing staff workloads. With the use of technology, routine procedures and vital tasks can be completed more efficiently. This gives medical staff more time to focus on patients, improving the quality of care delivered. Moreover, increased digitization allows patients' physiological data to be analyzed for improved healthcare outcomes.
Although the use of smart applications brings several benefits, many challenges must be overcome during the process of implementation. For example, protecting the rights and interests of patients remains a critical consideration for hospitals. Dr. Geng-Wang Liao, Vice Superintendent at Yeezen Hospital stated, "Although the hospital has good intentions in promoting smart development, such implementations must be based on medical expertise and patient safety. Yeezen Hospital's adoption of Advantech's EPD660 Wireless ePaper Solution Suite to serve as smart bedside cards in VIP wards is an example of how hospitals can benefit from smart healthcare."
A bedside information system that caters to doctors, patients, and their families
"The process of digitization emphasizes present details and general workflow observations. By adopting this approach when implementing smart systems, primary healthcare providers have been able to reduce daily workloads," explained Ms. Xiang-Fen Lai, Deputy Director of the Nursing Department at Yeezen Hospital. Consider the bedside card ePaper solution, for example, the cards are used to display basic patient information, treatment history, and relevant notes/reminders.
These bedside cards can assist with numerous tasks ranging from traditional form input for digital record-taking to issuing name tags for identity confirmation, as well as notifying medical staff of patients' specific needs.
Previously, when a patient's condition or diagnosis changed, their medical records and paperwork needed to be manually updated or even replaced entirely. This increased the likelihood of data errors and necessitated extra care to avoid misinterpretation and miscommunication. Replacing paper-based administration processes with the implementation of smart bedside cards helped eliminate these problems.
Smart bedside cards display clear and accurate patient information in real time, providing medical staff, patients, and their families with up-to-date information. This improves communication between doctors and patients, as well as doctors and nursing staff. Ms. Lai reported that both the doctors and patients were very satisfied with the solution once it became operational.
Advantech's wireless ePaper solution accelerates medical service upgrades
Dr. Liao explained, "We chose Advantech to implement smart bedside cards because Advantech is a reliable digitalization partner with more than 10 years of experience in the medical field. This made it easy for Yeezen Hospital to build a patient-centric healthcare environment."
Regarding the reasons for selecting Advantech's ePaper solution, Ms. Lai highlighted the large display area and rapid deployment time. During installation, the solution could be easily connected to an existing wireless network and configured without additional wireless access points, accelerating deployment. Furthermore, the EPD-662 ePaper features an energy-efficient screen without backlight to eliminate environmental disturbances and provide an enhanced healthcare environment.
Advantech's Solutions and Application Benefits
Advantech's Wireless ePaper Solution Suite is applicable for smart warehouse and factory, ward/room signs, patient bedside cards, and nursing station signage. This project used Advantech's EPD-662 ePaper solution for patient bedside cards to reduce staffing requirements and medical errors while improving doctor–patient relations.