Machine Networking Platform Enables Hand Tool Factory to Improve Production Efficiency
10/29/2021
Abstract

Production information and equipment utilization rates are the most important Key Performance Indicators (KPIs) for evaluating an enterprise's manufacturing capability. Advantech provided a total hardware and software solution that helps System Integrators (SI) integrate machine networking applications into manufacturing production lines.
Partner: IMPELEX DATA TRANSFER CO., LTD. | Region: Taiwan

For manufacturing, production information and equipment utilization rates are the most important Key Performance Indicators (KPIs) for evaluating an enterprise's manufacturing capability. In the past, many factories gathered information by means of log reports and data from staff on site. This approach not only lacked specific detail but it was also difficult to know whether for example, equipment was idle or abnormal.
The use of machine networking applications that can automatically collect equipment data and visualize production information in real time has proved to be the best solution for manufacturing to improve production efficiency and equipment utilization based on KPIs. Implementing a system that integrates all manufacturing information can be a time-consuming and labor-intensive task for System Integrators (SI) and it is even more difficult to acquire data from legacy equipment and CNC machines without networking capability.
To overcome this, Advantech provided a total hardware and software solution that helps SI integrate machine networking applications into manufacturing production lines. Advantech's total solution offers several important features ranging from data acquisition and status monitoring, to back-end data organization and OT/IT integration. With it, factory management can easily collect equipment data without the need to develop their own drivers and quickly visualize it through ready-made templates. Production managers can also use platform to implement production efficiency methodologies.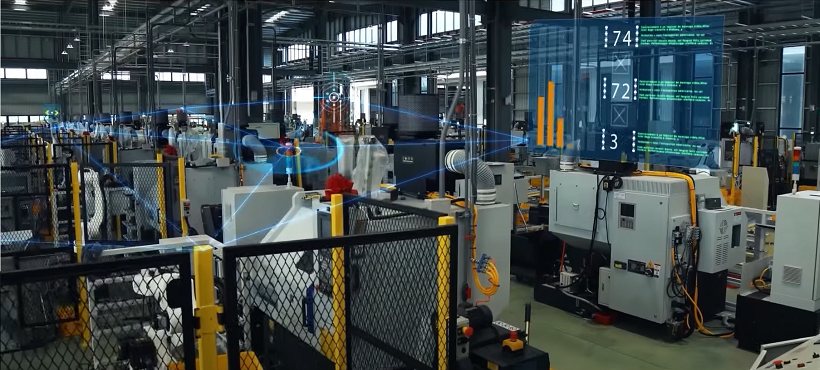 IMPELEX DATA TRANSFER Co., Ltd., which is an expert in data collection and MES microservices, is a System Integrator specializing in OT and IT integration and development. The company uses IoT technology to collect production information and build data visualization tools and dashboards. It also provides modular microservices to offer smart manufacturing solutions that best meet the needs of their customers.
IMPELEX cost-effective solutions have been for many years favored and adopted by manufacturing industries such as metal processing, plastic molding, automotive peripherals, PCB, and food and beverage industries. At the beginning of this year, a world-renowned hand tools manufacturer - RE-DAI PRECISION TOOLS Co., Ltd. also commissioned IMPELEX to build an application combining machine networking and MES for its two factories in Taichung and Chiayi, Taiwan.
RE-DAI PRECISION, which was established nearly 40 years ago, had always gathered production information through log reports from production equipment and personnel. This process often created problems such as uncertain equipment status, and a lack of precise data needed to map KPI targets.
Even so, RE-DAI PRECISION was fully aware of the necessity for implementing smarter production methodologies so it planned to integrate the management of staff hours, machine operations, raw materials, process parameters, energy data, and quality control and testing. All together, they hoped to accelerate smart manufacturing through information transparency and Industry 4.0 transformation.
After understanding the customer's needs, IMPELEX decided to implement the machine networking solution in stages. The first stage would integrate staff working hours, machine operations and SOP management by implementing real-time production feedback and information using data visualization in operation centers. To do all this, IMPELEX needed to self-develop the MES and also needed to purchase a solution with both software and hardware that can collect equipment data and visualize it, while taking into account the implementation of existing functions and the needs for future expansion.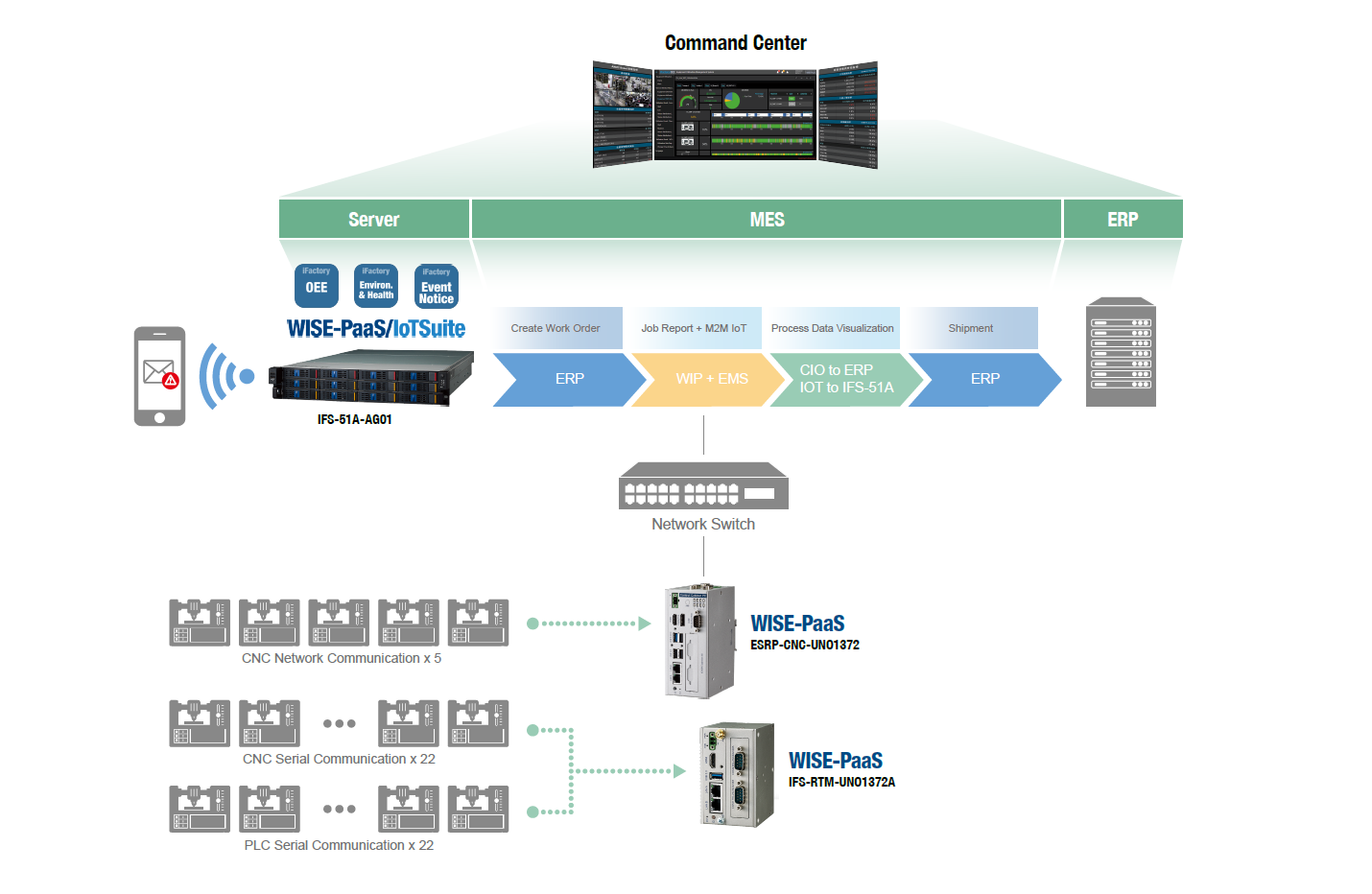 Advantech met the requirements of this project with a total solution composed of three products including IFS-RTM-UNO1372A real-time monitoring data gateway, ESRP-CNC-UNO1372 CNC machining tools data gateway, and IFS-51A-AG01 servers with built-in data visualization management platform.
The operation involved two data gateways installed on the production line which were responsible for collecting data such as production process parameters (e.g. load, speed, temperature). Data is then sent to IMPELEX's CIO/WIP production management server installed in the operations room, and the MES via a network switch using MQTT format.
The server in the operation room visualizes the data and displays it on the big screen, allowing managers to see real-time information and equipment status. If any equipment is flagged as abnormal, the system will send an alarm via email to the relevant personnel and will push notifications to the manager's mobile phone via LINE, in order to quickly resolve the problem.
Advantech's three platforms all integrate software and hardware. The first product - IFS-RTM-UNO1372A is an UNO industrial computer pre-installed with WISE-EdgeLink, which is a protocol-conversion software supporting more than 200 communication protocols, making it ideal for acquiring data from various legacy equipment. In addition to monitoring equipment in real time, it also supports broken-point continuity-transfers over seven days, so that users do not have to worry about data loss due to network interruptions.
The ESRP-CNC-UNO1372 has similar functions. The only difference is that the pre-installed software - Runtime, enables this platform to connect to various CNC machining tools of different brands such as FANUC, SIEMENS, MITSUBISHI, HEIDENHAIN and Brother. This means the hand tools factory can easily collect the data from their MITSUBISHI's machines.
The third product, IFS-51A-AG01, is the core of this solution. Through the combination of this high-performance server and the smart manufacturing software suite, it can serve as a multi-functional data management platform that integrates data collection, aggregation, visualization, and analysis. Thank to a variety of ready-made templates provided by the dashboard, users can directly apply them to create a user interface.
The processed production data is not only helpful for managers to access and understand production line targets, track progress, and understand abnormal events, but data can also be summarized to create trend charts for wide-ranging analysis. Managers can use them as a basis for further improving the production and management efficiency of the factory.
In addition to the existing three dashboards for Overall Equipment Effectiveness (OEE), Environmental Health and Safety (EHS), and Event, Alarm and Notification (EAN), Advantech will add more dashboards that meet the needs of the manufacturing industry, such as Statistical Process Control (SPC), Prognosis Monitoring System (PMS), equipment repair-dispatch system for Andon, Shop Floor Control (SFC), equipment maintenance management, and much more.
IFS-RTM-UNO1372A – iFactory RTM (Real-time Monitoring) gateway
ESRP-CNC-UNO1372 – Data gateway for CNC machining tools
IFS-51A-AG01 – iFactory Smart Manufacturing Suite (Generic Starter Package contains server, WISE-PaaS platform and iFactory industrial applications)

Advantech cooperated with IMPELEX to provide a machine networking solution that can significantly improve production management efficiency and equipment utilization. For this project, the automated data collection and data visualization solution has already achieved remarkable results. Real-time status and production efficiency of all machines is clearly displayed and the time taken to crunch data has been reduced by 70%.
What's more, Advantech's cloud-based solution allowed phased implementation because of its modularity, with easy integration and flexible expansion. IMPELEX completed the first phase of implementation and has plans for other applications such as migrating system data to the cloud. Energy management targets required by the factory can be implemented gradually within the existing structure, thereby gradually realizing smart manufacturing and real-time management for the customer.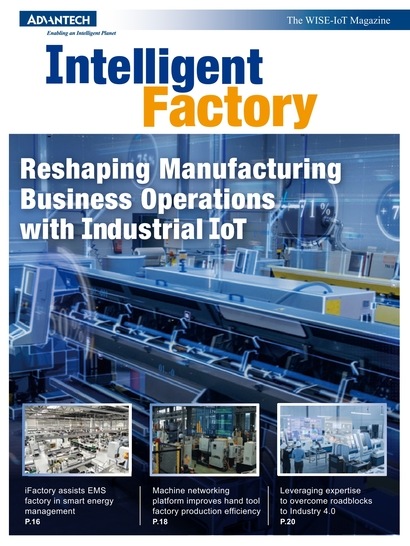 WISE-IoT Magazine - Intelligent Factory: Reshaping Manufacturing Business Operations with Industrial IoT
The WISE-IoT Magazine of Intelligent Factory focused on the smart manufacturing trends and the inevitable acceleration toward industry 4.0 with technology constantly evolving. Moving forward, Advantech and partners will continue developing data monetization to drive transformation and upgrades through close collaboration.