Maintaining the Automotive Industry's High-Quality Standards Using Smart Systems
2/25/2022
The auto manufacturer is seeking a solution of intelligent systems to reduce downtimes on production lines, ensure they provide high-standard quality products while maintaining low labor costs. Advantech is an excellent ally to face the challenges of Industry 4.0, providing efficient solutions focused on continuous improvement in processes.
Partner: Automotive Parts Manufacturer with 15 plants around the country and who is a pioneer in technology and innovations in the automotive industry | Region: Mexico
The automotive industry is one of the world's largest manufacturing sectors and has become a vital element in the economy of industrialized countries. Furthermore, the production and sales of motor vehicles are one of the major indexes for evaluating the state of the economy in those countries. For example, Mexico enjoys a growing role in the automotive industry and has become one of the world's leading producers and exporters of motor vehicles.
Since the implementation of the North America Free Trade Agreement (NAFTA), Mexico has opened up its market, and as a result, auto manufacturers have started to optimize their production operations within the entire economic zone of North America. Also, automotive manufacturing in Mexico is rapidly expanding and has proved an attractive location for vehicle assembly and labor-intensive components production.
However, the automotive industry being an integral component of the global economy has faced many challenges in recent times. While automakers have been agile in adapting to the transformation, the industry continues to experience changes in the area of technology, prompting the need to brainstorm new ideas. Additionally, with increased competition in the automotive industry due to emerging markets, the automotive industry needs to respond by design and innovation, improving efficiency, and selling more vehicles that people want to buy.
For an industry known for its high standards, delivering a superior quality product is vital while maintaining low labor costs. Therefore, a smart system will ensure this and eliminate the challenges faced in production. Some of these challenges include downtimes on production lines. This occurs due to system malfunctions, environmental stress, and failures on functional tests, which in turn reduces the life span of mechanical equipment and computer systems. Furthermore, installation difficulties with computers in test stations, limited configuration options, and a small number of expansion and peripheral slots add unnecessary complexity. Therefore, a smart system would help collect and evaluate data, recognize patterns, generate predictions, and feed it back for process improvements.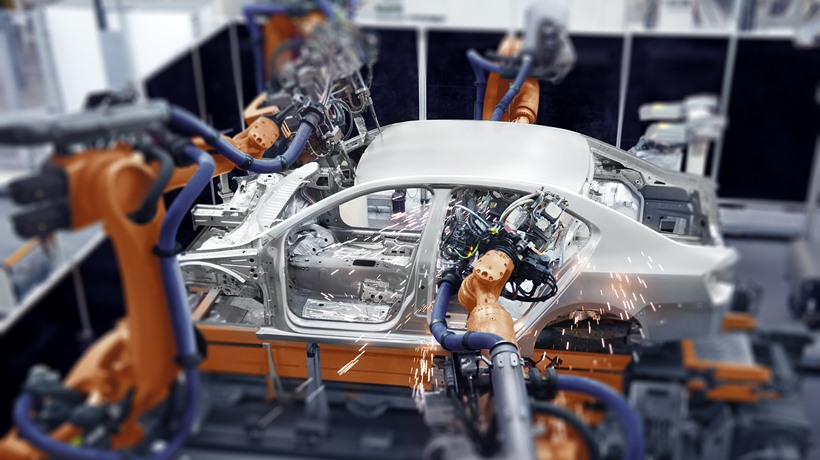 The project involved conceptualizing a solution for a customer in Mexico with 15 plants around the country and who is a pioneer in technology and innovations in the automotive industry specializing in brake systems, interior electronics, automotive safety, powertrain, chassis components and parts for the automotive and transportation industries.
The smart solution entails the use of an industrial computer to performing the automated test and visual inspection of work stations to prevent product defects and reduce issues related to manual operations, such as errors and low efficiency, in order to improving production quality, while accelerating inspection speeds to prevent work station bottlenecks at inspection points.
The project focused on designing an industrial computing system with the following criteria:
4U rack form factor
24/7 availability
Adaptable and flexible
Durable, for longer lifespan
Robust, flexible, scalable
High-quality standards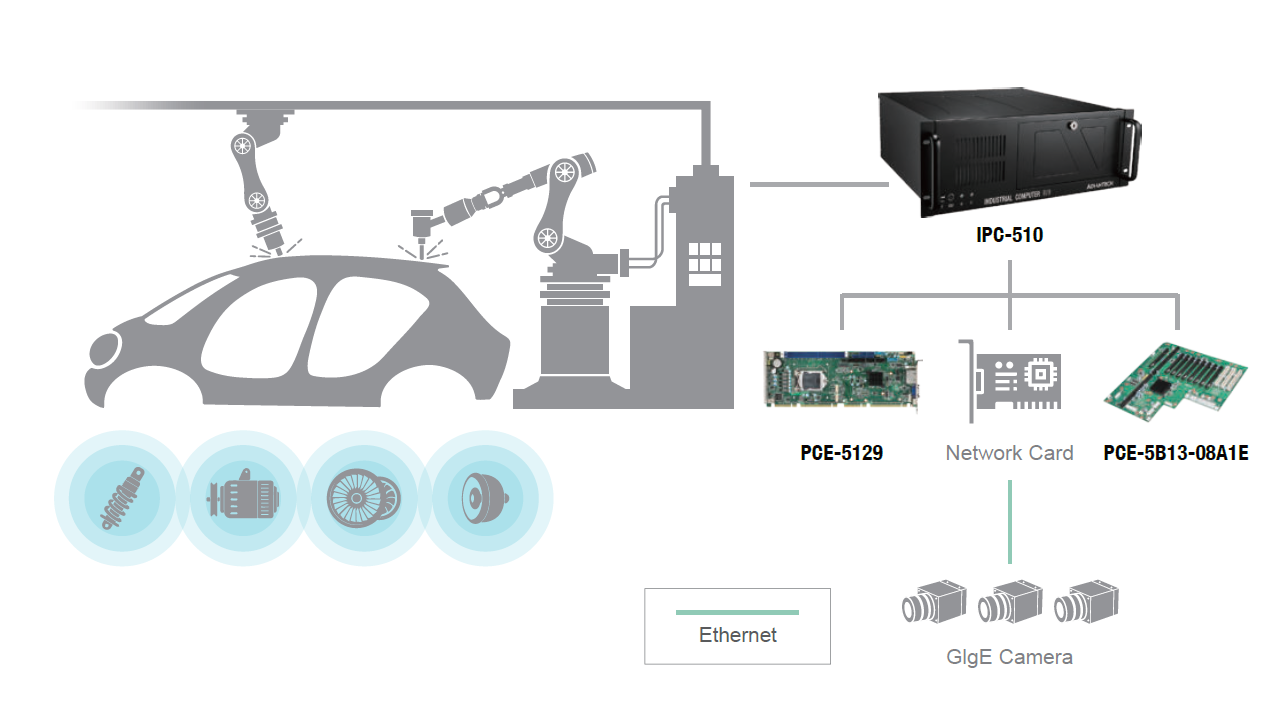 The Advantech IPC-510 4U rackmount chassis computer took center stage. It has front-accessible USB and PS/2 interfaces and is configured with a single board computer. The PCE-5129 and a PCE-5B13 backplane are used as a standard for the development of functional test stations. In addition, the computer supports multiple PCI/PCIe slots allowing for the connection of any DAQ, communication devices and cameras.
IPC-510 is an industrial computer designed for extreme environments with vibration, shock, and high temperatures. The computer has an easy accessible front panel to allow visual inspection and quick access to drive bays that can hold three 5.25" and two 3.5" drives (one front-accessible & one internal). The industrial features of the computer ensure effective and efficient operations 24/7/365.
Advantech IPC-510 Chassis Computer

PCE-5129

PCE-5B13

Network Card

GigE Camera

The automotive industry is competitive, dynamic and demanding, which has led to a high volume of low cost production. However, the Mexican automobile industry stays competitive and remains one of the leaders with its low labor costs and low labor-intensive productions. Notwithstanding, this industry faces challenges with the use of commercial equipment, which impacts overall production. This resulted in the need for a smart system specifically designed to curb the challenges faced.
The durability and 24/7 operation of the system minimized the downtime in testing and visual inspection stations, which resulted in lowered equipment failure. Additionally, the transition to a greater reliance on Advantech products allowed it to implement global standards more effectively across its equipment infrastructure. As a result, it is no longer limited by the constraints of incompatible hardware options, leading to a seamless transition. These improvements translate to a strong competitive position for the company.